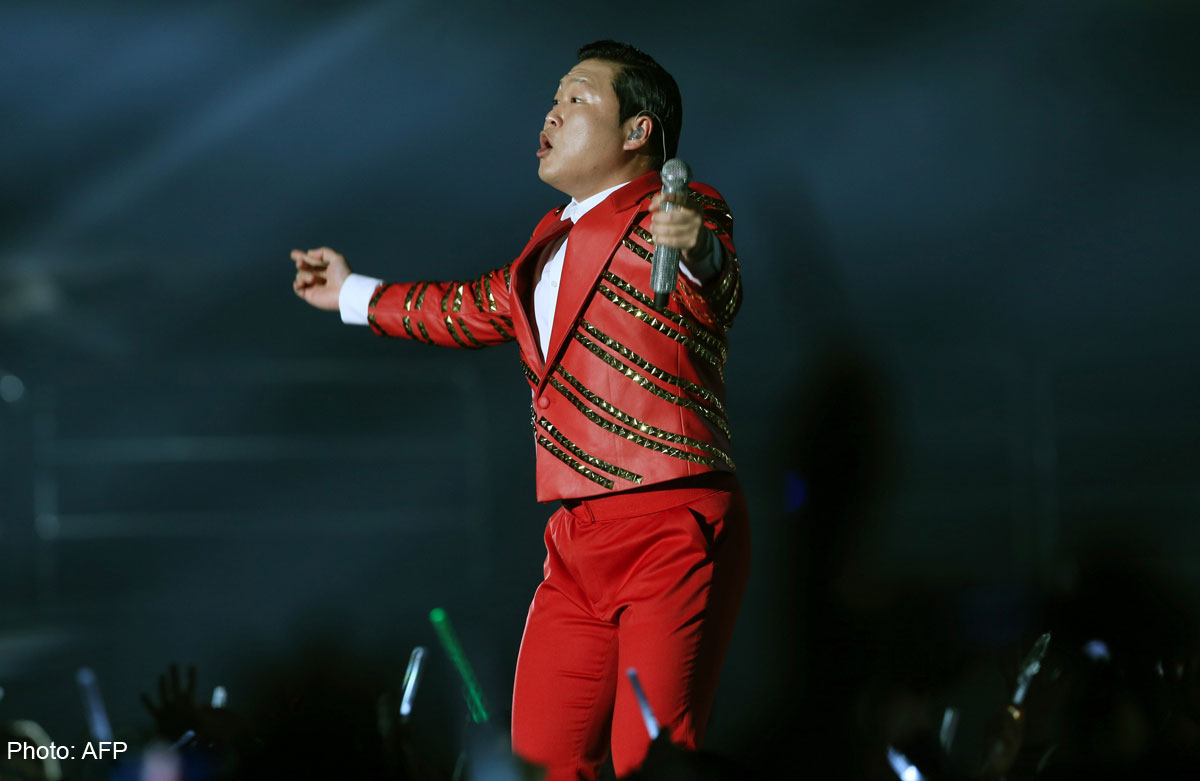 "Are you ready?" was projected onto the giant stage screens as the 12,000 fans who flocked to Olympic Park Gymnastics Stadium on Sunday night screamed in deafening unison while awaiting K-pop sensation Psy's entrance.
Thousands upon thousands of flashing LED headbands lit up the stadium as part of Psy's "All Night Stand" winter solo concert series that began on Friday night. The K-pop star pulled out all the stops for the event, returning to his local fans in his first concert in Korea in eight months.
Once the glittery red curtains were lifted, a giant white mould of the rapper's face was revealed, sporting his signature smirk and leading the audience to burst out in laughter. When the face parted, Psy rose to the stage from beneath the stadium in the flashiest of entrances filled with countless fireworks.
Decked out in a bright red and gold suit, Psy took his beaming fans back and opened with a live band rendition of his popular hit "Champion." To say the rapper was energetic at the show's start would be a understatement; the 35-year-old, in his 13th year in the music industry, proved that he hasn't lost a step, jumping around all about the stage, shouting at the audience and showing off his notoriously funny and "sexy" dance moves.
With his name in giant lights, the concert saw no shortage of snazzy showmanship with timely fireworks, confetti and laser lights flashing throughout the night. People of all ages were on their feet, with even some elderly fans seeming to cherish the moment reliving their youth.
In this near-three-hour concert performance, Psy performed all his past favorites including "Entertainer," "End," "Right Now," "Father," "We Are the One" and fan favourite "Bird," from his 2001 debut album "Psy From The Psycho World."
"You know, without this song, I wouldn't be here," said Psy, reminding the audience of his pre-"Gangnam Style" days. However, wanting to do something a little different, he performed a comedic, jazz swing rendition of his popular track "Bird," showing off his jumping and jiving swing dance skills and even some tap-dancing moves.
Of course, no Psy concert would be complete without the song that sealed his entry into the history books as more than just a one-hit wonder. The night's performance of "Gentleman" was a galore of special effects. After Psy concluded the song, the back-up dancers came on to the staged dressed in LED-lined suits, dancing in sync to a youthful electronica-remix of the track as the rapper prepared his next treat for the audience.
The entertainer, well known for his comedic style and banter, has dressed up in glittery drag as Beyonce and performed a choreographical rendition of the R&B diva's hit "Single Ladies (Put a Ring on It)" in previous shows.
And this night was no different as he had the audience bursting in laughter once he appeared on stage dressed up in an all-too-short, shorts onsie performing a parody of Wonder Girl Sunmi's seductive single "24 Hours." The parody was then followed up by a special surprise performance by singer Lee Seung-gi.
The night concluded, of course, with his invisible horse-riding dance to "Gangnam Style," the overnight megahit that turned Psy into a household name around the world.
The special "All Night Stand" four-day solo concert series will have its final show on Christmas Eve with guests G-Dragon and Taeyang of Big Bang.
By Julie Jackson (juliejackson@heraldcorp.com)