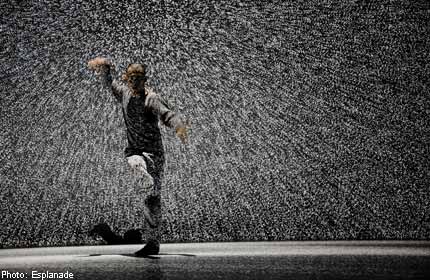 SINGAPORE - Challenge your notion of dance next month as four quirky performances from around the globe converge at the Esplanade for the eighth annual da:ns festival.
The acts are part of the festival's Shift programme, which focuses on smaller, more offbeat works as opposed to the three big-budget main stage productions.
The festival's associate producer Faith Tan, 30, says: "In Shift, audiences can see emerging directions in contemporary dance. Here, we encourage artists who shift perceptions of dance or take risks."
This year's line-up includes a varied bag of works from Cambodia, Japan and Belgium. They will all be performed in the Theatre Studio which Ms Tan says "is a very intimate space, and you're a lot closer to the work that you're experiencing".
From Cambodia comes Amrita Performing Arts' Khmeropedies III: Source/ Primate, a study and mimicry of monkey behaviour based on extensive research.
"The performance is a juxtaposition of the classical Cambodian monkey role with actual primate movements, and audiences will get to see those things come together with contemporary dance," says Ms Tan.
Hiroaki Umeda, a photographer- turned-multi-disciplinary artist from Japan, will be presenting a double bill, Temporal Pattern and Holistic Strata.
Holistic Strata is a solo performance which Umeda, 35, premiered in Germany in January this year, while Temporal Pattern is a festival commission which features three dancers from Taiwan, India and Cambodia.
Umeda directs every element of his performances himself, from the choreography to the stunning multimedia elements. "His movement is very fluid, and when you watch it, it's an explosion of light and sound," says Ms Tan.
Rounding off the international acts is Lisbeth Gruwez from Belgium. The 36-year-old rallies the crowd with It's Going To Get Worse And Worse And Worse, My Friend, a mesmerising solo set to the persistent pulse of a speech by American televangelist Jimmy Swaggart.
Ms Tan says: "People who have watched the show say she's very charismatic and she holds the stage so well the time she's on it."
The only home-grown Shift act this year is The Infinitesimal Distance Between Two Bodies by Scarlet Yu and Ming Poon. It began life as a 15-minute commission for the Esplanade's 10th anniversary celebrations last year, and was developed into an hour-long piece under the festival's residency programme.
Ms Tan says the piece was revived as it was successful for both the artists and audiences. "It's about two people coming together, and you get to see the human connection between two individuals moving together as one."
Tickets are still available for Shift.
While the Shift programmes may not have the blockbuster draw of the main stage performances, Ms Tan says: "We hope audiences will come with an open mind to be exposed to new experiences, and leave wanting to delve deeper into understanding contemporary dance."
lting@sph.com.sg

Get a copy of The Straits Times or go to straitstimes.com for more stories.