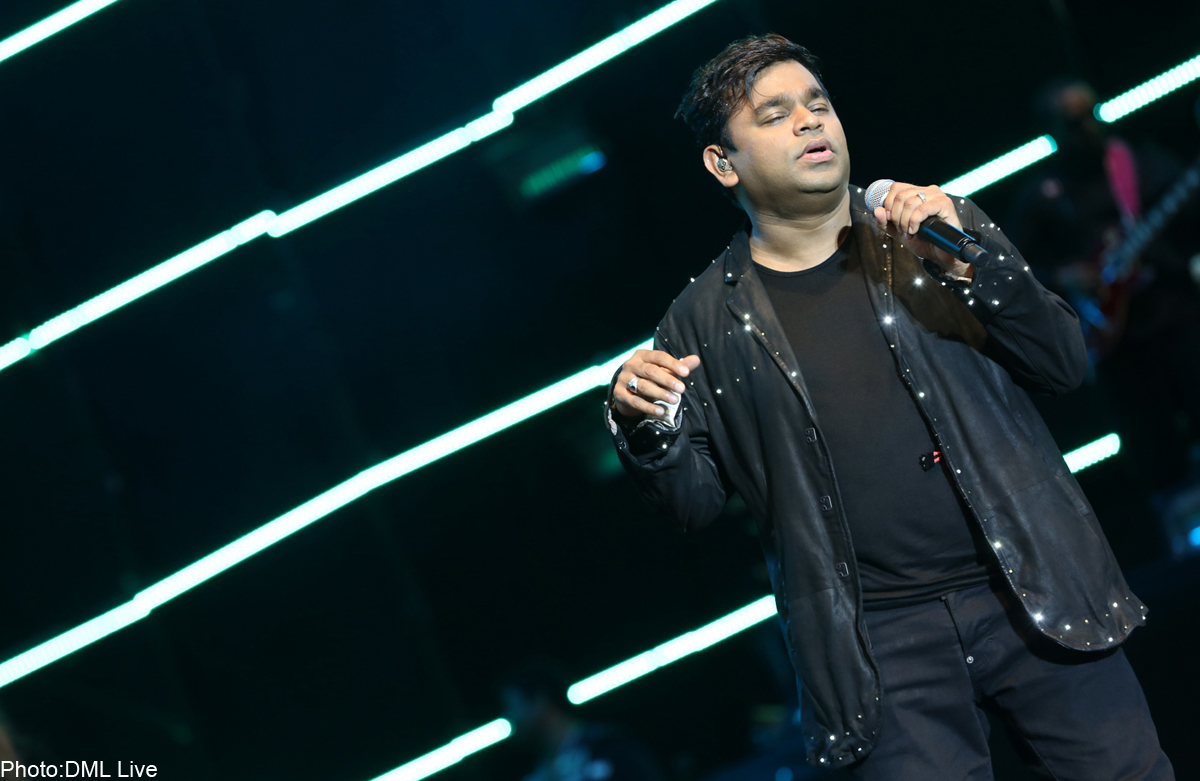 SINGAPORE - Held at Gardens by the Bay, the concert's open-air concept did not seem to be a problem for the close to 9,000 fans who turned up on April 30. A.R. Rahman's two previous concerts in Singapore were held at indoor venues.
Although there are plenty of outdoor concerts held in Singapore, this was the first representing the Indian entertainment domain here and, according to the organisers DML Live, the concert was a success.
Said DML Live CEO Keerthivasan Subramanian: "To us the concert was quite a mega success. To get close to 9,000 people under one roof is something that Singapore has never seen before at least in the Indian entertainment domain."
The concert started at about 7.45pm, 15 minutes later than scheduled. Explaining this delay, he said: "We were ready to start the show at 7.30pm. However it was a working day with the bulk of the audience coming in past 7.15pm. We wanted the majority of the crowd to settle in before we started and hence the show commenced at 7.45pm."
Many prominent singers like Mano, Mohit Chauhan, K.S. Chithra and the Nooran sisters accompanied Rahman at the concert. There were dance numbers, pyrotechnics and lion dance performances. International Tamil rapper Lady Kash, who is from Singapore, also performed. The highlights were Rahman's instrumental mix with Grammy Award-winning slide guitarist Vishwa Mohan Bhatt and his Qawwali segment with Sufi devotional music.
As promised, there was a surprise for the audience. "The concert was the first to premiere two songs from the Tamil movie Kochadaiiyaan and an exclusive dance sequence of Rajinikanth from Kochadaiiyaan," said Mr Subramanian.
Although the concert was mostly flawless, the organisers faced some unforeseen technical glitches. These were fortunately rectified quickly.
"We faced a temporary power failure. However, we got to know that the audience didn't see this as a major issue as it was unforeseen. Also we rectified the issue in less than seven minutes," he explained.
Some started leaving midway through the concert. When asked about this, Mr Subramanian said: "I believe it was only a handful of people who chose to leave assuming that it was going to be a show catering to Tamil audiences only. However taking into consideration that Singapore is a melting pot of culture, as organisers, we've always communicated the fact that the show is going to be an ideal blend of Tamil and Hindi hits. To me some of the people started leaving around 10.30pm assuming the concert would end around 11pm. However the concert went on till 11.30pm."
He added: "Overall, the audience was very happy and satisfied with the unique content, quality and scale this show had to offer. There were a few stray comments like any other large-scale event. You would, however, appreciate that it's hard to satisfy all the demands of 9,000 individuals."
A.R. Rahman's Infinite Love concerts in Singapore and Malaysia are two of the high-profile events organised by DML Live this year. The next big event being planned is slated to be in October in Singapore during Deepavali which will touch upon the cultural fabric of India.