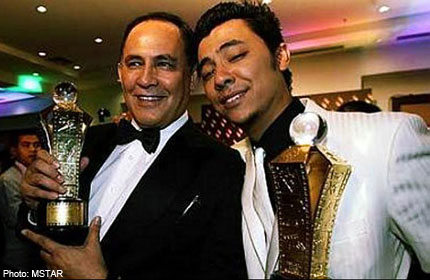 He is one of Malaysia's most successful producers and his biggest movie to date, KL Gangster 2, is about to be released in cinemas. But film and television veteran Yusof Haslam is in no mood to celebrate.
The film, a prequel to Malaysia's most successful film, KL Gangster (2011), also produced by his company Skop Production, was leaked online a month ago and is being sold as pirated DVDs. It opens at cinemas in Singapore, Malaysia and Brunei tomorrow.
"Before the leak, the cinemas predicted that KL Gangster 2 had the potential to reap RM15 million to RM20 million at the box office," says Datuk Yusof. That amount is $5.8 million to $7.7 million.
"But now that the movie has been pirated, it's hard for me to say how well it will do. I just hope we recoup our costs," adds the 59-year-old in a telephone interview from his office in Kuala Lumpur.
He and his son Syamsul, 29, who wrote, directed and starred in the two KL Gangster movies, lodged a police report over the leak last month.
The Malaysian press has reported that the police is working closely with the Malaysian Communications and Multimedia Commission to find the culprits.
Datuk Yusof has also said he will sue the pirates and he believes that the leak is an act of sabotage.
"We need to find those responsible for the leak. Piracy is the Malaysian film industry's biggest shame."
The first KL Gangster, made at a budget of RM1.5 million, took in RM12million at the box office and is Malaysia's highest-grossing film to date. It also won six awards at the 2011 Malaysian Film Festival, including Best Film Director, Best Screenplay and Best Editor for Syamsul.
For the prequel, Skop Production teamed up with another Malaysian production giant, Grand Brilliance, and pumped RM4.5 million into the movie, which took two years to make. It is Skop Production's 30th film and its most expensive project to date.
Datuk Yusof, who has been acting, writing and directing in film and television since 1970, says the film is his son's "masterpiece". It is Syamsul's eighth film as a director.
"I did not interfere much in the way the film is directed and advised him only on certain scenes which might be sensitive. He has his own visual style which I cannot touch."
Syamsul, the elder of his two sons, has been avoiding the press since the piracy scandal broke and did not appear at the film's promotional events.
On reports that his son was so affected by the leak that he has vowed to give up film-making, Datuk Yusof says: "He's frustrated and disappointed with the film industry. He feels that the authorities need to do more to combat the scourge of piracy in the industry.
"But I've been trying my best to convince him to buck up and continue making films. I told him, 'Look at me, I'm almost 60 and I am still in the industry. What you're going through is just a test.' He must be strong."
dinohadi@sph.com.sg

Get a copy of The Straits Times or go to straitstimes.com for more stories.