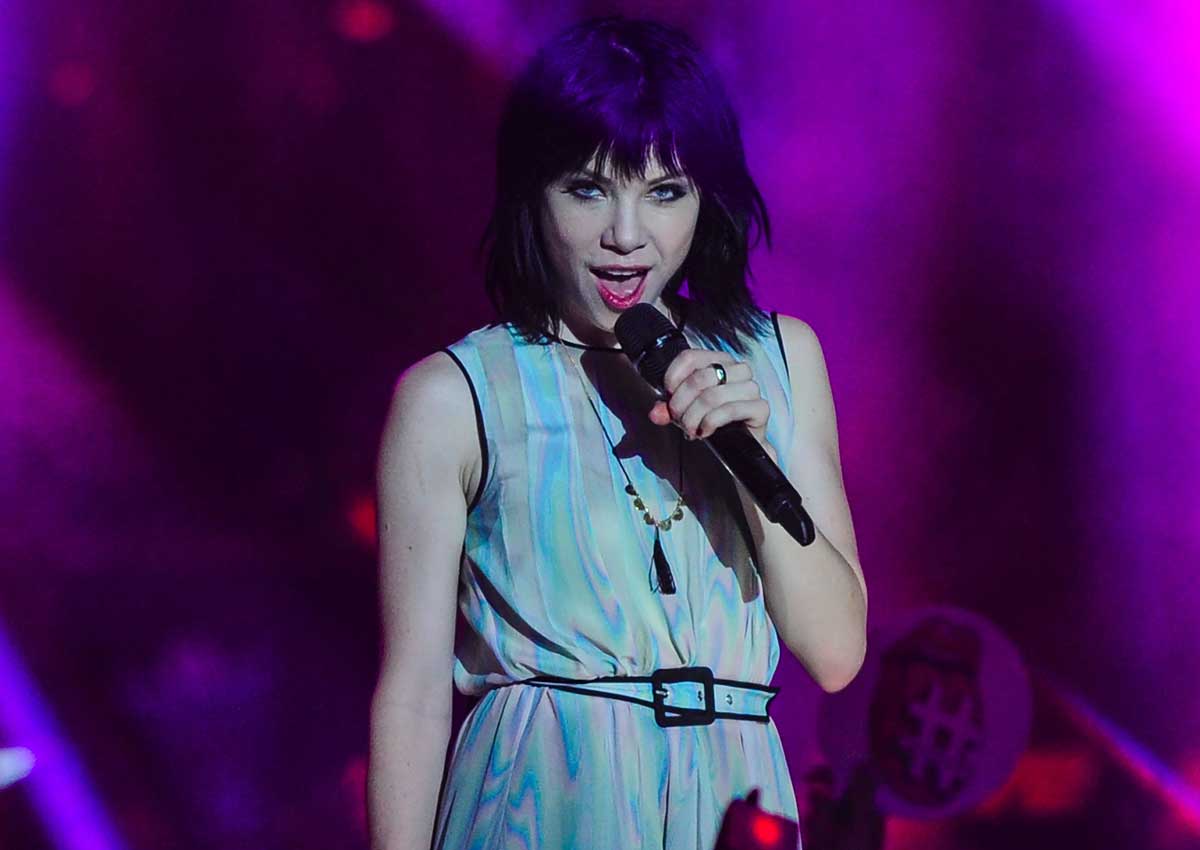 PETALING JAYA, Malaysia - In the weeks leading up to the 7th "MTV World Stage," this city and swaths of the country had been enveloped with thick haze-not nearly thick enough, however, to dissuade fans from trooping to the Sunway Lagoon amusement park's Surf Beach to attend the annual outdoor music event.
Nearly 20,000 revelers showed up, twice the number of last year's attendees, thanks to this year's diverse acts composed of local singer Stacy, Japanese indie band Sekai No Owari, K-pop girl group Apink, Canadian pop star Carly Rae Jepsen and American hip-hop-R&B artist Jason Derulo.
The stage burst into a riot of lights and colors from the moment Stacy came on: strips of LED screens displaying an endless loop of trippy visual abstractions, coupled with beams of brightly coloured laser cutting through the haze and shooting up into the night sky.
Clad in an all-black ensemble, Stacy, a winner of a reality talent search here, opened the concert with "Not for Sale," a danceable thug-love ditty, which she performed with Malaysian rapper Altimet. Promptly, the audience turned into a sea of raised fists and of inflatable clappers being struck in cadence with thumping beats blasting from the stereos.
Whimsical
As camera drones hovered past the crowd to document the revelries from above, Sekai No Owari, the first Japanese act to take part in "MTV
World Stage," weaved a soothing, but still jaunty, mood with whimsical, electropop-laden pop music.
Composed of lead vocalist Fukase, guitarist Nakajin, pianist Saori, and the clown mask-wearing DJ Love, the group, whose name translates to "end of the world," delivered a solid five-song set similar to what one may hear in an Owl City gig, albeit more eclectic and theatrical.
Standout songs were "Anti-Hero," which had a soft backbeat, and was embellished with jazz horns and piano passages; and "Mr. Heartache," a mellow song with dreamy, muffled synth lines, sung by Fukase using vocal distortion.
The group takes its fashion as seriously as its music. The members wore white outfits inspired by the classic film "A Clockwork Orange." "In Japan, fans usually only know band frontmen. And that's something we want to avoid, so we make sure that everyone takes on a unique character that will make him stand out," Fukase told the Inquirer, through a translator, in an interview held earlier.
Hot girl band
K-pop is an ever-present component of "MTV World Stage." And this year, it was the girl band Apink, currently one of the most popular in the biz, that had young concertgoers inching forward and squeezing through throngs of people to get a better view. 
Camera phones flew up and screaming ensued when the members-Park Cho-rong, Yoon Bo-mi, Jung Eun-ji, Son Na-eun, Kim Nam-joo, Oh Ha-young-emerged from underneath the stage, and began their set with "NoNoNo."
The girls, who wore matching white crop tops and pants, wasted no time putting on a charm offensive-winking and making heart shapes with their hands, as they shuffled in and out of different dance configurations with remarkable precision.
The music, for the most part, was either perky or syrupy. So what better way to complete the experience for fans than releasing colorful balloons and occasional bursts of thick confetti? To persistent chanting and shouting, Apink sustained the energy with "LUV" and wrapped up with "Remember."
In the longish lull after Apink's set, not a few concertgoers went out for a quick bite, only to come rushing back when the concert hosts, VJs Alan Wong and Hanli Hoefer, finally introduced Jepsen. After all the spectacle and pageantry of the previous acts, the Grammy Award-nominated artist delivered a refreshingly down-to-earth performance.
Sturdier repertoire
Once dismissed as a one-hit wonder, the singer-songwriter of "Call Me Maybe" fame has recently released her third album, the 1980s-inspired "Emotion," which has so far been earning positive reviews, even from some of the harshest of critics. This time, Jepsen took the stage with a sturdier repertoire that no longer relied on her viral hit.
There was the strong mid-tempo dance ditty "Run Away With Me"; the album's eponymous single "Emotion," whose chorus conjures images of a breezy summer day; the sultry, slow-burning "All That," which features shimmery synths that are undeniably '80s; and "Not That Type of Girl," which had the artist's ready smile turning into a smirk and then into a look of indignation as the song went on.
Asked by the Inquirer if she felt burdened by the immense success of "Call Me Maybe," Jepsen said she considers it a "gift, a beautiful surprise." "There was definitely pressure as to what to write next… But it wasn't based on wanting to achieve that level of success. You can't really take credit for a song that big-the stars simply aligned," related Jepsen, who likewise performed at the Smart Araneta Coliseum in Manila recently.
That's not to say, however, that she would be retiring the song any time soon. To end her nine-song set Jepsen, who now wears her hair black and with blunt bangs, performed "I Really Like You" back-to-back with "Call Me Maybe," which still elicits the same response from the fans as it did three years ago.
Unabashed showcase 
The prime spot was given to the multi-talented Jason Derulo, who acts, writes songs, sings them and then dances to them. But of all the things he does well, it's his frenetic moves-an unabashed showcase of sheer athleticism-that brought the house down. And his numbers were crafted to highlight just that.
So often he would begin a song with some gentle, pleading crooning, before letting it all out at the climax-he spun like a top, thrust his hips, swiped his arms, shuffled and moonwalked; he did a series of quick half-steps, before leaping into the air and kicking. Who needs fireworks?
And despite performing 14 songs, which included his hits "In My Head," "Ridin' Solo," "Wiggle" and "Talk Dirty," not once did Derulo appear fatigued. Sweating, yes. But never out of breath-not even with the haze.
His singing wasn't too shabby, either. Derulo has a smooth tone and a sweet falsetto, common with a lot of male R&B vocalists, and he used that to great effect in his slower, more romantic songs like "Marry Me," in which he knelt down and cradled the microphone stand in his arms as if it were his lover.
Derulo has performed in the Philippines a few years ago, but only in mall gigs. Now that he has more hits under his belt, the triple-threat performer said he would love to hold a proper concert in the Philippines someday. "That would really fly. I wish I could go everywhere," he said in an interview prior to the show.
"MTV World Stage Malaysia," which mounted its first edition back in 2009, is a global series that gathers multi-genre talents. The event is recorded live and is aired to audiences in over 550 million households in 154 countries through MTV networks.