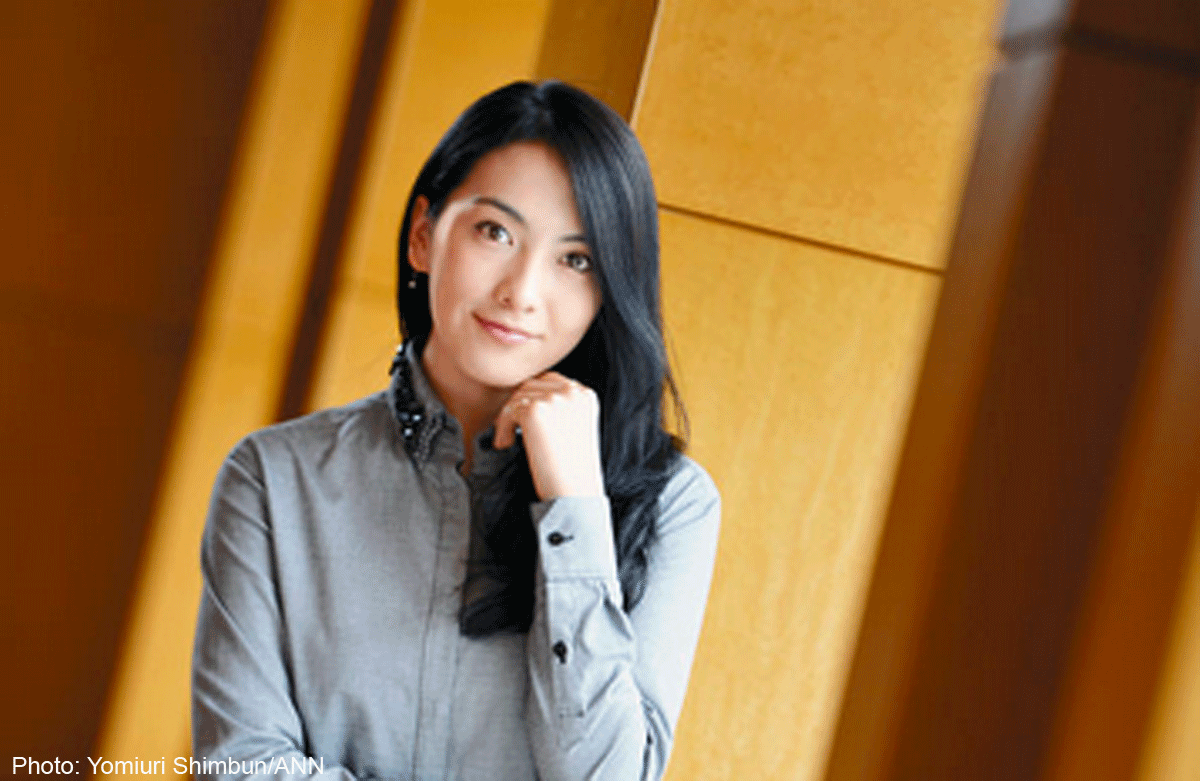 When Ji Young was with KARA, the mega-popular girl group from South Korea, she was known in Japan for her "younger sister" character. Now she has started her career as an actress in Japan, wearing another hat as a model, too.
More than anything, Ji Young has an excellent feel for languages. Trilingual, she speaks Korean, Japanese and English fluently. When performing in the recent TV drama "Jigoku Sensei Nube," her lines were written in Japanese in the script, just like those of other members of the cast. Of course, there was no interpreter to help her, and apparently the director gave her instructions in Japanese.
She revealed how she learned Japanese.
"I love Japanese dramas and films, and I've watched many of them from the time when I was in South Korea. Soon, I learned many Japanese words and became able to speak them, too," she said.
During the shoot, even when there was someone who could speak Korean among the drama's staff, "I deliberately tried to speak in Japanese to learn more words and grammar," she said. Her excellent command of the language is apparent in interviews, too.
"The more you master it, the more you find what you haven't understood or what you haven't been able to do. This is not only about languages, but everything. So, no, I'm not competent or anything. The more progress you make [in a language], the more difficult it becomes, so I have to continue working hard," she said.
Born in 1994 in South Korea, she first debuted as a singer in 2007 as a member of girl group KARA, one of the most popular acts in K-Pop (South Korean pop music). In April this year, her contract with the management company in South Korea expired, and she left the group. From October, she appeared in the Japanese TV drama "Jigoku Sensei Nube" on the NTV network as Yukime, one of the lead female characters.
After leaving KARA, she studied in London for four months to refresh and renew her enthusiasm. By chance, through one of her friends there, she got to know a person at Sweet Power, the entertainment management agency to which such actresses as Maki Horikita and Meisa Kuroki belong.
That's how she joined the agency.
"I've always been fond of Japanese culture, such as dramas, films and manga. I also wanted to work in a new environment," she said, explaining her big decision.
She has strong feelings about the new career path she has chosen - that of an actress.
"I hate to lose. I never quit in the middle of something," she said, considering her own personality.
As if a reflection of her strong will, she embraces big dreams. This is her prediction on what she will be doing in 2024, 10 years from now: "By 2017, I will be an actress known by everyone in Japan. By 2019, I will be an actress known to everyone in Asia. And in 2024, I hope I will have become an actress who can excel in Hollywood," she said.
Her favourite Japanese phrase is "Shoshin wasuru bekarazu" (You must not forget your original intent). To her, this plan for the next decade will serve as a point of origin to which she can always return.
She still cherishes a newspaper from the time when she was around a first-year pupil of primary school, which carried a big picture of her on its front page.
She went to a photo studio with her family to have a family photo taken. The photographer asked her parents if he could take another picture with her alone as well because she looked very pretty. Later, a very large version of the picture of her was printed on the front page of the newspaper, to her great surprise. At the same time, the incident convinced her she was blessed with tremendous good fortune.
Her strong self-confidence enables her to "stay forward-looking [about various dreams and ambitions] because I believe they will come true," she said with a smile.
Her years with KARA speak volumes about her singing and dancing skills. Now she needs to hone her art as an actress to become internationally successful. Let's cheer on Ji Young!
Ji Young will make her debut on the big screen in the film "Ansatsu Kyoshitsu" (Assassination Classroom) in March. For more information, visit http://ansatsu-movie.com.