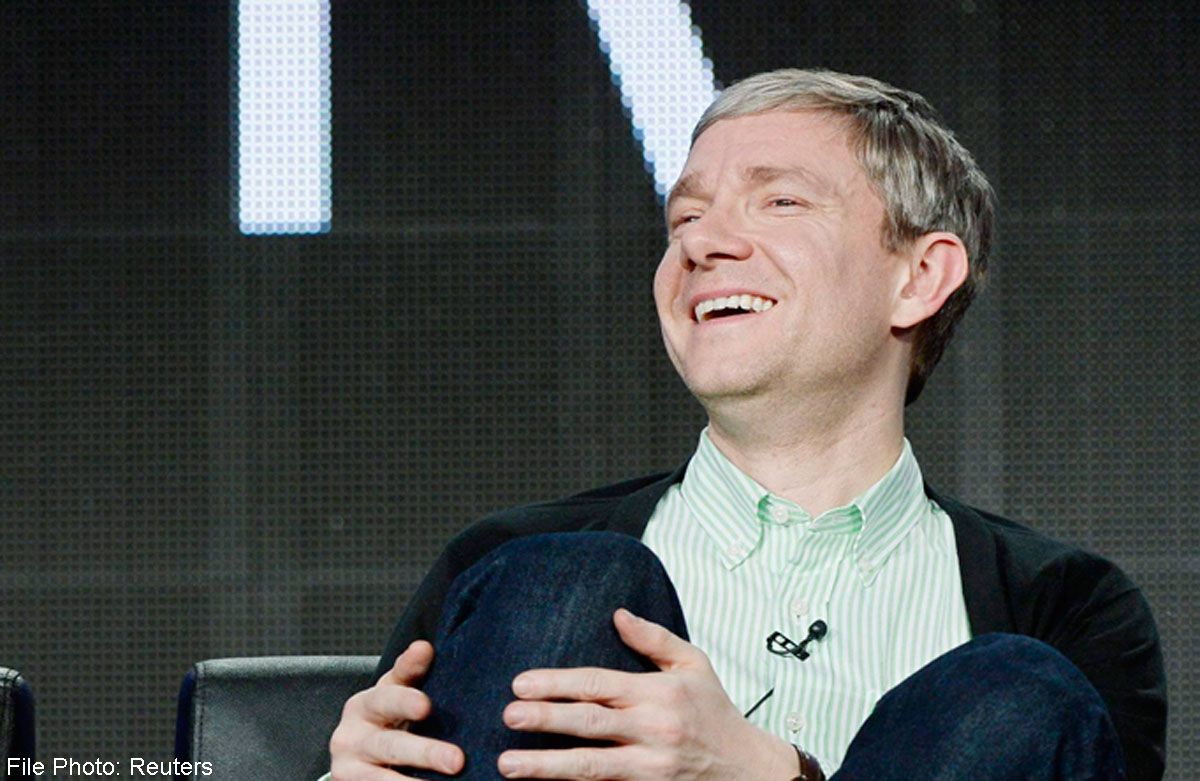 CARDIFF, Wales - It seems as though Martin Freeman cannot escape Benedict Cumberbatch.
The two have sparred on screen in The Hobbit: The Desolation Of Smaug (2013), where the duo form an unlikely pair of adversaries: Freeman playing the intrepid Bilbo Baggins, Cumberbatch the smouldering dragon, Smaug.
They are together once again, as an unlikely pair of comrades, as Sherlock returns to the small screen for its third season, which premiered in Singapore on Thursday on AXN (StarHub TV Channel 511) at 10pm.
The hit BBC series, launched in 2010, casts Cumberbatch as the titular detective Sherlock Holmes, Freeman as his friend and ally Dr John Watson, as it brings the classic 19th- and early 20th-century detective stories into the modern age.
"So much of this show's success is down to that relationship between the two men, it's really not about the technology and stuff like that," says Freeman, 42, in an interview with Life! on the set of the show.
"It's also about the brilliance of Sherlock, his mind and the attractiveness of this main character, this brilliant, unobtainable person. He is slightly removed, which makes people leap into him.
"And the audience wants to see him in a friendship that contains apathy, hostility, but also love. If this show had been out in 1978, I'd hope it'd have been just as successful."
Created and scripted by Mark Gatiss and Steven Moffat, who worked with the BBC when writing many of the episodes for the Doctor Who series, Sherlock enters its third season with "Watson dealing with Sherlock's return, which is as big a thing as is his falling in love and getting married".
"Every episode is big," says Freeman.
The storylines dominate the opening two episodes, following the close of Season 2, where audiences supposed that Holmes might have fallen to his death.
He adds: "In a way, when each new series comes along, the audience expects it to be bigger. When this first came out in 2010, people were so surprised.
"The reaction was amazing and immediate; it was like a free gift, but the more successful a show becomes, the more you feel like you owe the audience something."
The actor first came to audiences' attention in 2001 in the BBC sitcom The Office and he has since gone on to star in a string of feature films, culminating in his casting as Bilbo in director Peter Jackson's The Hobbit trilogy.
It is his first experience in the big leagues, and he knows it.
"In many ways, it's less stressful doing a blockbuster than it is doing something like Sherlock," he says. "I never heard anyone on The Hobbit, in 18 months there, say 'We can't afford that.'
"That sentence is not uttered there while it is heard everywhere on every other job I've ever had.
"If you have that money and that time, which you do on The Hobbit, then as an actor, that's much less stressful. If you're building the sets for The Hobbit, it's a different matter - that'd be really stressful. Or if you're Peter Jackson."
Jackson actually delayed shooting The Hobbit films, which started in 2012 with An Unexpected Journey, to make sure that Freeman could take on the lead role.
"Peter made that choice and it was amazing," Freeman says. "I couldn't believe it at the time and I still can't really. That sort of thing doesn't usually happen.
"It's usually a case of if you're not ready, they pass it on to someone else. The fact that Pete had that determination that I was going to be the right man for it was amazing."
It is a role that has made him famous worldwide and also turned him into a star in the eyes of the children of his extended family and friends.
"That is true and I have got enough ego to quite like it," he says with a smile.
Freeman lives with his partner, actress Amanda Abbington, with whom he has two children.
"You are aware of it at school, at picking-up time and dropping-off time. All the school kids are suddenly looking at you very differently.
"It's fine for kids to look at you like that, though I think it'd be strange if 30-year-olds looked at me in that way."
As for how playing Bilbo has influenced his professional life, he is as yet not sure. After all, only Ian McKellen and Viggo Mortensen emerged from the cast of The Lord Of The Rings trilogy, also directed by Jackson, with their careers significantly enhanced.
"Things don't change as much as you think they will or as much as you are led to believe that they will. They really don't. It is the truth," says Freeman.
"We were recently in Italy for a week and Brits and Americans recognised me all the time, but Italians recognised me only four or five times in all.
"We went out a lot and it was not Outer Mongolia. It was Italy. But I don't know yet how playing Bilbo has changed my career.
"I have another job starting soon and I'm sure the success of the The Hobbit won't hurt that."
Get a copy of The Straits Times or go to straitstimes.com for more stories.