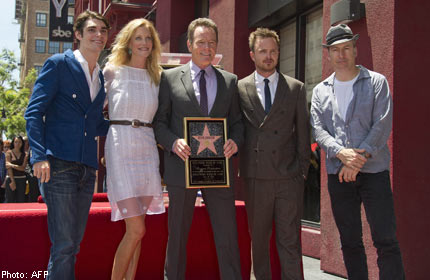 When it comes to critically acclaimed US TV series Breaking Bad, it's all good.
The crime drama revolving around cancer-stricken high school chemistry teacher and crystal meth maker Walter White (Bryan Cranston) ended its fiveseason run last month with a finale that dominated headlines for days after.
It was also recently crowned Best Drama Series at the Emmy Awards. And its massive success has seen visitors flocking to the dry, arid climate of Albuquerque, New Mexico, where the show was filmed.
While tourists are usually drawn by attractions such as the International Balloon Festival and pre-historic discoveries, Breaking Bad is giving people a whole new reason to visit the city of 900,000.
I visited Albuquerque in July with my fiancee Gillian Ang. It was part of a trip to places of significance in geek culture in the US.
The city bears little resemblance to the seedy, grimy locales in Breaking Bad, and is a charming place to visit.
Mr Jesse Herron and Mr Mike Silva are tour guides and co-owners of ABQ Trolley (www.abqtrolley.com).
ALL OVER THE WORLD
They started a tour of the Breaking Bad shooting locations in July, and it has consistently sold out since. The threeand- a-half-hour tour costs US$65 (S$81) and has drawn visitors from as far as New Zealand and Australia.
"We've had people from all over the world who actually plan their vacation to the US around whether or not they get seats on the tour," said Mr Herron. The itinerary includes Twisters, a fast food joint that stands in for Los Pollos Hermanos, a front for drug kingpin Gus Fring (Giancarlo Esposito).
Inside, there is a sign that proudly proclaims "Yes! Breaking Bad was filmed at Twisters".
The tour also stops at the house of Jesse Pinkman (Aaron Paul) and the Octopus car wash, which stands in for Walter and Skyler's (Anna Gunn) money laundering facility.
Rather morbidly, it even takes visitors to the street corner where Combo (Rodney Rush) was murdered.
So which is the fans' favourite location? Mr Silva said that while Twisters is a "big jaw-dropper", it is the house of Walter White that is often the "biggest ooh-ah moment" of the tour.
On my part, I could not resist taking a photo next to the Los Pollos Hermanos sign in Twisters.
ABQ Trolley is not the only one cashing in on the craze.
Rebel Donut offers Breaking Bad Blue Sky doughnuts, which are sprinkled with blue sugar crystals resembling the blue crystal meth from the show.
Great Face & Body, a health and beauty store, also sells "Bathing Bad," a line of blue bath salts that will apparently "relax away the bad".
Perhaps the only Breaking Bad entrepreneur with an actual connection to the show is Debbie Ball, who runs a store called Candy Lady.
Ms Ball, who has been in the business for 35 years, supplied almost 50kg of prop meth candy for the show in its first two seasons. Her store was also visited by the cast and crew.
She said: "They are very nice and down-to-earth people. They were very interested and active in the community, especially Bryan Cranston."
BLUE METH
Among the Breaking Bad paraphernalia on sale at Candy Lady were little dime bags of "blue meth", or blue rock sugar candy.
Ms Ball has sold more than 30,000 bags, following attention from the media. There are also Pez candy dispensers depicting the show's major characters.
They were designed by a local artist and go for US$30 each. Ms Ball has even started a limo tour of the shooting locations, led by a Walter White lookalike.
So how does she feel when people say Breaking Bad gives Albuquerque a bad name?
The show is educational and its fans are not "druggies", she insisted. "I tell people, watch it with your children, show them what happens when they go down that road."
Breaking Bad may be over on the small screen, but given its following, Albuquerque will continue to reap the benefits for years to come.
The writer is the co-founder of geek news website GeekCrusade.com, which covers movies, TV and comics.
OTHER TV TOURS
Sex and the City
WHERE: New York City
HIGHLIGHTS:
- Stop by New York Public Library, the venue where Carrie Bradshaw was supposed to get married to her love, Mr Big.
- Head to Magnolia Bakery for the cupcakes Carrie and Miranda Hobbes raved about.
- Check out Pleasure Chest, the adult toy shop in which Charlotte York bought an item.
Gossip Girl
WHERE: New York City
HIGHLIGHTS:
- Take a photo on the steps of The Metropolitan Museum of Art, where Blair Waldorf and Serena Van Der Woodsen hang out at lunchtime.
- Visit the Grand Central Terminal, where Serena was seen returning to New York City from her boarding school for the first time.
- Pass by the empire Hotel, home of bad boy Chuck Bass.
The Sopranos
WHERE: New York City and New Jersey
HIGHLIGHTS:
- Stop by Satin Dolls, a bar in New Jersey used to film the strip club Bada Bing in the show.
- Head to Skyway Diner, where Christopher Moltisanti was shot.
- Visit the location known in the show as Barone Sanitation, a storefront business for the Sopranos crew.

Get The New Paper for more stories.