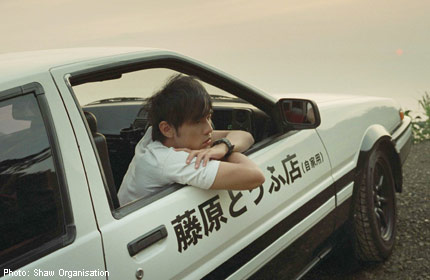 Drivers are sexy.
They go fast. They dress cool.
They defy death and disfigurement.
It's as simple as that.
A driver doesn't even have to be all that good-looking to be sexy, but when he or she is a legit looker, then the sexiness is, well, overwhelming.
You'll know what we mean when you see the new biographical action film Rush.
Chris Hemsworth, the sexiest actor ever, stars as James Hunt, the sexiest Formula One racer ever.
It's an amazingly potent combination.
Directed by Ron Howard, the story is about Hunt's real-life rivalry with Niki Lauda (Daniel Bruhl) in the '70s.
The two men pushed each other beyond their limits, resulting in both pain and glory.
Rush is also an interesting character study, comparing and contrasting the romantic Hunt with Lauda, who is a realist.
But who cares?
The main thing is that Hemsworth looks amazing as the speed demon!
With that in mind, Jason Johnson counts down the hottest men and women behind the wheel of the new millennium.
1. Chris Hemsworth
AS JAMES HUNT IN RUSH (OPENING NEXT WEEK)
The guy, who also plays Thor, looks just as good in a red race suit as he does in a red cape.
Hemsworth is perfectly cast as the dashing Hunt, whose life was a nonstop party. When he wasn't driving fast cars, he was bedding faster women - making him the envy of the world.
Hemsworth's beautiful hair and devil- may-care smile are irresistible. And ladies, he does show off that god-like.
2. Rhona Mitra
AS EDEN SINCLAIR IN DOOMSDAY (2008)
In a post-apocalyptic world, bosomy special agent Eden Sinclair is sent on a mission to find a cure for a deadly virus.
Her spaghetti-strap top is tight. Her pants are tighter. Her black Bentley is the tightest.
The climactic car chase during which she battles a bunch of Mad Max wannabes is absolute classic.
3. Ryan Gosling
AS DRIVER IN DRIVE (2011)
He might not say much, but Driver certainly knows how to smoulder.
Even though he appears to be a total psycho, this getaway driver has got the goods to seduce pixie girl Carey Mulligan.
Gosling is crazy handsome.
4. Jordana Brewster
AS MIA TORETTO IN THE FAST AND THE FURIOUS FRANCHISE (2001 - FOREVER)
There aren't many girls as pretty as Brewster in Hollywood, and fewer still who star in car movies.
She's way too fine-featured to be playing Vin Diesel's sister, but never mind we'll take her!
5. Rain
AS TAEJO TOGOKHAN IN SPEED RACER (2008)
Rain looks amazing in his dragonfestooned race suit, and he also looks surprisingly good disguised as a woman.
With this flick, he also proved he has the chops to make it in Hollywood.
6. Jason Statham
AS FRANK MARTIN IN THE TRANSPORTER FRANCHISE (2002 - 2008)
Rule No. 1: Never change the deal.
Rule No. 2: always look sexy!
With his trademark stubble and smart suits, Statham defines the handsome hard man.
7. Angelina Jolie
AS SWAY WAYLAND IN GONE IN SIXTY SECONDS (2000)
Even though her hair looks kind of funny, there is no denying Jolie's sexiness as the ace car thief Sway.
"What do you think is more exciting, having sex or stealing cars?" she asks. "Having sex while stealing cars," is costar Nicolas Cage's sensible reply.
8. Paul Walker
AS BRIAN O'CONNER IN THE FAST AND THE FURIOUS FRANCHISE (2001 - FOREVER)
If you like dumb blondes, here's your man. Walker brings a real boyish charm to his role as the dopey but valiant O'Conner, a former cop who now hangs out with criminals.
His bromance with Diesel is ace.
9. Olivia Wilde
AS QUORRA IN TRON: LEGACY (2010)
Our hero Flynn mistakes Quorra for a guy when she races to his rescue in a cyberbuggy, but there's no mistaking her true gender when you finally see her in her skin-tight light suit.
Instant crush!
10. Jay Chou
AS TAKUMI FUJIWARA IN INITIAL D (2005)
With his cool attitude and skills behind the wheel, this slacker dude has an understated sexiness that discerning girls will appreciate.
Does he end up winning the big race and his dream girl's heart?
What do you think?

Get The New Paper for more stories.