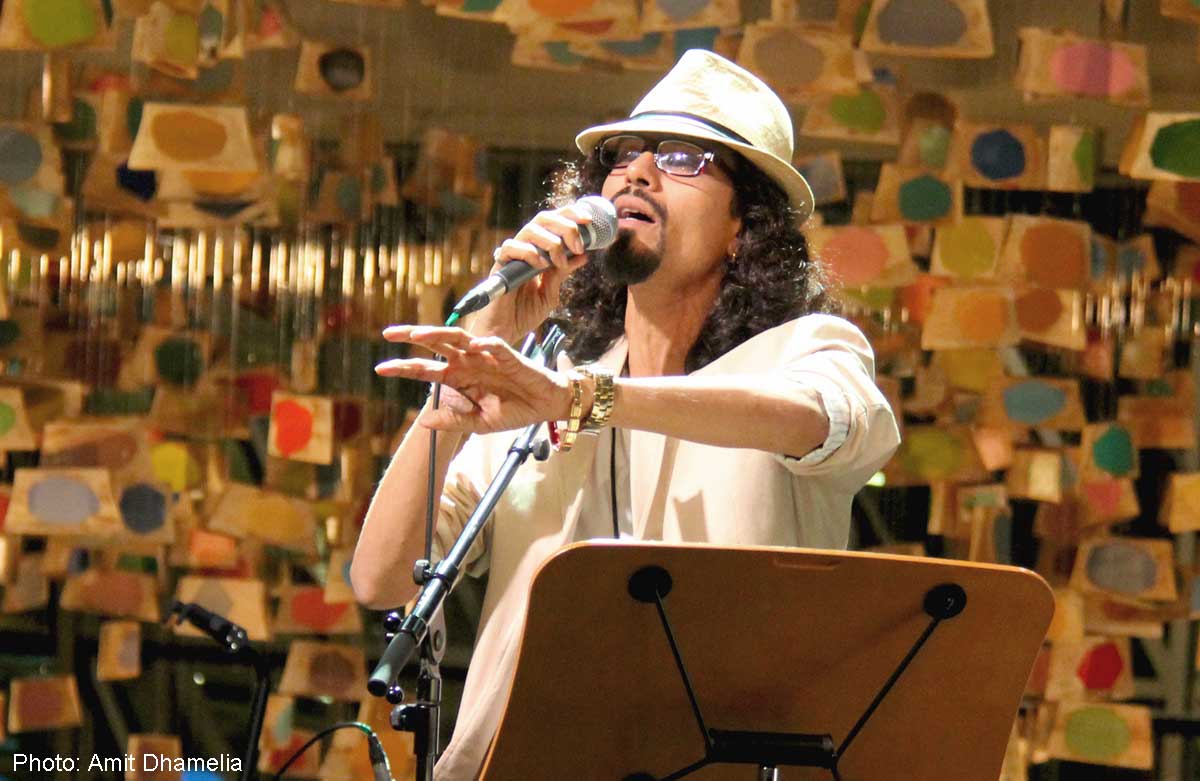 As a child, he used to skip all other lessons in school and hide in the music room. Now musician Amit Dhamelia wants to transfer his great love of music to the next generation with his Param Swaram Performing Arts school.
He said, "The purpose of my academy Param Swaram is to give the gift of music to the next generation who are hungry for music. I provide a personal touch when I impart music to my students who come from a range of backgrounds and age groups. I aim to create a new league of performing artistes in Singapore to realise my dream of making Singapore a musical utopia."
Amit was the second of four children born to musicians Hargovind and Bhagawati Dhamelia. Growing up in Gujarat, he was only four when he gave his first stage performance. Amit would later go on to be the undefeated champion vocalist at state-level competitions in Gujarat for seven years.
Because of his achievements in music, the Indian government sponsored him to attend a workshop by Pandit Dhwarakanath Bhosle, who inspired Amit to attend a music college for his degree and master's.
At the Maharaja Sayajirao University of Baroda, Amit would spend his days locked in his room, singing for more than eight hours a day and reading up on music. He picked up the harmonium and keyboard to accompany his singing.
His voracity for music encouraged his gurus to give him special attention, which helped him learn a lot more than his friends.
Amit paid his college and hostel fees with the money he earned from giving performances, teaching music privately and from doing odd jobs. He completed his bachelor's and master's degrees in performing arts, specialising in vocal music and was the top student in his college.
He wanted to continue his education in music and take up a bachelor's degree in the tabla, but fate intervened as his vocal music career took off. Thus began the struggle of making a name for himself in India's music industry.
He performed beside musical legends, such as Ghazal maestro Ashok Khosla, Aashit Desai-Hema Desai and Purushottam Upadhyay, accompanying them on the harmonium. He also joined bands to help them in their performances by composing music and performing alongside them.
He observed and learnt a lot about stage management, presentation, lighting and sound systems and professionalism onstage.
He became proficient in 14 different musical instruments in the string, wind and percussion families. Amit gained recognition through his compositions for the bands he worked in and began performing in his own shows, travelling extensively throughout India.
He became a familiar face on television and was frequently heard over the airwaves through Doordarshan and All-India Radio. Amit was also a music teacher in eight schools across Gujarat and was quickly promoted to head of department for the arts in all of them due to his experience and expertise in teaching.
Altogether, he has taught music in Gujarat for over 10 years. In 2002, Amit was invited by the Singapore Indian Fine Arts Society (SIFAS) to come to Singapore to perform for a dance-drama production.
That was Amit's first visit to Singapore. When Amit got married, he settled down in Singapore and worked in an international school as the Head of Department for Music and Dance for eight years.
After he gained permanent residency in Singapore in 2009, Amit began performing in Singapore.
His big break came when he was approached by Mr Rahul Shah to perform for a gala dandiya event organised by the Kembangan - Chai Chee Ansar Residential Committee in 2011.
A year later, the People's Association Indian orchestra approached him to perform for a new concept performance where live music is provided as background music for a movie.
The performance, titled Shiraaz, and conducted by Lalitha Vaidhyanathan became a mega hit and Amit gained many accolades for his seasoned voice.
Many local institutions like Temple of Fine Arts, Bhaskar's Academy and SIFAS have provided Amit with multiple opportunities to perform, including nine performances at the Esplanade.
He gained many other opportunities to accompany music legends like Ghazals Ustad Gulam Ali Khan and Mallika-e-Gazal Munni Begum and continues his own self-development in music through extensive practice and listening even today.
Amit's students in private classes in Singapore are of all ages, incomes and musicality. One of them, Jordan Joshua, who learnt vocal music under him, has gone on to become a music producer and composer for Vasantham.
Amit is also mentor and guru to one of Singapore's most promising home-grown fusion bands Just Feel and performed with them in front of world-renowned music director and producer A.R. Rahman last year.
Amit is currently working on two albums - one that will release in Mumbai this year and another that is still being conceptualised. And he is excited about an upcoming concert that Param Swaram is planning.
"This concert will be the first original production under the banner of my academy. It will be put up next year in line with SG50 as a charity concert to a local cause," he said.