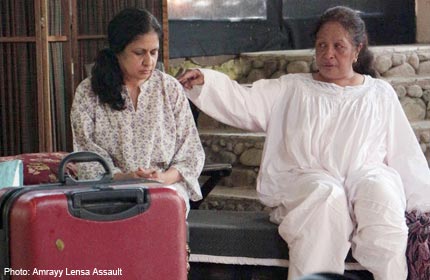 SINGAPORE - Witness the emotional journey of two sisters as they rekindle their relationship in My Daddy... Bapak Aku... Mak Kita (My Daddy… Our Mother), which opens at the Esplanade Theatre Studio on Friday.
The 50-minute-long play by Stefani Events and Masakini Theatre Company will be performed in Malay with English subtitles. It is part of the Esplanade's Pentas programme, which aims to foster community interest in Malay programmes.
It traces the history of two estranged half- sisters, Samsinar and Dahlia, who are separated when Dahlia's father takes her to England with him.
When the two siblings meet and start talking in their childhood home after their mother's funeral, long-buried resentment, jealousy and love begin to rise to the surface.
Says Sabera Shaik, artistic director of Masakini Theatre Company: "The play begins with an understanding, a tacit knowledge between the two sisters of things past. There are triggers throughout the play that remind them of what they have lost and what they may gain."
Shaik, 61, will be playing younger sibling Dahlia in the intimate play, which premiered in Malaysia last year. "It is a beautifully written script that takes us all, actors and audience alike, on a roller-coaster of emotions," she adds.
The play was scripted and directed by Iryanda Mulia Ramly. Ramly also wrote 3 Wajah, a comedic one-woman play starring veteran actress Fauziah Nawi which was presented at the Esplanade in 2011. Nawi plays the elder sister Samsinar in My Daddy... Our Mother. She agrees that the play consists of a mix of emotions.
"It's about the happy moments, the anger, the love, the jealousy and emotions jumbled up in an hour. It's quite challenging for me as an actor," says the 60-year-old.
Because of the ups and downs of the sisters' journey, Nawi says that rehearsals were emotionally draining. "It's very emotional and it hurts, especially when the elder sister is singing a lullaby from their mother," she says.
"But the director told us not to cry. Sometimes, when you don't cry and you're broken up inside, there's a different effect."
She adds that she is nothing like her character, whom she describes as "someone who can never show her love and intimacy as everything is suppressed. She's the kind of person who can't say 'I love you' and finds it hard to tell the truth".
The former radio host says: "I'm someone who is very open. I love it when people tell me the truth. Samsinar feels like she's the older sister so she can say anything she likes but I'm not like that. I mustn't hurt people unnecessarily."
Book it
MY DADDY... BAPAK AKU... MAK KITA (MY DADDY... OUR MOTHER)
Where: Esplanade Theatre Studio When: Friday, 8pm; Saturday, 3 and 8pm Admission: $25 from Sistic (call 6348-5555 or go to www.sistic.com.sg)
lting@sph.com.sg

Get a copy of The Straits Times or go to straitstimes.com for more stories.