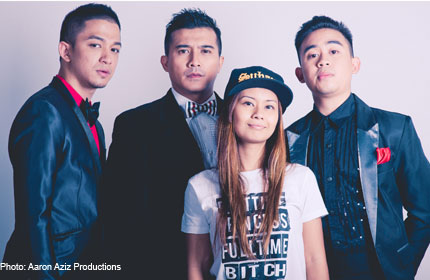 Eight years after they started making the rounds in local hip-hop circles, popular duo Sleeq - 23-year-old cousins Alif Abdullah and Ahmad Syarifullah - are moving to Malaysia to pursue music full-time.
Come October, Alif, who is better known as Alyph, and Syarif will move in with Singaporean actor in Malaysia Aaron Aziz and his family. They live in Kuala Lumpur.
Alyph told The New Paper: "It's thrilling. We've been making music while doing other things, but now, we get to focus on making music full-time."
The decision to relocate came after two years of Alyph doing national service and Syarif studying part-time for a degree in mass communication from SIM University.
On weekends, they went to different parts of Malaysia to meet their fans, called the "SleeqMovement".
Their active fanbase helped them bag the Dude of the Year title at The New Paper's annual Flame Awards last year and they were more than 600 votes ahead of MediaCorp actors Elvin Ng and Desmond Tan.
They also won the New Media Icon award at Anugerah Planet Muzik last December and the Best Duo/Group award at the local AnugeraHitz.sg in 2010.
Signed
They were signed to Aaron's management and production company Aaron Aziz Productions two years ago.
The move, explained Sleeq, is essential because of the environment Malaysia provides in creating big, splashy careers - like the one Aaron has - for their artists.
"In Malaysia, people really look at their actors and singers as idols," said Syarif.
"In Singapore, you don't really get the same response. Because we're such a small country, you can bump into anyone anytime, anywhere."
The boys have had their taste of being treated like big men on campus at the university shows and festivals in Malaysia.
These "grassroots" efforts resulted in thousands singing along to Sleeq's biggest hits, including last year's Untuk Dia, featuring rising Malaysian singer-songwriter Najwa Latif, and Cun Saja from their debut 2008 album Classiq.
"It was really crazy," said Syarif.
"We went to these places not knowing what to expect or whether people would actually show up.
"But where we went, they would know our songs because the singles had been playing on radio."
All the running around has paid off - the duo scored 300,000 ringtone downloads for Untuk Dia and the song's music video has over 13 million hits on YouTube.
Once they have settled down across the Causeway, they will be prepping for the release of what they call their first "properly done" full-length album.
The self-titled offering will be their first professional production and with live sessionists.
Although promoting the album will be their priority, the pair also hope to lay the groundwork for a sustainable long-term career in Malaysia.
"Once we move there, we'll be looking for people to work with, produce songs for," said Alyph, referring to the boys' own music production company Magic Potions, under which they will also be starting their own merchandise and fashion line.
It is a lot of work and it is only the beginning.
"This is not the final destination," said Alyph.
"For as long as we can remember, we have been talking about the Grammys. It sounds unreal, but that's what we've always had in mind."
But before Sleeq go full steam ahead with conquering music charts in Malaysia and beyond, they'll have to deal with the tricky situation of having to leave their fiancees behind.
Engagement
Syarif and former reality TV singing show Singapore Idol 3 finalist Malaque Mahdaly, 24, held their engagement ceremony on New Year's Day last year
Alyph got engaged to teacher and freelance Suria actress Azzah Fariha, 25, in May this year.
Both couples plan to marry late next year and Malaque already has plans to move to Malaysia after the wedding.
Azzah, however, will remain in Singapore for at least another three years to serve her teaching scholarship bond under the Ministry of Education.
Malaque and Azzah had their reservations about the move, but both have come to an understanding with their partners on how they will handle the long-distance relationship - the boys promise to visit home regularly.
"We've talked about having to call each other every day," said Azzah, who has been dating Alyph for three years.
"Thank God for technology," added Malaque, who met Syarif during her Singapore Idol stint in 2009. He was an intern with Channel 5 then.
The couples have already survived a bigger hurdle - to convince the girls' parents to give their daughters away to a couple of ambitious young musicians who don't have the luxury of having a big music label backing them.
"It's that whole 'How can you survive doing music in Singapore?' thing," said Syarif.
Agreed Alyph: "Most people (in the music industry) have a day job, especially when you're married and have to earn for the family."
So what's next for the couples?
Possibly learn to navigate the gossip-hungry Malaysian press and an industry known to be tough to outsiders, as their mentor and boss Aaron can attest to.
Aaron's Most Popular Film Actor award win at last year's Anugerah Bintang Popular BH was criticised by Malaysian actor Zed Zaidi, who thought he didn't deserve the award because he was Singaporean.
The boys are not too worried about bad blood in the music industry there.
"I think musicians work differently, we don't see each other unless there's a collaboration, whereas actors have to work with other actors," said Syarif.
But gossip could be a problem.
Syarif was rumoured to being involved with Malaysian singer Amanda Imani, which he has denied.
"We just have to be honest about everything (with the press)," said Syarif.

Get The New Paper for more stories.