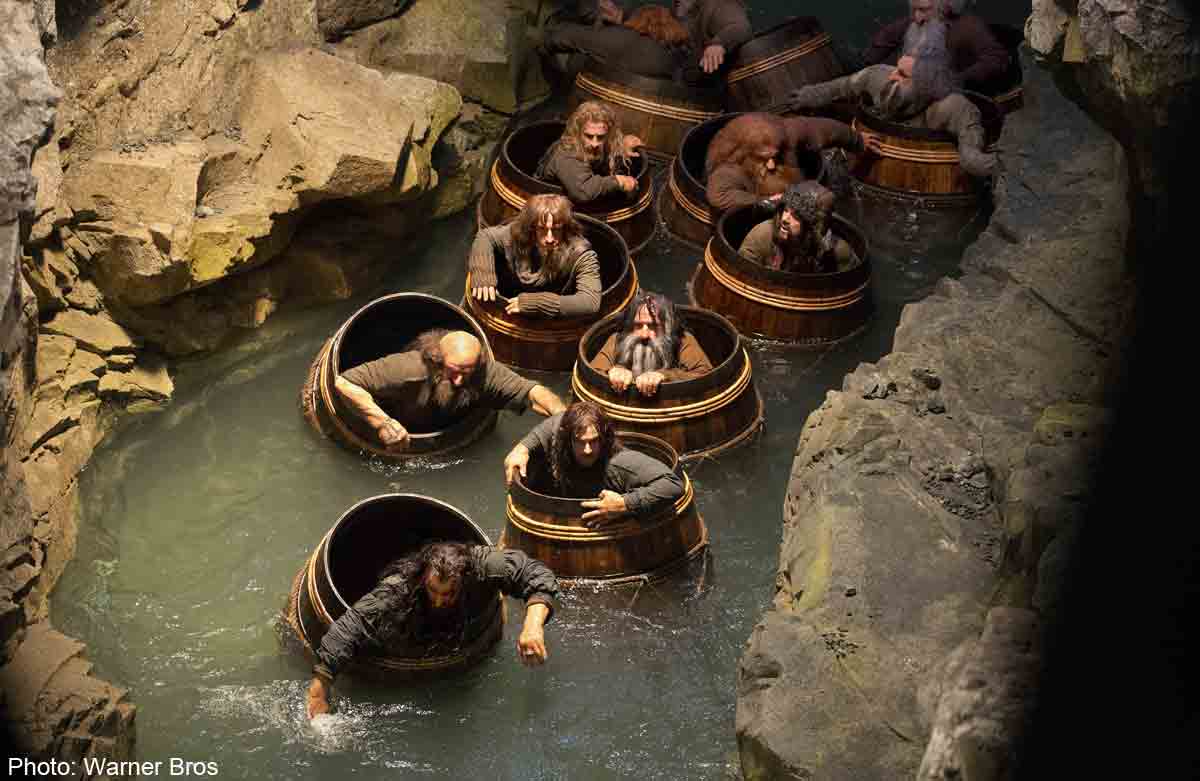 LONDON - Do not do all your acting in the first week.
That is the advice of Martin Freeman, who plays the titular character in Peter Jackson's (below) upcoming film, The Hobbit: The Desolation Of Smaug.
"Pace yourself, know where you are. Don't come out of the traps at 100 miles per hour because you've got another year. Don't burn out in week one," he warns.
"We shot chronologically at first but, later, there was a lot of jumping around," he elaborates.
"You always have to check in: where the hell am I? Where have I just been? My character - his journey goes up and down all the time, relationships with different characters are different at different times. His bravery is different at different times."
The English actor was at Claridge's Hotel in London to speak to reporters about the second instalment of the film series, the first of which opened last year as one of three prequels to the darker Lord Of The Rings' trilogy.
Based on English author J.R.R. Tolkien's fantasy books of the same name, the tales are epic in ambition, buttressed by their broad and intricate arcs with multiple characters, subplots and backstories.
The Hobbit began as a single and self- contained tome before Tolkien reworked it to provide the springboard for a bigger book trilogy.
In a similar fashion, its silver screen adaptation was first conceived as two films before Jackson's project was enlarged midway through shooting into a three-parter.
What does it feel like to be at the halfway point?
"It's the longest job I've ever done. In a way, it's like putting a jacket on, but if you think it's too easy, then you're probably missing something," reveals Freeman, 42, who has two children with his long-time partner, actress Amanda Abbington.
As for fans' complaints about the first instalment's slow pace and extended length, he muses: "Pete is nothing if not bold, he demanded of the audience some big Asks.
"People have been clamouring for this film for years. He was determined to do it as he thinks the future of cinema is - with that number of frames per second, in 3-D."
Having just obtained a magical ring from the sprite Gollum and escaped an army of goblins and orcs, Freeman's character Bilbo Baggins is on his way to slay - or at least, waylay - a dragon at the opening of the film.
"Those feet make you walk in a different way," he relates of the experience of wearing prosthetic Hobbit feet, about 15cm longer than human ones.
"Your calves are killing you, your tendons are killing you... it is tiring. All films are tiring."
Certainly, the physical jaunt through the wilderness of New Zealand, where the film was shot, has been an arduous one, never mind the convoluted plots.
When filming finally wrapped up this July after a two-year siege, Freeman's fellow thespian Richard Armitage felt he would "have to be carried out on a stretcher".
The actor plays dwarf king Thorin Oakenshield, who joins Bilbo in claiming his inheritance and land from the dragon Smaug.
As Armitage says, filming conditions were so gruelling, with so many extreme temperature changes that people - especially extras playing orcs in heavy costume and stifling masks - were constantly vomiting in between takes.
"It was a shock when we first started, the amount of physical work that needed to be done. It was hot and so taxing. People were coming off the set, stunt guys as well," he reveals.
Other members of the troupe, however, have had a whale of a time crashing through heroic battles. Elven lord Thranduil and father of archer Legolas, played by American actor Lee Pace, was busy "swinging bits of metal... We had these incredible swords".
"Getting the costume on for the first time... the behaviours come out, the manners come out, you see other people look at you," Pace says.
"The elven king is very striking. I would find myself walking onto the set and people would be suddenly opening the door for me.
"He's prickly. He's not your friend. He doesn't care if people like him. He just wants them to kneel." Perhaps the most delicious antagonist of this instalment might be the one actor who did not need to do any real fighting here - at least not in person.
British actor Benedict Cumberbatch, who reunites with Freeman's John Watson from their parallel life in the hit TV series Sherlock, voices the other titular character and baddie, the dragon Smaug.
Freeman muses over the experience of working with an old friend: "You're used to seeing someone in a certain context in a certain country in certain clothes, and then - oh right, you're something else."
Cumberbatch has gone from English detective hero Sherlock Holmes to breathing life into a villainous dragon. The effect is riveting, says Freeman.
"Ben's voice - that aural image it conjures... He sounds fantastic."
The Hobbit: The Desolation Of Smaug opens tomorrow.
stlife@sph.com.sg

Get a copy of The Straits Times or go to straitstimes.com for more stories.