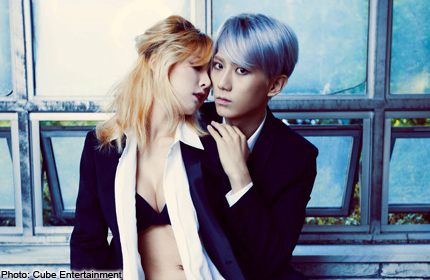 Steamy kissing scenes. Passionate making out. Implied threesome.
Binge-drinking and smoking.
Drugged-out protagonists leading a wayward life of violence and bloodshed.
This is no gritty Hollywood flick, but the latest eyeball-grabbing music video Now from K-pop's most exciting and unconventional duo, Trouble Maker.
Comprising girl group 4Minute's curvaceous bombshell HyunA and boy band Beast's charming Hyunseung, the delectable pair make a winning combination by boldly deviating from K-pop's structured mould which - let's face it - has always preferred its A-list idols earnest and clean-cut.
Playing cutesy and goody-two-shoes was, from the get-go, obviously not in this couple's DNA.
THE CRED
Trouble Maker, a sub-unit formed by record label Cube Entertainment (home to both 4Minute and Beast), debuted in November 2011 with their eponymous EP. Groovy, catchy single Trouble Maker was an instant hit, winning them a string of awards, including Best Collaboration at the 14th Mnet Asian Music Awards and Hot Trend Song at the 4th Melon Awards last year.
As evident in the music video of Trouble Maker, HyunA, 21, and Hyunseung, 24, were determined to stand out from their K-pop peers, wowing audiences with their titillating dance moves - cue several scenes of hips gyrating and bodies pressed close to one another.
With the Oct 28 release of the visually-impressive Now, aptly described by Billboard.com as boasting of "a modern-day, badass Bonnie and Clyde storyline", they have pushed the envelope further, making what could very well be the most sexually-charged K-pop music video of 2013.
THE CRAZE
If you're wondering whether conservative Asian audiences can accept their favourite poster boy and girl indulging in crime and all sorts of vices, the answer is clear.
In less than two weeks, Now has accumulated more than nine million views on YouTube.
The uncut six-minute version, which is double the running time and features more moments of intimacy between HyunA and Hyunseung, has attracted more than one million views in less than a week.
Looks like Trouble Maker has successfully made raunchy and risque their signature traits.
THE CHEMISTRY
While their sizzling on-screen chemistry might seem effortless, HyunA told Korean news website Soompi.com last month that filming the kissing scenes with Hyunseung was, in fact, "embarrassing".
Echoing similar sentiments was Hyunseung, who agreed that they had to overcome the initial "awkwardness" and "shyness".
Eventually, they did it as "we are both from the same company and it is not our first time working as a duo," he said.
"So we managed to work in harmony."
THE COMEDY
On last week's episode of Korean TV variety programme SBS Cultwo Show, the pair also shared a comical behind-the-scenes moment. "We were supposed to kiss while the fire was burning next to us, but the fire unexpectedly started burning too soon, which gave us no time to get into the 'kissing mood'," said HyunA.
Added Hyunseung with a tinge of disappointment: "We had to hurry through the kiss."
SOME WERE LESS OF A HIT
On paper, sub-units formed by K-pop record labels are a dream come true.
They fulfil fans' fantasies of seeing their favourite members from different boy bands and girl groups perform as one, and Trouble Maker is hands down the most successful of the lot.
However, in reality, this side project concept is not foolproof. Here are a couple who have been left on the sidelines.
S.M. THE BALLAD
Comprising Super Junior's Kyuhyun, SHINee's Jonghyun, rock band TRAX's frontman Jay and trainee artist Jino, S.M. The Ballad were billed as entertainment giant SM Entertainment's all-male ballad group as all four were picked for their vocal prowess.
The quartet released their debut effort, Miss You, in November 2010, but it failed to create much of a stir, despite the album boasting gorgeous R&B number Hot Times.
To date, they haven't scored a follow-up release.
YOUNIQUE UNIT
Another brainchild of SM Entertainment, dance pop sextet Younique Unit was formed in October last year as a one-off marketing collaboration between the label and Korean automobile brand Hyundai.
Comprising SM Entertainment's best dancers - Super Junior's Eunhyuk, Super Junior-M's Henry, SHINee's Taemin, Girls' Generation's Hyoyeon and EXO's Lu Han and Kai - they released just one song, Maxstep, and an accompanying music video.
Maxstep, chockful of dubstep sounds, is included in a mini compilation album, PYL Younique Volume 1, which features two other songs by BoA and Girls' Generation's Jessica.

Get The New Paper for more stories.