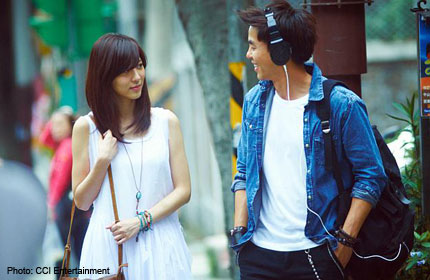 Award-winning Mandopop lyricist Vincent Fang Wen-shan has told many acclaimed stories in three-minute-long pop songs.
Yet two hours were not enough for him to relate the tale he had in his mind when he turned to film-making with his debut feature Rhythm Of The Rain.
There are "several scenes in the film that can be longer", he tells Life! in an interview when he was in town this week to promote the movie.
"There are some very touching moments which I think could be extended. Viewers are just getting into the moment and about to cry, but the scenes end too quickly and so they become missed opportunities," says the soft-spoken 44-year-old Taiwanese.
"The same goes for some of the funnier moments. They become missed opportunities too."
But he is happy enough with the film to give himself "80 marks" for his maiden outing as director.
"There's still room for improvement. I'd have loved to re-shoot the scenes or re-edit in post- production, but there was just no time to do that."
Rhythm Of The Rain is a romance drama about a girl (played by newcomer Ginnie Han) who loses her hearing after a motorbike accident. She starts dating a sunny rocker (Alan Ko) but he appears to still be pining for his former love, Sharon (Vivian Hsu). The film opens in cinemas on Oct 10.
Despite the potential Fang sees for improvements, he says the film is "very close" to his original vision. "The poetic sensibilities and the imagery - it's all very close to what I was hoping to achieve. That's also why I didn't want to just write the script and pass on directing duties to someone else," he says.
"I think the movie is too Fang Wen-shan to have someone else take over. I have it all in my head, how I want to do it."
Fang says he took the last five years to conceptualise and script Rhythm.
"I've made music videos before and I've always enjoyed translating the beautiful lyrical sense of words into images. So I knew I wanted to try making a feature film."
As a long-time lyricist for Mandopop superstar Jay Chou's songs, it was only natural for him to think about roping in Chou for the film.
The two have collaborated since 1998, before composer Chou debuted as a singer in 2000.
Fang has contributed lyrics to more than half of Chou's songs. Nicknamed "Asia's No. 1 lyricist", he has a Golden Melody Award for Best Lyricist for Jay Chou's song William's Castle (2001), and a Golden Horse Award for Best Original Song for the title theme song of Chou's directorial debut Secret (2007).
However, Fang said in an earlier interview with Lianhe Wanbao that Chou was "too busy" to make a cameo appearance in Rhythm and could only take time out to work on the music for the film's soundtrack.
Chou, 34, wrote the music for the film's title theme song, to which Fang wrote the lyrics.
Says the lyricist: "But don't worry, Jay appears in the movie in another way. He has his own cameo too. I came up with another way to include him."
He is referring to Chou's bestselling album Fantasy (2001), which is prominently featured in one flashback scene towards the end. "It was a scene to show a specific time in history and it was set in a record store, so I wanted to feature a recognisable album to indicate that. It is only natural that I pick an album done by my long-time collaborator, right?"
Chou, apparently, has returned Fang's goodwill with complimentary words for Rhythm.
Fang says: "Yes, he saw it and in typical Jay Chou fashion, he said, 'Aiyo, it's not bad'."
Even if the film is a hit in Taiwan, where it was released last week, Fang says "music is still my main priority".
"I've been doing music for so long, after all. But I may want to do more films, only that it'll take another few years to even start preparing for one."
Rhythm Of The Rain opens in cinemas on Oct 10.
yipwy@sph.com.sg

Get a copy of The Straits Times or go to straitstimes.com for more stories.