Surprise appearances: What went down at the Southeast Asia premiere of Jurassic World Dominion at USS
If you haven't already seen a certain public service announcement about dinosaurs that's been making its way around social media, then you might want to check it out soon.
Fronted by the lead cast of Jurassic World Dominion, Chris Pratt and Bryce Dallas Howard, the video gives you five rules to follow to survive the dinosaurs that have begun to "take over Singapore".
And those rules would have definitely been helpful at the Southeast Asia premiere of Jurassic World Dominion where 'dinosaurs' were spotted.
Held at Universal Studios Singapore's Pantages Theatre, the premiere was a star-studded event filled with 800 guests including regional guests from the film industry and key opinion leaders — like Vietnamese actress Chau Bui and Thai-French singer Zom Marie — from Philippines, Indonesia, Malaysia, Vietnam and Thailand.
AsiaOne scored an exclusive invite and was among the first in Southeast Asia to enjoy the highly anticipated finale to the Jurassic World saga and there was no better place than USS to set the mood for such an event.
But first, what's a Jurassic World Dominion premiere without dinosaurs? And there were certainly some spotted in the wild.
A Tyrannosaurus Rex float menacingly 'guarded' the arches of Jurassic Park — although it didn't deter excited and adventurous guests from snapping a selfie. And, a flock Pteranodons even descended on the unsuspecting guests.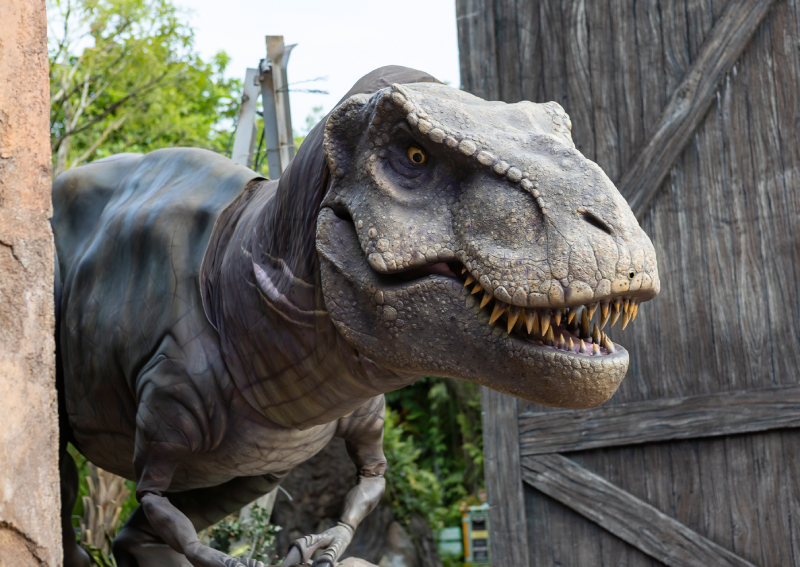 But one more iconic dinosaur had yet to make its entrance and that was none other than Blue, the raptor who has somehow captured viewers' hearts since her debut in 2015's Jurassic World. Her appearance caused quite the stir as she streaked down the road outside the Pantages Theatre.
She gamely posed for photos with the crowd, despite occasionally nipping at some of them like the mischievous raptor that she is.
Somehow, she even made her way into the theatre shortly before the movie screening but was eventually ushered out. Perhaps she wanted to join in on the fun too, but don't worry, no raptors were harmed.
And for the lucky 800 who were present, we were treated to a personalised recorded message from the leads of the film, Bryce Dallas Howard and Chris Pratt.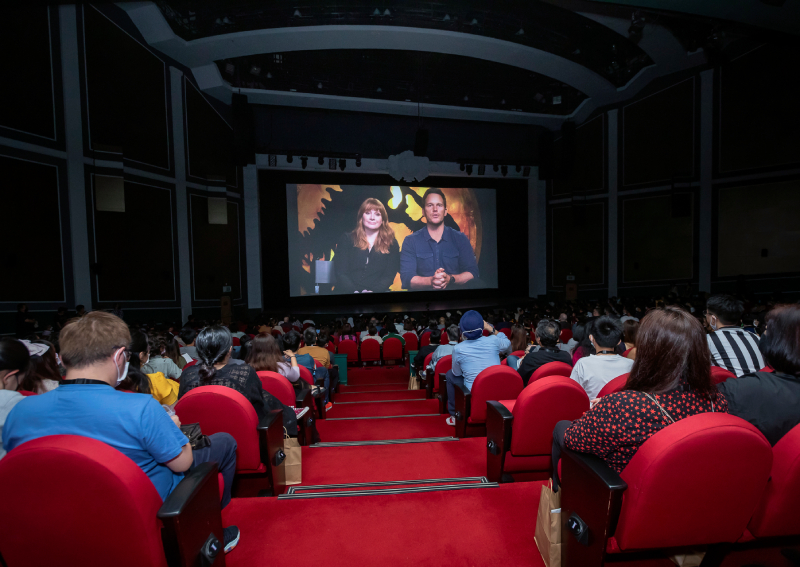 Well-known local celebrities such as Allan Wu, Hong Ling, Lee Teng, Aden Tan, Jeffrey Xu and Felicia Chin, were also in attendance and we caught up with some of them after the film to find out just how much they loved the show and what it would take to watch it again.
For lovebirds Jeffrey and Felicia, they already plan to watch it again as they are such huge fans of the franchise. Felicia said she felt like she was "being brought back in time" while Jeffrey confessed that he had the opening theme of the film on repeat on the drive over to USS.
"I would listen to the song on my own at home because I'm a loyal fan of Jurassic Park," he said while Felicia chuckled.
In fact, he accepted the invitation to the premiere on behalf of girlfriend Felicia without even informing her prior.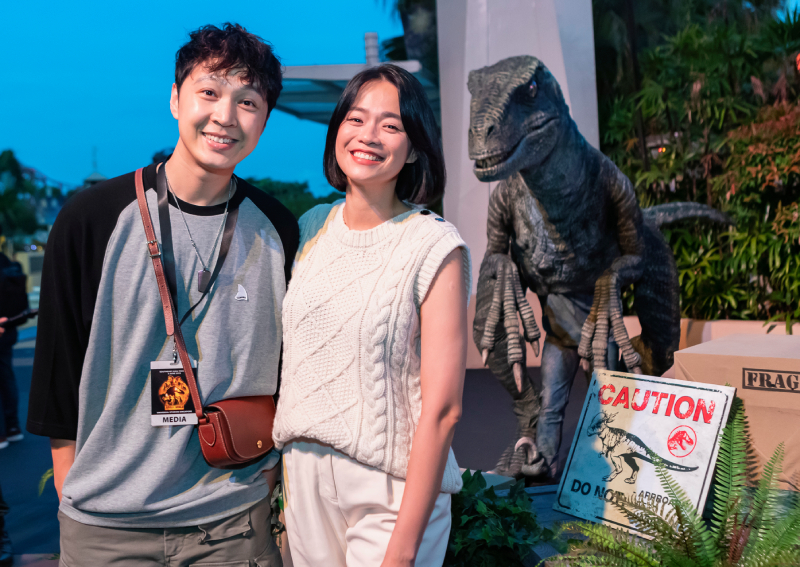 "He wrote my name on the invite without even telling me. Then a few days before, he was like 'You know we're going to watch the Jurassic Park?' I was like 'Oh, okay'. That's how big of a fan he is," she shared as Jeffrey sheepishly looked on.
As for how much they're willing to pay to watch it again? Well, catch our episode of For a Dollar right here.
Jurassic World Dominion is out in cinemas now.
bryanlim@asiaone.com