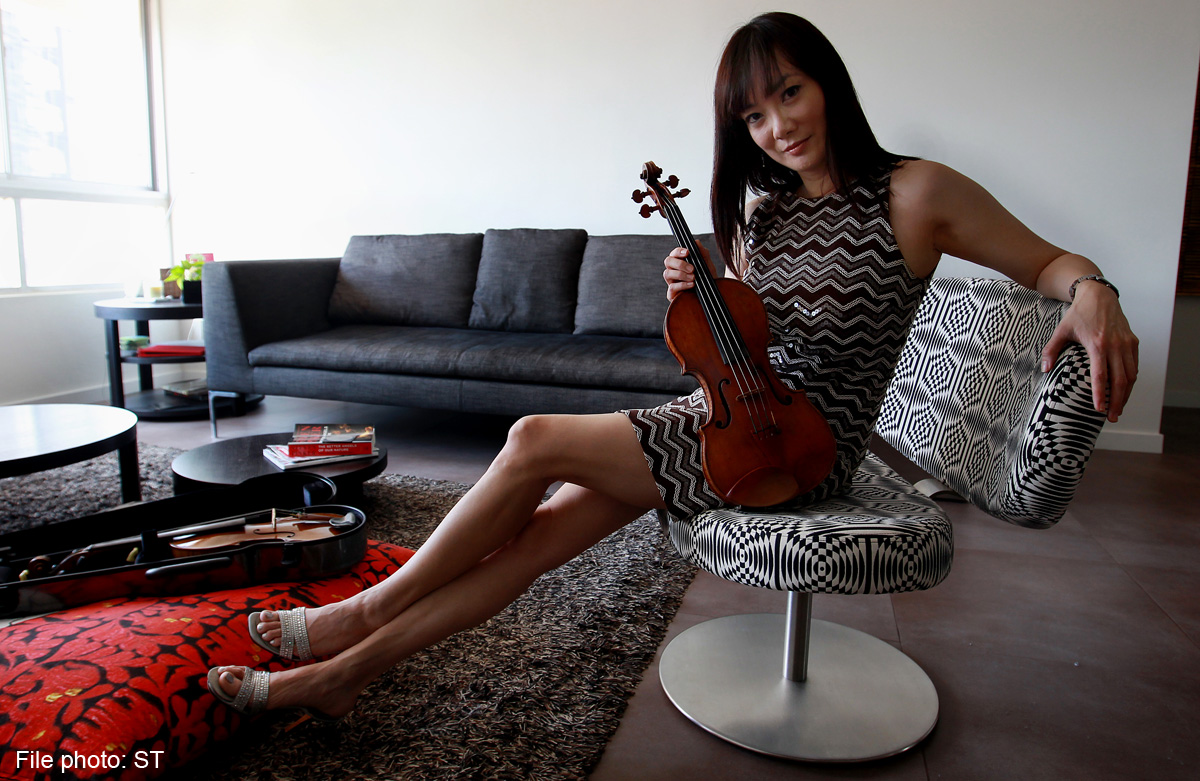 As a jet-setting world-class violinist, Miss Siow Lee-Chin can ill afford something even as minor as a paper cut.
So when a brutal car accident in 2012 left the performer with a bone sticking out of her left arm - the arm she uses to hold, and change the notes of, the instrument - her world came crashing down.
Miss Siow, 48, told The New Paper from China, where she currently teaches at Soochow University School of Music: "To be told I might never play a violin again was traumatic.
"Playing the violin isn't just my career, it is my life and passion."
But after staging a remarkable recovery, Miss Siow will return home and take the stage at the opening ceremony of next month's South-east Asia (SEA) Games.
On coming full circle, she said: "Playing on home ground in the company of friends and family is always special.
"I am glad to be 100 per cent back on track."
PRESTIGIOUS
At 15, Miss Siow became the first Singaporean admitted to the prestigious Curtis Institute of Music in the US and has racked up an impressive list of achievements in the classical music scene since.
But just as her music career was flying high, a massive 18-wheeler lorry ground it to an abrupt halt on March 21, 2012.
Miss Siow was driving alone to Georgia, in south-eastern US, to lecture at the American String Teachers Association National Conference when the lorry slammed into her car, sending it crashing into the guardrails.
"Everything happened so fast.
"When a passer-by stopped to help, he told me not to move my arm because the bone was sticking out," she said.
"But the adrenaline was surging so fast, I didn't even feel the pain."
But pain would be a part of her long road to recovery.
In addition to breaking both bones in her left arm, Miss Siow had bruises on her face.
She underwent emergency surgery where doctors screwed titanium plates into her arm to set her broken bones.
She endured months of physical therapy.
"Nothing about the recovery process was easy. I struggled with simple things such as showering and even typing," she said.
Just weeks after the operation, Miss Siow plucked up her courage and picked up her violin.
She struggled to play even the simplest melody.
"I could barely play a scale, something a beginner can do. It was a huge setback. I broke down and cried."
But her love for the instrument proved too deep - she bounced back.
"I am a violinist first and foremost. So broken arm or not, I am going to play the darn violin," she said.
Note by note, and scale by scale, Miss Siow began her comeback on a blank slate, no mean feat given her impatient nature.
"I had to rebuild my playing from scratch, working on one note at a time over many months.
"I set myself a challenge to prove that I could play again at my pre-accident level."
About a year after the accident, it was time for her to face that challenge.
She was to perform Tchaikovsky's Violin Concerto, regarded as one of the most technically demanding violin pieces, as a soloist with a US orchestra.
Like a seasoned pro, she rose to the challenge, kicking off her comeback on a high note.
"It was a huge milestone and the concert was very well-received," Miss Siow said.
Her younger brother, Yew Mun, 43, a software engineer, said: "The accident made me cherish my sister more.
"I still quietly celebrate her amazing recovery, which I believe to be in no small part due to her strong love for life and music."
PROUD
Although she was initially self-conscious of her titanium-reinforced arm, Miss Siow now proudly embraces it.
"Friends joke that I am the bionic violinist.
"I was shy about my scars and wore long-sleeved blouses to hide them but now, I wear my scars as a badge of honour."
The theme for the upcoming SEA Games - Celebrate the Extraordinary - could not be more fitting for Miss Siow, who feels a connection with the athletes.
"Musicians and athletes have more in common than we think.
"We spend thousands of hours practising just to perfect that move or that phrase for a few fleeting seconds of live performance and we have our struggles with injuries.
"Having overcome my own challenges, I totally relate to what athletes go through," she said.
Miss Siow will also take on the role of cheerleader during the 11-day Games.
"I can't wait to watch the Games. I am rooting for Team Singapore!"
Many firsts - for performer and audience
Violinist Siow Lee-Chin boasts an impressive list of firsts.
At 15, she became the first Singaporean to study at the Curtis Institute of Music, a conservatory in the US that is renowned for being one of the most selective higher learning institutions in the country, with an acceptance rate of 4 per cent.
Miss Siow later became the first local violinist to combine a solo career with a tenured faculty position abroad.
She got her start in classical music at the tender age of three months, when her late father, former Singapore Symphony Orchestra violinist Siow Hee Shun, bought his daughter her first violin.
In 2009, she released her first album, Songs My Father Taught Me, which she dedicated to her father.
SEA GAMES
Next month, Miss Siow, who has performed in over 20 cities across five continents, will be back in Singapore for the SEA Games.
She will perform an arrangement of You Raise Me Up during the opening ceremony, which will be directed by Ms Beatrice Chia-Richmond.
Miss Siow will be one of the 5,000 performers and volunteers taking part in the largest extravaganza the National Stadium has ever staged.
The show will feature an extensive aerial system which will enable performers and props to "fly" in the stadium and the largest high-definition floor projection created by 160 multimedia projectors.
The audience will be given medallions to wear and collectively form a gigantic LED video screen - a first in Singapore - making them truly a part of the show.

This article was first published on May 9, 2015.
Get The New Paper for more stories.