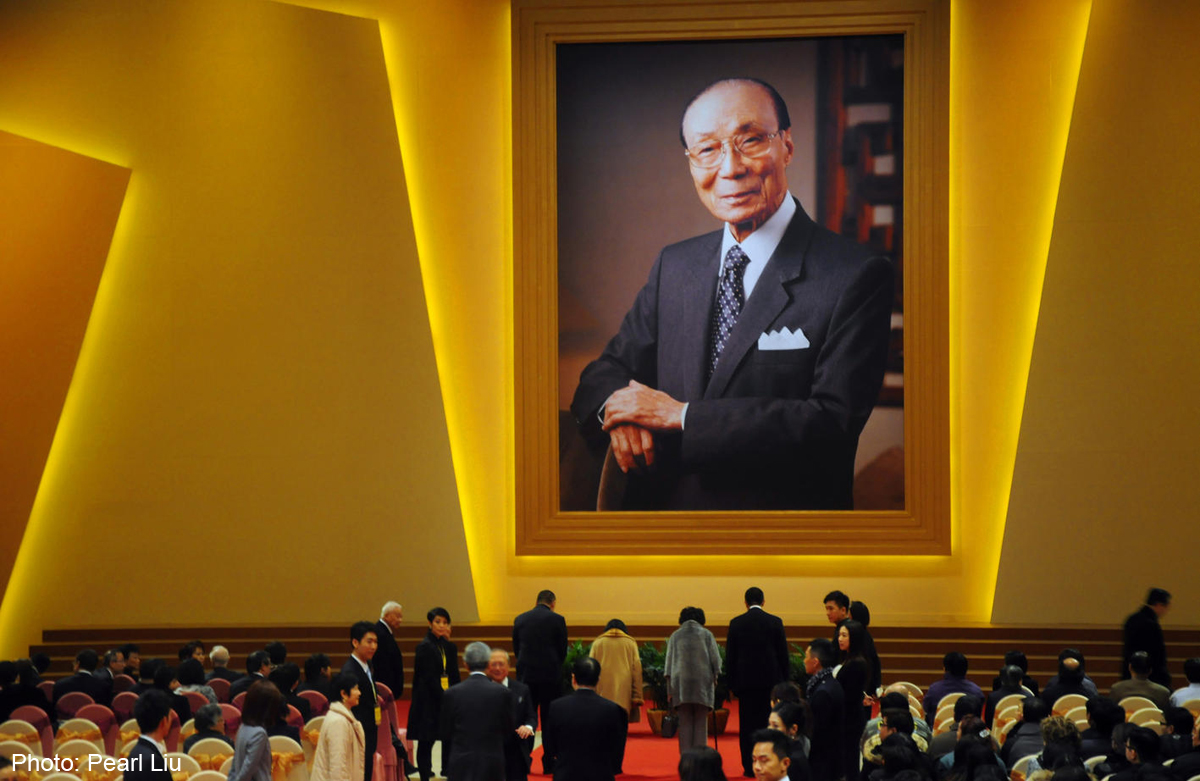 HONG KONG - They came - politicians, movie stars and ordinary folk who grew up on his movies or benefited from his largess - to honour a man described as having helped make Hong Kong the "Hollywood of the East", and who later gave his billions to various causes.
Sir Run Run Shaw, founder of the Shaw Brothers movie studio and television station TVB, and famed philanthropist, died on Jan 7 at age 106.
On Friday, a day-long public memorial service at the Shaw studio at Tseung Kwan O drew an unending stream of people.
Hong Kong Chief Executive Leung Chun Ying and Beijing's top man in Hong Kong Zhang Xiaoming came, as did celebrities such as Andy Lau, Jacky Cheung, Anthony Wong and Eric Tsang.
As piano music played softly in the background, they signed the condolence book, then walked down a long red carpet towards a giant portrait of a smiling Sir Run Run. There, they bowed thrice.
On hand to receive visitors were Sir Run Run's widow Mona Fong, and his two sons Vee Meng and Harold. He is also survived by two daughters.
The family had stated earlier that those coming need not wear sombre colours or dark ties. "It is hoped that friends of (Sir Run Run) will gather, not in grief, to commemorate him and his achievements," TVB said in a statement.
But this did not stop some from collapsing in tears. Taiwanese musician Liu Chia Chang dropped to his knees and sobbed. "He is the person I respect most," he said. "Now that he is gone, I have lost a protector."
Actor Wong said: "Very few can be said to represent an era. He did."
Sir Run Run was born in Shanghai, and moved to Hong Kong in 1959 from Singapore, where he and his brother established Shaw Brothers in 1924.
In the 1950s and 1960s, it, alongside rival Cathay, made Singapore cinema a force to be reckoned with, especially with Malay films starring P. Ramlee. In Hong Kong from the 1960s to the 1980s, it produced nearly 1,000 movies.
Housewife Li Wai Fun, 76, who took a one-hour trip from her home in Sham Shui Po to pay her respects, is also grateful for Sir Run Run's charity work. "I was once treated in a hospital sponsored by him, and am very grateful to him," she said. "He was such a good person who deserves our utmost respect."
xueying@sph.com.sg

Get a copy of The Straits Times or go to straitstimes.com for more stories.