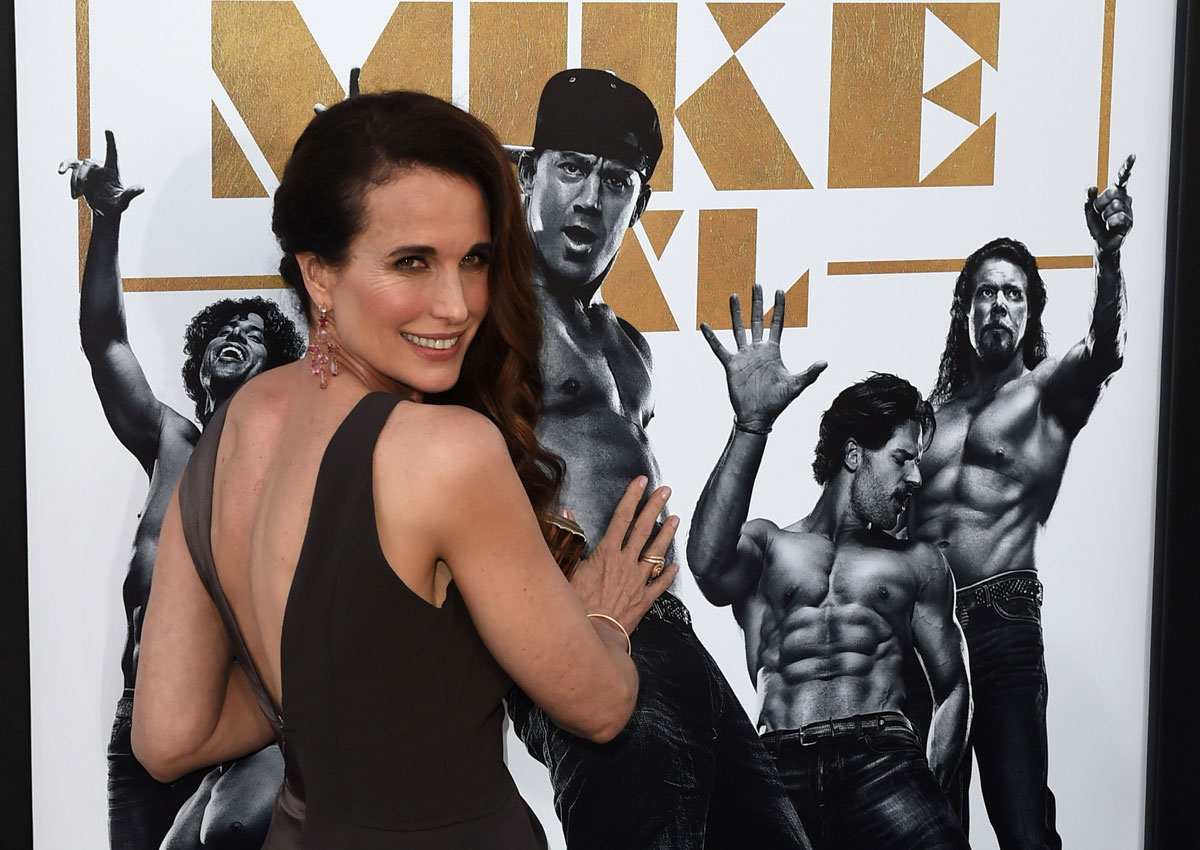 Would feminists be happy watching Magic Mike XXL, the male- stripper movie that claims to celebrate female sexuality?
Actor Joe Manganiello has declared the film - which is in Singapore cinemas - "a love letter to feminists", saying it is empowering to women because it shows them enjoying men and men giving women what they want.
And yet none of the lead roles are played by women, no women grace the poster, and the story - about a group of guys travelling to a stripper convention - only barely passes the Bechdel Test of gender inequality, which requires that at least two female characters have a conversation about something other than a man. Speaking to Life, the actresses in the supporting cast - Jada Pinkett Smith, Andie MacDowell and Amber Heard - defended its feminist credentials, saying it represents a significant role reversal in an industry where women are usually being treated as sex objects.
Heard (Machete Kills, 2013) says Channing Tatum, Manganiello and the other actors who play the strippers "are taking on a traditionally female role" in this film, a sequel to 2012's Magic Mike.
"They are taking what we see as a passive role in being objectified or subjected to carnal desires - a role that is typically fulfilled by women," says the 29-year-old, who plays a photographer who catches the eye of Tatum's character.
"It's nice to see some of the gender norms that we recognise so consistently be turned on their heads."
MacDowell, 57, compares Magic Mike XXL to another movie she acted in that was also considered groundbreaking in its depiction of sexuality - 1989's Sex, Lies, And Videotape, whose director Steven Soderbergh also helmed the first Magic Mike.
Whereas her character there was sexually repressed, the Magic Mike films show women openly enjoying the strippers' erotic moves, she says. In this film, she plays a wealthy older woman the group meets on their road trip.
She says: "How nice it is to see women empowered. It's nice that there's a movie for them. There's actually no nudity. No one ever really takes his clothes off.
"And these guys in the film are open and vulnerable and available emotionally. That's also really nice because they aren't having to play the typical role that men have been forced to play for so many years. So it does break a lot of boundaries and rules for both men and women," says MacDowell.
Pinkett Smith's character - a strip-club owner who steps in to emcee for Mike and the guys at the convention - was originally written with a male performer in mind: Jamie Foxx, Tatum's White House Down (2013) co-star.
When Foxx was unable to take the role, Pinkett Smith, 43, stepped in and put her own stamp on the character. The actress, who is married to actor Will Smith, says it was her idea to have the character address the women at the strip shows directly and call them "queens" as she encourages them to let go and have fun.
MacDowell says: "Casting Jada in that role was fantastic because it would have been different if it was a man. Here's a woman who's in control, a woman who's saying, 'Women, come on, embrace your sexuality.'"
All three actresses praise the men in charge - star and executive producer Tatum, screenwriter Reid Carolin, director Greg Jacobs and cinematographer Steven Soderbergh - for being brave enough to come up with this role-reversing tale, and being receptive to their suggestions for improvements.
When MacDowell objected to a line in the script that called her character a "cougar", a derogatory term for an older woman attracted to much younger men, they removed it.
Heard says: "To their credit, they were willing to hear that and didn't just reluctantly acquiesce - they actually understood the logic behind it, which is valid."
The film-makers also took Heard's suggestions with her character, who at first winds up together with Mike.
She recalls: "So I said, 'Why are you following this formulaic approach to the girl? Why does that have to be the pay-off?' And so we restructured the whole nature of the relationship. I don't want to give away the ending, but it's not typical. No one in our movie fulfils a quote-unquote female role."
In a separate interview, Tatum tells Life that he and the other film-makers knew it was crucial to listen to the female cast: "We were smart enough to write these characters in as placeholders and not try to say that we know how to write women.
"Because we're a bunch of men trying to make a movie that, in some strange way, has mainly male characters, but is sort of more aimed at women."
While the actresses enjoyed being a part of this film as a result, they say it is a sorry state of affairs that movies geared towards female audiences are still relatively rare and films where women are objectified or marginalised remain the norm.
Heard says: "It's extremely limited for women. We have been relegated to one of two positions - that of a sexual object whose place in the plot is merely to inspire or provide impetus to the man, or a smaller supporting role of a woman who is not attractive and therefore can fulfil secondary duties: She can be funny and witty, for example, or she can be a mother.
"And I refuse to believe that our fate, as over half the population, is to be relegated to such a degrading standard. But that standard is being challenged."
Magic Mike XXL is in Singapore cinemas.

This article was first published on July 13, 2015.
Get a copy of The Straits Times or go to straitstimes.com for more stories.