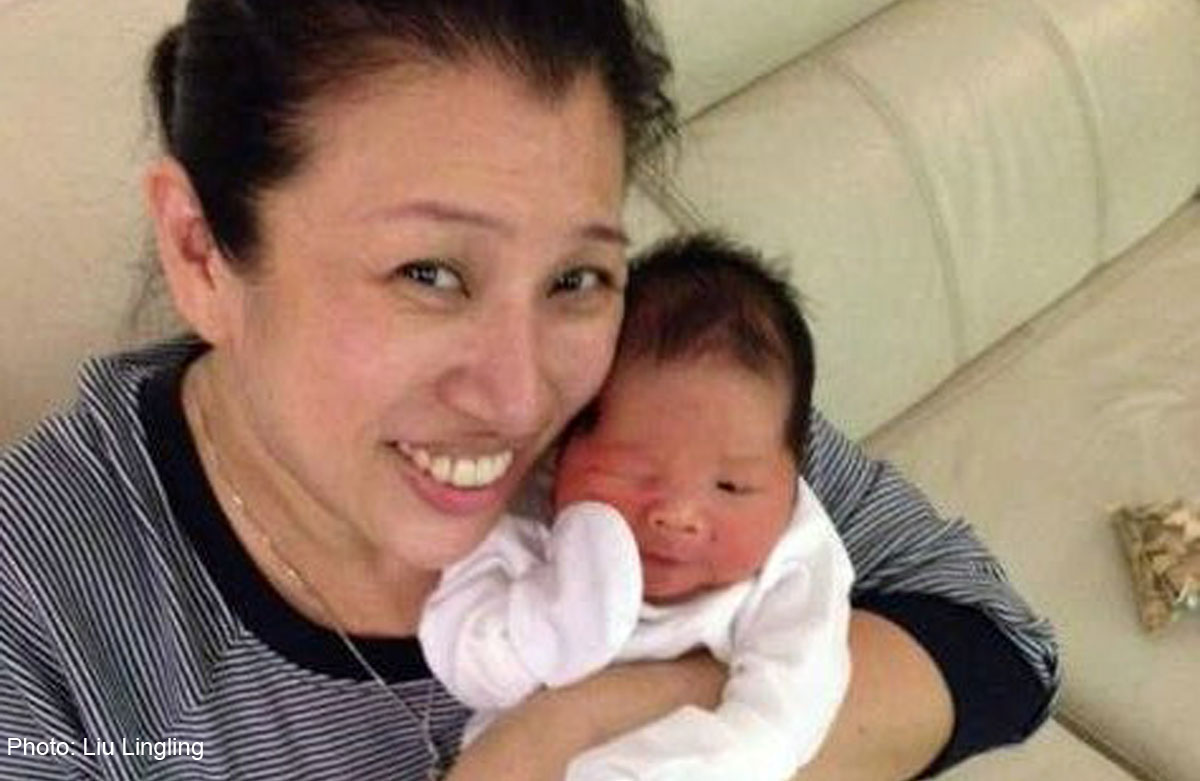 LIU LINGLING
She kept pregnancy a secret
There's a new man in Liu Lingling's life, and boy, is he a cutie.
The veteran getai star surprised everyone when she announced in late September that she had given birth to her first child at the age of 50 through artificial insemination.
Her bundle of joy, Xiang Xiang, was her second attempt at having a baby - the first ended in a miscarriage - and reportedly cost her a six-figure sum.
She has refused to name the father, only telling Shin Min Daily News that "whoever you see me with one day, that person will be the child's father".
Her celebrity friends and co-stars have been nothing but supportive.
Mark Lee, who co-stars with Liu in local movie Everybody's Business, told The New Paper back in October: "She has shown all of us that as long as one is determined, anything is possible."
OODLES OF ENERGY
Little Xiang Xiang seems to have certainly brought oodles of energy to his mum.
Liu claimed she no longer takes pills for diabetes and high blood pressure as she feels healthier.
She has also lost 10kg.
Asked about her nomination in this category last month, Liu told TNP: "Having a child is a reward in itself."
- Additional reporting by Charlene Chua
XIE SHAOGUANG
He seems to be in a different realm
In his heyday, he was the kind of level-headed actor who rarely made headlines for the wrong reasons.
So it is fitting that when The New Paper splashed exclusive pictures of Xie Shaoguang on the front page in September, it was not for some nasty scandal.
In fact, we uncovered that Xie, 51, had just been ordained a Buddhist monk after studying in Malaysia for eight years.
Now known as Shao Guang Shi Xiong (Mandarin for brother), he was ordained at Buddhist centre Golden Citizen Welfare Organisation (or Ji Le Yuan) in Pontian, Johor.
It was an interesting discovery.
Xie had retired from showbiz in 2005 to study Buddhism and a run a vegetarian cafe in Johor.
He had turned vegetarian and quit smoking five years earlier.
Before that, he was one of MediaCorp's most respected actors, with 19 Star Awards titles in his 16-year career. Now, he also runs the pet shelter Animal Paradise, next to the Buddhist centre where he was ordained.
Although he has shied away from MediaCorp reunion shows and events, he did help local director Anthony Chen with the casting call for his movie Ilo Ilo, after much pleading from the latter.
DEVOUT
Chen told Lianhe Wanbao: "The Xie Shaoguang whom I saw seemed to have entered another realm altogether. He has seen through the entire entertainment industry and does not miss it. He'll never look back."
His former co-star Huang Biren seemed surprised at the news, telling Shin Min Daily News: "He has always been a devout Buddhist, but I didn't expect him to let go of everything so quickly. These few years, I have SMSed him, but he's never replied. There were a few times where I would call him. Sometimes he would pick up, but sometimes he wouldn't. Even if he picked up, he would speak less than five sentences. It's his choice to become a monk. Most importantly, he must be happy."
Xie himself told The Straits Times in 2005: "I have always believed that less is more. If I can live as simply - with only $500 to cater to my basic needs - then I have more to give to others who need it."
ANDIE CHEN AND KATE PANG
They are letting nature take its course
Few people knew that local actor Andie Chen and Taiwanese actress-model Kate Pang were together, much less hitched and about to have a baby.
But late last month, they announced that they were, indeed, very much together, with 30-year-old Pang already 10 weeks pregnant.
The couple met on the set of Channel 8 drama Joys of Life last year and also played lovers in prison drama Break Free, which aired in March.
Chen, 28, has been based in Taiwan for most of this year, looking for opportunities to break into the showbiz industry there.
At the time of the announcement of their marriage, he posted on Facebook: "When we first started dating, we decided that keeping a low profile is the healthiest method in maintaining a relationship in this somewhat insane industry."
According to Pang, the couple themselves are "semi-surprised" by the situation they find themselves in now.
MARRIAGE
"Both of us know that although it might appear sudden to the public, we were already headed in the direction of marriage and having kids. In fact, we were letting nature take its course. We just didn't know it would be so soon that we would be parents," she told The New Paper earlier this month.
But Pang thinks Liu Lingling is the clear winner in this category.
"Liu Lingling (giving birth) is the most powerful," she said.
"As for Xie Shaoguang becoming a monk, it's actually not so surprising, because he has been into Buddhism for many years. If the news was about Xie Shaoguang holding a pop concert, now, that would be surprising."
- Additional reporting by Tan Kee Yun

Get The New Paper for more stories.