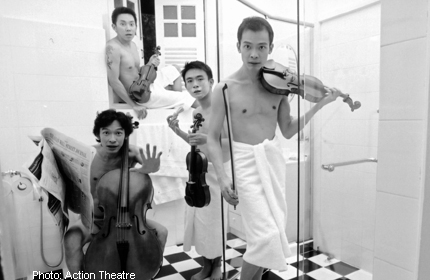 Mood shot, Nov 1992
Their first "hip" publicity shots, published in The Straits Times, saw them dressed in black and half-bathed in shadow.
Violinist Ng Yu Ying says: "We were always being asked if we were really classical musicians.
"But what are they supposed to look like anyway? We want to show that classical musicians are not stuffy.
Toilet humour, Nov 2000 (above photo)
This promotional photo of the four in various states of undress was used for their single, Heavenly.
Cellist Leslie Tan (far left), posed with his underpants down and nether regions strategically covered by a cello.
He says: "I was wearing my underwear at first. But then who wears that while sitting on the toilet?"
Violinist Ang Chek Meng (second from right) says: "Three of us wore underwear under our towels.
"Leslie was the most adventurous."
Gimmicks, Oct 2000
The four played "air-violin" outside Orchard Point to promote an upcoming concert.
Ng Yu Ying says: "There were always detractors who said we were full of gimmicks - but that's how we marketed our music.
The quartet sold out the 883-seat Victoria Concert Hall several times and even attracted wildly-cheering teenage girls.
Topless again, June 2007
In a collaboration with a Scottish theatre company, the quartet wore revealing outfits to show how the muscles of musicians work during a performance.
The production was staged here as well as in Spain and Scotland.
Lionel Tan, says: "Every day, we had to do an hour of crunches, stretches and jumping jacks. It felt like training to be a professional dancer."
Scrubs, July 2008
Tan Tock Seng Hospital released a CD featuring the quartet's string-laden sounds, which could be heard in the hospital's corridors and in operating theatres.
They posed with Associate Professor Chia Sing Joo, a senior consultant urologist and the divisional chairman of surgery at the hospital.
Casual classics, Dec 2012
The T'ang Quartet has worn everything from designer labels like Ermenegildo Zegna and Paul Smith, to polka dots and leopard prints.
At their Christmas concert last year, they wore Calvin Klein jeans and shirts with military designs.
Leslie Tan says: "At one point, I was dressed as a Christmas tree and Chek Meng was a squirrel."

Get The New Paper for more stories.