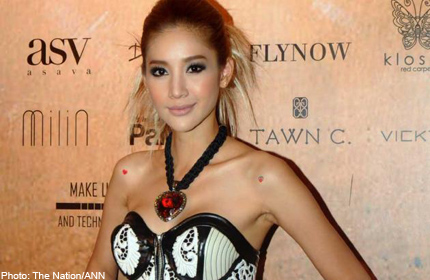 THAILAND - Thaksin Shinawatra has generously let actress Pattaratida "Tangmo" Patcharaveerapong off the hook for her anti-amnesty rabblerousing.
He had his lawyer sniff through the speech Tangmo made at the Democracy Monument rally but decided against suing her for defamation, judging her too "immature" to be a worthy opponent in court.
Tangmo - who's in her late 20s, by the way - can now focus on the other battle in her life, against the way-too-dedicated fans of her boyfriend, singer-actor Pakin "Tono" Khumwilaisuk. Tono is crazy about Tangmo and his female admirers are not happy about it. They and Tangmo have taken the fight to Instagram, where the actress has 421,000 followers.
Now she's got snipers in their midst, aided and abetted by red shirts, and the bullets they're firing have taken on a decidedly political tone. Tangmo is maintaining a fearless countenance, challenging her critics and even provoking them. Someone told her to sign up for Twitter and see what was being said about her there. No way, Tangmo replied, because Twitter isn't "a good community". Thanks to its user-anonymity, it's full of haters and cowards. "Maybe half of them are good people," she allowed.
No, if they want to slam her, Instagram in the designated field of battle. "My condition is that you must use a real photo and real identity. If you dare not show your real identity, then stay in your own world."
Not really rebels
Labour Minister Chalerm Yoobamrung, something of a genius when it comes to sociology, has determined that most of the anti-government protesters are merely followers of "fashion" hitting the street so they can do some "facebooking". They join the crowd, grab a few pictures, upload them to Facebook, and then leave.
Similarly, the "Silom mob" appeared, blew their whistles for a few minutes, and then disappeared. They just wanted to get their picture taken to post online - not even for the momentary vicarious thrill of being a rebel but to show their boyfriend or girlfriend that they were unavailable for a date right then, sorry.
And as for the students at the rallies, says former red-shirt leader Arisman Pongruangrong, their universities forced them to go. He implies that the students can't think for themselves. "No wonder Thai students rank last among ASEAN countries," he says. "They're topless!"
Presumably Arisman meant they're at the bottom of the scale and thus without a top, but anyway, as social networkers duly pointed out, Thailand ranks eighth among the 10 countries in Southeast Asia, not last. It's a counter-argument going nowhere, of course, but Arisman should really discuss the students' poor showing with Education Minister Chaturon Chaisaeng of the Pheu Thai Party.