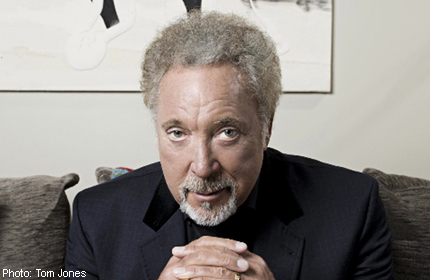 SINGAPORE - The last time Tom Jones came to Singapore in 2010 for a concert at Resorts World Sentosa, he left many fans here disappointed.
The 73-year-old Welsh singing icon exited the stage after singing two songs, citing voice problems. A rescheduled show about a week later was cancelled at the last minute because of the same ailment.
He is coming back to make up for those two cancelled gigs and is set to perform at the Village Stage at the Formula One SingTel Singapore Grand Prix on Sept 22.
Not being able to sing to his fans here in 2010 was "the worst thing that can happen to me", he tells Life! in a telephone interview from his home in Los Angeles. "The problem was, we had been in Hong Kong and the weather was really bad and maybe it affected me, I think," he recalls.
"And anyway, it ended up to be acid reflux, there was acid that came up during the night and burnt one of my vocal cords. I saw a throat specialist in Singapore who said, 'You can't sing right now, you have to stop and let the vocal cords heal, they've been burnt'."
He spent a week recuperating at his hotel, the InterContinental Singapore. "I was at the pool every day, which was very nice in Singapore, and we went out and had some lovely meals but I couldn't speak and couldn't drink alcohol, which are two of my favourite things," he adds with a chuckle.
The doctor did not allow him to sing at the rescheduled show because his vocal cords were not healed yet, so he was forced to cancel that too.
Fifty years after he left a construction job for a career in singing, Jones is still a global draw, known as much for his booming, baritone voice and enduring hits as he is for his status as a sex symbol.
He has sold more than 100 million albums, thanks to evergreen tunes such as It's Not Unusual (1965), Delilah (1968) and Sex Bomb (2000) and has won numerous Grammy, Brit and other music awards. He released his 40th studio album, Spirit In The Room, in May.
Jones, who has been married to the same woman, Melinda Woodward, since 1957, received a knighthood for his work in 1999. He has two sons, one with his wife and another from an affair with former model Katherine Berkery.
He has gained a new generation of fans recently, thanks to his role as a judge-cum-coach for the last two seasons of the British version of popular television reality singing competition The Voice.
He has a Twitter account although he admits that it is his elder son and manager who tweets on his behalf. "I don't tweet myself and one of the reasons is that I'm dyslexic. Reading is no problem but writing, I get things back to front. That's one of the reasons I don't get on Twitter, I'm a little embarrassed about that."
He is not about to retire anytime soon and plans to keep on singing as long as his voice holds out.
"I love to sing," he says. "If I'm at a party and if there is a piano player and if he or she is any good, nine times out of 10, if they ask me to sing, I'll sing. Once I'm up, it's hard to get me down."
He is taking precautions to prevent a repeat of the 2010 incident. "I'll make sure I take antacid pills so that acid reflux will not happen again," he says.

Get a copy of The Straits Times or go to straitstimes.com for more stories.