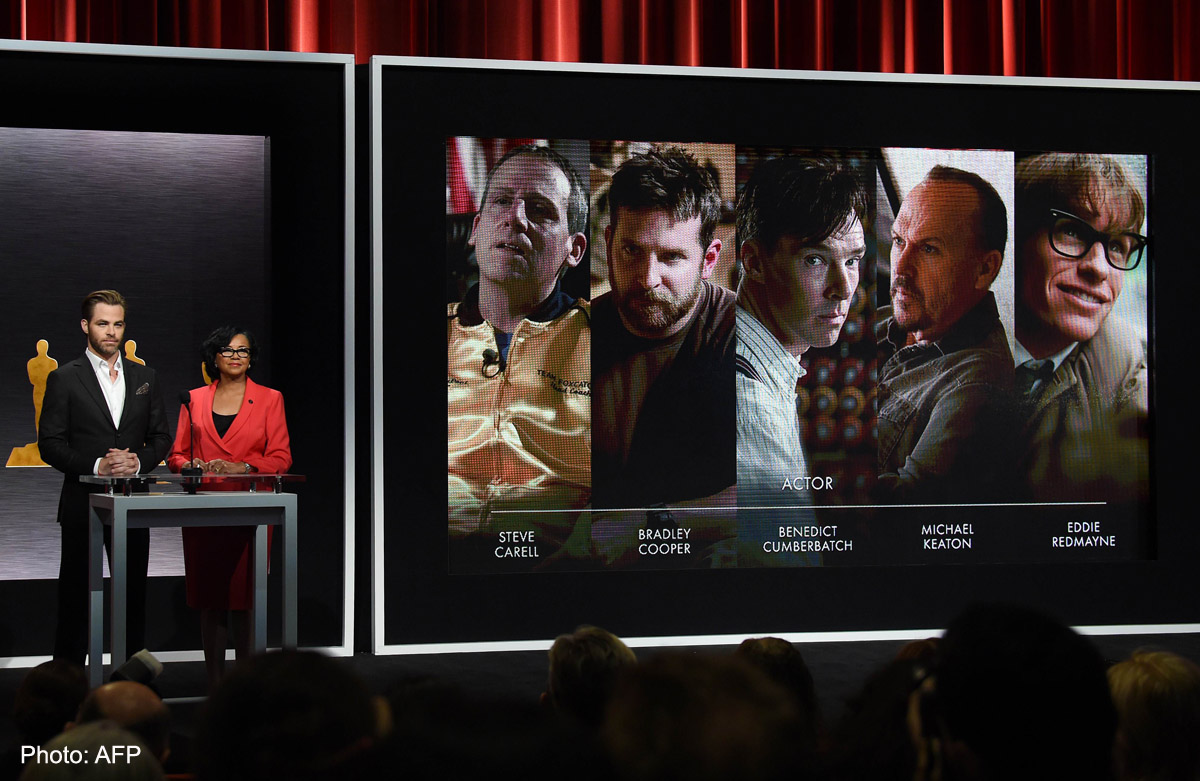 LOS ANGELES - Too white and too male. That is the charge facing the prestigious Academy of Motion Picture Arts and Sciences after it unveiled its nominations this week for the 2015 Oscars race.
The phrase #OscarsSoWhite soared up the Twitter trending topics within minutes of Thursday's nominations for the Oscars, the climax of Hollywood's annual awards season.
Not a single non-white actor or actress was shortlisted in any of the four main acting categories, although the Martin Luther King Jr movie "Selma" did make it into the best picture race.
The drama, starring Oprah Winfrey and Britain's David Oyelowo as the Nobel Peace Prize-winning black civil rights leader, has been judged best film of the year by the Rotten Tomatoes review aggregator website.
The movie, released just as huge protest rallies were held across the United States over the shooting of unarmed black teenagers by white police officers, had an exceptional 99 per cent positive rating on the website.
That is better even than the 98 per cent for coming-of-age drama "Boyhood," which topped wins at the Golden Globes last weekend and earned six Oscar nominations.
"To nominate it only for best movie and best song, that is disgraceful," said Tom O'Neil, founder of the Goldderby.com website, which keeps close tabs on all the main movie industry prizes.
It is only the second time since 1998 that not a single African-American actor was nominated.
"It's due to the lack of diversity of (Oscar) voters themselves, 93 per cent of whom are white, 77 per cent male and with an average age of 63. This is not representative of the real world," O'Neil told AFP.
Stuck in the past
Sasha Stone of Awardsdaily.com said the Academy was way behind the rest of the industry.
"It's very frustrating to work in a business that seems so stuck in the past," she said.
Among those left out were acclaimed screenwriters and authors Gillian Flynn and Cheryl Strayed, whose book was adapted into the film "Wild" starring Reese Witherspoon, both seen as favorites before Thursday.
"It is a shame to see the Academy pass up the opportunity to honour the first black woman director," Stone said, referring to "Selma" director Ava DuVernay.
"They also passed up the chance to honour the female writer for 'Gone Girl,'" she added, referring to Flynn.
"'Selma' was an excellent movie that acted and directed itself beautifully," joked actor Joshua Malina.
Tom Nunan of the UCLA School of Theater, Film and Television noted that last year the Academy gave its best picture prize to "12 Years a Slave," along with best supporting actress for Lupita Nyong'o - who is black - and best screenplay.
Stone added: "There is the sense that they paid their dues last year when '12 Years a Slave' won this. They now feel ok about choosing the subject matter that suits them, usually period pieces featuring white British men."
This year the top-tipped films include "Boyhood," made over 12 years following a child's growth; the dark comedy "Birdman"; stylish caper "The Grand Budapest Hotel"; and Clint Eastwood's "American Sniper."
They also include "The Theory of Everything," about British astrophysicist Stephen Hawking, and "The Imitation Game," about code-breaking mathematics genius Alan Turing, a fellow Briton.
Some have nonetheless defended the Academy, stressing that it elected an African American, Cheryl Boone Isaacs, to head its Board of Governors, and that actors like Forest Whitaker, Jennifer Hudson, Octavia Spencer and Mo'Nique - all black - have won Oscars in recent years.
"I have not seen the evidence of closed doors based on people's colour," said Nunan, noting that "Friends" star Jennifer Aniston failed to score a nomination for her "role of a lifetime," in "Cake," while animated favourite "The Lego Movie" was also left out.
"I certainly do not believe there is any kind of racism in approaching who gets attention and who doesn't at the Academy," he added.
But he said: "There should be more work done to involve more diversity." African-American lobbyist and leader Al Sharpton meanwhile commented: "The movie industry is like the Rocky Mountains: the higher you get, the whiter it gets."