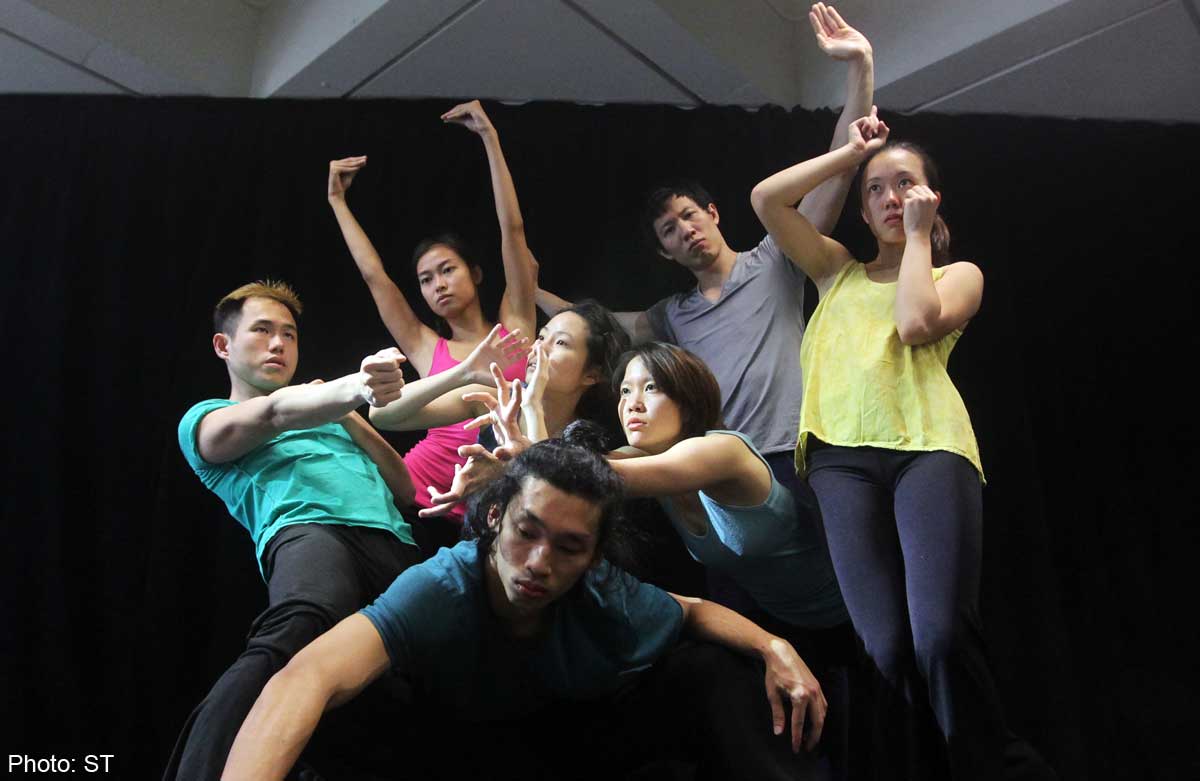 A spaceship. A Crazy Horse-like cabaret. A boy teaching a girl how to ride a bicycle. All these disparate scenes will come together in a surreal, bizarre dance performance created by local dancer-choreographer Jereh Leong.
It is one of three performances in contemporary dance company Frontier Danceland's Sides - All Over, its annual showcase of short works.
This is the second edition of Sides and it features three choreographers: Leong, 32, from Singapore; Ole Khamchanla, 35, from Laos and France; and Noa Zuk, 35, from Israel and the United States. It opens at the School of the Arts Studio Theatre on Friday.
Ms Low Mei Yoke, 58, artistic director of the company, says the platform was created to showcase shorter works of about half an hour each, instead of full-length pieces.
"Different choreographers have different abilities for shorter works, and longer works are not everyone's forte," she says, adding that the triple-bill will also give the audiences more variety in what they can watch.
Leong, the only local choreographer to be featured in the show, says that his piece, titled (sic), pays homage to famous surrealists such as Japanese author Haruki Murakami and Spanish painter Salvador Dali.
He says: "I was inspired by their train of thought and style, and how to blend the surreal with reality. So, in my piece, you'll see snippets of life alongside other parts which may be bizarre."
Low says of Leong's work: "There are a lot of different elements and layers. You may see something, but I think he's trying to tell you something else."
The next work is the 30-minute-long Akalika 7 by the Laos-born Khamchanla, who founded the Kham Dance Company in 2011. It was inspired by a series of ink paintings by the artist Gilbert Cam, who depicted dark, human-shaped figures on paper, some of which have lost limbs.
Khamchanla says the movements in his piece are "violent and electric", and are a response to Cam's work, which "expose the tormented body and personality vacuum".
"We were not looking to create a beautiful piece because the work of Cam is not beautiful, but strong and touching," he says. The last part of the triple-bill is After Chorus by Israeli choreographer Zuk.
Leong, who will be dancing in Zuk's work, says: "We're almost like the minions in Despicable Me. In the piece, we talk quite animatedly, and we're adorable and funny. But there's a deep humanity in the work and it shows the care and interaction between people."
Zuk says of her piece: "I explore rituals, gestures and languages. Using the voice to emphasise, extenuate and illustrate physical dynamics is a simple way to turn it into an extension of the moving body. It also creates something that occasionally has the appearance of an unknown language."
As for Low, this edition of Sides is a good opportunity for the dancers in her company and the audiences to learn from artists of other countries.
She says: "We have Noa, Jereh and Ole, who are from different places. And for the dancers, it's a very good experience to learn different styles. It's good for the audiences, too, to see different backgrounds and cultures."
SIDES - ALL OVER
Where: School of the Arts, Studio Theatre
When: Friday, 8pm, and Saturday, 3 and 8pm
Admission: $20 (matinee), $25 (evening show) from Sistic (call 6348-5555 or go to www.sistic.com.sg)
This article was published on May 6 in The Straits Times.


Get a copy of The Straits Times or go to straitstimes.com for more stories.