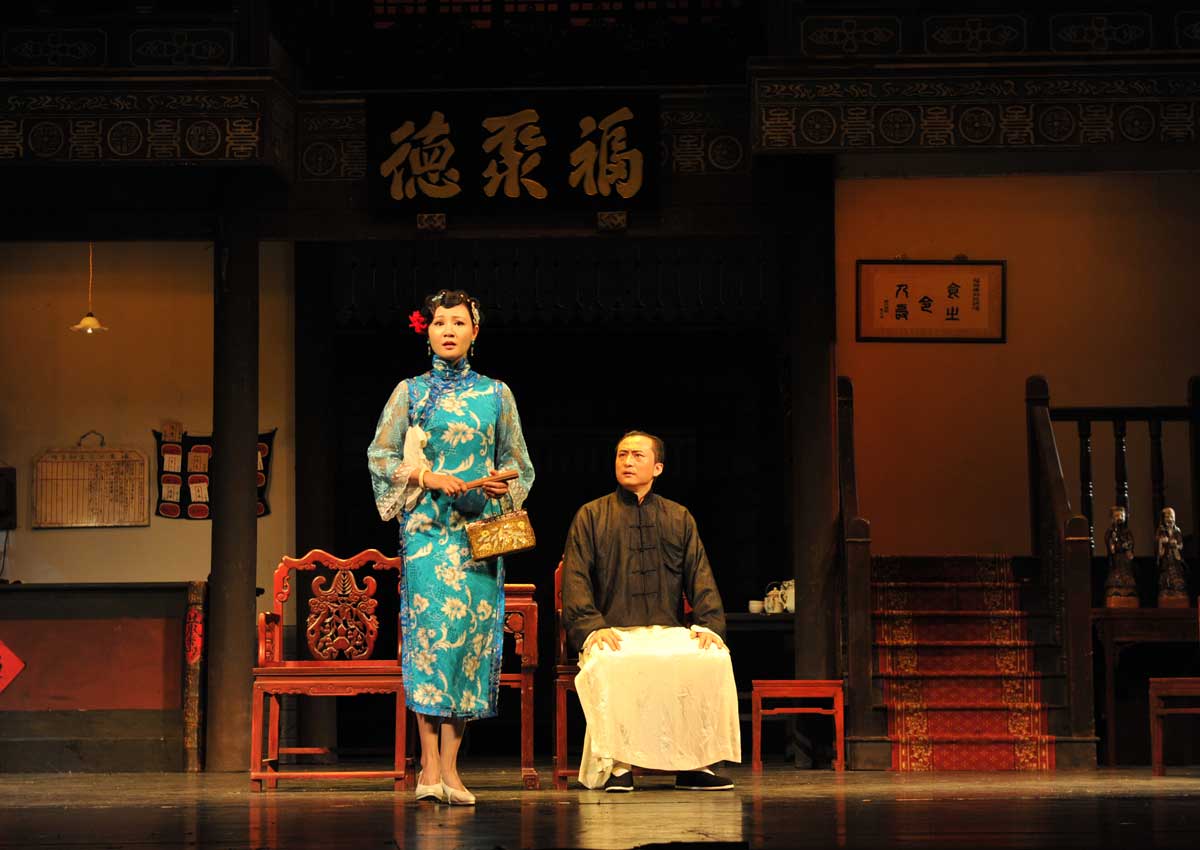 In July this year, the cast of Chinese play Top Restaurant went through an unusual rite of passage - learning to roast duck in an old-school Beijing restaurant.
Director Gu Wei, 76, wanted the Beijing People's Art Theatre actors to put on an authentic performance for the play, which chronicles the ups and downs of a Peking duck restaurant over half a century.
The 1988 classic by playwright He Jiping has been performed more than 500 times and was also made into a Chinese television drama in 2004.
The Beijing People's Art Theatre, which staged Cao Yu's revenge drama, Savage Land, here in March this year, will perform Top Restaurant at the Esplanade Theatre from March 23 to 26 next year, more than two decades after it was first staged in Singapore at Kallang Theatre.
The company began performing the play again in August after a two-year hiatus, during which some of the cast were replaced.
Liu Hui takes over from Yang Lixin as male lead Lu Mengshi, who finds himself saddled with keeping the restaurant afloat after its ageing boss retires.
Guo Yi Jun replaces Yue Xiuqing as the prostitute, Yu Chu, Lu's lover.
Top Restaurant was born out of playwright He's love of roast duck.
"Food is fascinating," she says in Mandarin in an e-mail interview. "It's like a great ocean full of interesting stories."
As research for her script, He, 65, spent time in Beijing's renowned duck restaurant, Quanjude.
As a young female graduate, she was out of place in the sweltering, hostile kitchen. She recalls: "The floor was covered in oil.
The cooks were all bald men who ignored me, thinking I was a health inspector."
She persisted and ended up staying at Quanjude for three months.
She went on to visit other famous restaurants such as Hongbinlou and even got herself certified as a trainee cook to learn more about the trade.
While Gu did not demand this degree of immersion from his cast, he nevertheless insisted they visit Quanjude to observe and try their hand at the chopping, roasting and serving of ducks.
It was no picnic for the actors, who struggled to get the ducks into the oven, sometimes dropping them on the floor or in the flames.
But Gu, speaking in Mandarin over the telephone from Beijing, says: "They had to understand how a duck restaurant works. Otherwise, the play would lack the right flavour on stage."
The restaurant visit was a bout of nostalgia for Gu, who co-directed the play in 1988 and also went with the original cast to Quanjude.
Since then, the 152-year-old restaurant has set up a museum on its history on its premises. Gu, who is married with a daughter, says seeing this made him emotional.
"It reminded me that this is a kind of business that is rare in today's China. It is not just a business transaction, but also a service to the people."
Besides bringing the roast duck trade to life on stage, he also faced the challenge of reproducing the look and feel of turn-of-the-century Beijing.
For instance, the production team had to seek out restaurant workers from that period to find out what kind of outfits they wore.
Waiters, they learnt, could not wear the full changshan - a traditional ankle-length Chinese tunic sported by male guests - and instead wore a version that ended at the knee.
"Today, I see many period productions that make no effort to get the costumes or the look right," says Gu. "This is not preserving art. This is poisoning it."
Although the play is almost 30 years old, playwright He - who lives in Hong Kong - believes it still offers plenty of food for thought to modern-day audiences.
"It has good food, it has love, it has deep meaning, it has something for old and young to enjoy."
Cuisine in the play becomes a means to explore the culture and history of China.
"Governing a country is like cooking a dish," she says. "Only by balancing the flavours can you bring people peace and prosperity."
oliviaho@sph.com.sg

This article was first published on December 13, 2016.
Get a copy of The Straits Times or go to straitstimes.com for more stories.