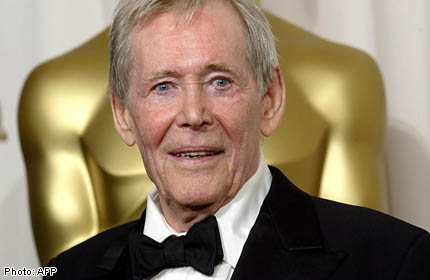 LONDON - Tributes and tales of carousing poured in Monday after the death of legendary actor Peter O'Toole, whose hellraising antics could not outshine his star turn in Oscar-winning epic "Lawrence of Arabia".
Actors, critics and politicians lined up to tell colourful stories about the Irish icon, who died on Saturday aged 81 after a lifetime of greatness on stage and screen - and drink-fuelled chaos in the wings.
His daughter, actress Kate O'Toole, said the family was "overwhelmed by the outpouring of real love and affection" for the star who was nominated for a record eight Oscars but only received an honorary Oscar in 2003.
Michael Gambon, the veteran British actor, said his old friend was a "great actor."
"I think it was his early years that were the best really. He was great fun to be with and he'll be missed badly," Gambon, known most recently for his role as Professor Dumbledore in most of the Harry Potter movies, told the BBC.
Gambon said that when they first met at the National Theatre in London in the early 1960s when O'Toole was playing Hamlet, the pair went to the pub every night and "used to drink an awful lot."
"There won't be any more like that, will there? I think they've all gone now," he said.
Newspapers were full of stories about O'Toole's drinking antics, alongside pictures of him either in his blonde blue-eyed prime as Lawrence, or as the elegantly wasted older "luvvie".
The tales ranged from when he and fellow actor Michael Caine bought a pub in order to get a drink after closing time - the landlord later tore up the cheque - to the time he went for a drink in Paris and woke up in Corsica.
News channels showed footage of him riding into a television interview on the back of a camel, grasping the reins in one hand and an ebony cigarette holder in the other. He then proceeded to give the camel a can of lager.
British actor John Standing said O'Toole was "fearless."
"We got up to some rare old tricks together in Dublin, you know. When you find a sort of kindred spirit who is prepared to go to crazy lengths, it's very cool to be with him," he told the BBC.
Politicians also paid tribute to O'Toole, who was proud of his Irishness even as he grew up in Britain.
Irish President Michael D Higgins said was "privileged to know him as a friend since 1969."
British Prime Minister David Cameron said O'Toole's performance "in my favourite film, 'Lawrence of Arabia,' was stunning."
Hollywood giants were devastated.
Director Ron Howard tweeted that O'Toole was "one of his generation's greatest talents" while actor Alec Baldwin said he was "like Taylor, Brando, Olivier, Joan Crawford, Nicholson."
But it was in the British showbiz world that O'Toole's loss was most keenly felt.
Comedian Stephen Fry called him a "monster, scholar, lover of life, genius."
British film critic and friend Barry Norman said O'Toole "deserved at least a couple of Oscars".
For one interview O'Toole "came into my TV studio looking bloodshot-eyed and asking 'has anyone got any drops to put in my eyes'... and nobody had so he had to go on with bloodshot eyes," he told the BBC.
CNN television host Piers Morgan recalled spending "one of the funniest days of my life with him" at a cricket match a few years ago.
The son of an Irish bookmaker, O'Toole was born in 1932 and raised in northern England.
After working briefly as a journalist and a radioman for the Royal Navy he went to study at the prestigious Royal Academy of Dramatic Art, in a class that included future stars Albert Finney, Alan Bates and Richard Harris.
After making a name in theatre, his big break in cinema arrived in the form of David Lean's 1962 desert epic "Lawrence of Arabia," in which he played British army officer T.E. Lawrence who helped lead an Arab revolt against the Ottoman Empire during World War I.
It earned him the first of eight failed Oscar nominations, with the last coming for his performance in "Venus" in 2006.
He was married once, to the actress Sian Philips, and had two sons and a daughter.