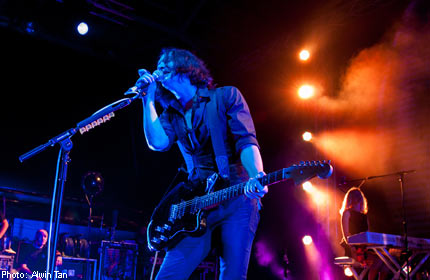 ARTIST: Placebo
VENUE: The Coliseum at Hard Rock Hotel, Resorts World Sentosa
WHEN: Tuesday
ATTENDANCE: 1,500
Alt-Rock dynamos Placebo may have been playing to a smaller crowd on Tuesday night than at their last Singapore outing at Fort Canning Park in 2010, but they must not have minded.
Not when Tuesday's crowd was so enthusiastic to see their idols and hear the British band's glam-infused sound.
Cheers from their fans greeted the three-piece band, fronted by 40-year-old Brian Molko, as they opened with an eclectic offering, B3, from their extended play, B3EP (2012).
To the audience's delight, Placebo gave previews of songs from their latest album, Loud Like Love, slated for a release next month. The undulating crowd sang, shouted and waved their hands to new songs like the catchy Too Many Friends and Loud Like Love.
But when the band went back to basics and belted out the perennial favourite Every Me And Every You - the chilling track that was used in 1999's Cruel Intentions - fans got up and started rocking out proper.
Iconic songs like Special K (2001) and The Bitter End (2003) were, without a doubt, the highest points.
Molko wasn't exactly chatty, but he did leave the stage to fist-bump audience members towards the end.
And where some might gripe that the band was overly tame, their fans would argue that in 11/2 hours, Placebo delivered a tight, solid performance, culminating in a four-song encore that included the trippy Infra-red (2006).
tsjwoo@sph.com.sg

Get My Paper for more stories.