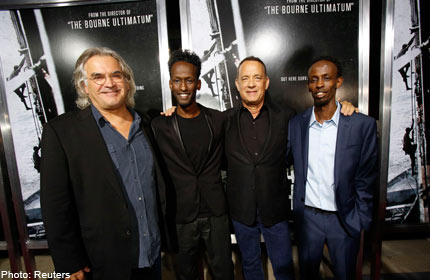 Paul Greengrass would like to nip something in the bud.
The director of Captain Phillips is talking about allegations made by a former crew member that the captain of the hijacked cargo ship he was on in 2009 - and the person at the centre of Greengrass' new movie - was reckless.
The crew member had spoken anonymously to the New York Post about how, despite being warned of pirate activity in the area, Phillips had steered the container vessel Maersk Alabama too close to the Somali shore, in a bid to save time and money, with life-threatening consequences for all on board.
So Phillips had played a part in causing the very incident for which he is now being celebrated as a hero, alleges the crew member. English film-maker Greengrass, 58, launches a lengthy defence of Phillips.
"I don't agree at all. Here's the situation, right? We had a screening in New York, the premiere, in fact, and lots of members of the crew of the Alabama attended, and they stood up and applauded at the end of the film. Always, in a situation like this, you're going to have one or two people who don't like it. And they are entitled to their opinion.
"But as for the facts, they are not in dispute. They are as shown in the film and I am 100 per cent confident about that," he tells Life! over the telephone from Tokyo, where he is on a press junket.
"It's interesting to me that the story which you are referring to is an anonymous crew member, someone who wasn't prepared to put his name to the accusation."
Adding that his own father was in the merchant navy, giving him a good grasp of maritime procedure, Greengrass says that he checked Phillips' facts as stated in his book against his own experience, as well as against independent sources. Everything in the film is sound, he says.
The route taken by the Alabama has been one taken by many ships before it, without problems. Before the Alabama made its fateful journey through the Somali Basin, a few vessels had been attacked along the same route, he concedes. But none had been as large or as fast as the Alabama, which was believed to be impenetrable, he says.
Greengrass should be familiar with investigative inquiries: His career started in the 1980s as a director of current affairs programmes for British television station ITV. When he moved to fiction work, he brought along the same guerilla- style, handheld-camera work he had used for making news programmes.
Instead of plotting an actor's movements and setting up cameras in advance, as is the usual fiction film-making practice, he usually lets actors decide what to do on the spot. The crew react as quickly as they can, as they would when making a documentary.
This cinema verite style (or "shakycam" as some have mockingly called it) has been employed in his hits, including The Bourne Supremacy (2004) and The Bourne Ultimatum (2007), as well as his less popular features, Green Zone (2010) and United 93 (2006).
Like Green Zone, a war drama loosely based on the failed search for weapons of mass destruction in Iraq and the loss of faith in the American administration, and United 93, a docudrama about the flight that was hijacked on Sept 11, 2001, Captain Phillips is based on real events.
Making real events that feel real again on the cinema screen appears to be his forte.
To that point, he says he avoided making Captain Phillips an action movie about the triumph of American high-tech firepower over its enemies, even when in 2009, most news attention was focused on the use of drone aircraft and the domination of the navy's elite Seal team in the tense standoff.
"The navy provided us with the ships and the helicopters that we needed, but we told our own story and did our own research," he says.
It would have been "inauthentic" for him to have treated the story as a clear-cut victory, he says.
"That is not how these events are. I don't think anybody glories in violence. Nobody knows better than the people in those ships - and there are 20 nations engaged in piracy patrols in the Indian Ocean - that the world's sea lanes run past some of the most damaged places in the world," he says.
These include failed states like Somalia, "which teem with poverty and crime and hopelessness", he says.
This is why young men come out to steal ships, at the behest of masterminds living in developed countries, thousands of miles away.
"Triumphalism would not just be factually wrong, it would also be inauthentic, do you know what I mean?" he says.
The intense performances as the pirates brought by young Somali-Americans Barkhad Abdi, Barkhad Abdirahman, Faysal Ahmed and Mahat M. Ali have won them critical praise.
While he gives some background to the pirates, showing that they are the product of a "world starkly divided between the haves and the have-nots", it would also be wrong to give them a completely sympathetic portrayal, he says.
"They are also violent gangsters. If you want to be authentic, you show that they are desperate, but also dangerous. This is the skill of the four young Somali actors - they brought home the complexity and truth of it."
Phillips himself is portrayed as a taskmaster, someone who could lay into his men for slackness, says Greengrass. Again, the portrait feels more authentic, compared with making him look warm and completely likeable.
"He's a bit of a hard-driving man, but then captains have to be. Your job is to bring the ship, the crew and cargo to port safely. You don't get to be captain by winning a popularity contest."
johnlui@sph.com.sg

Get a copy of The Straits Times or go to straitstimes.com for more stories.