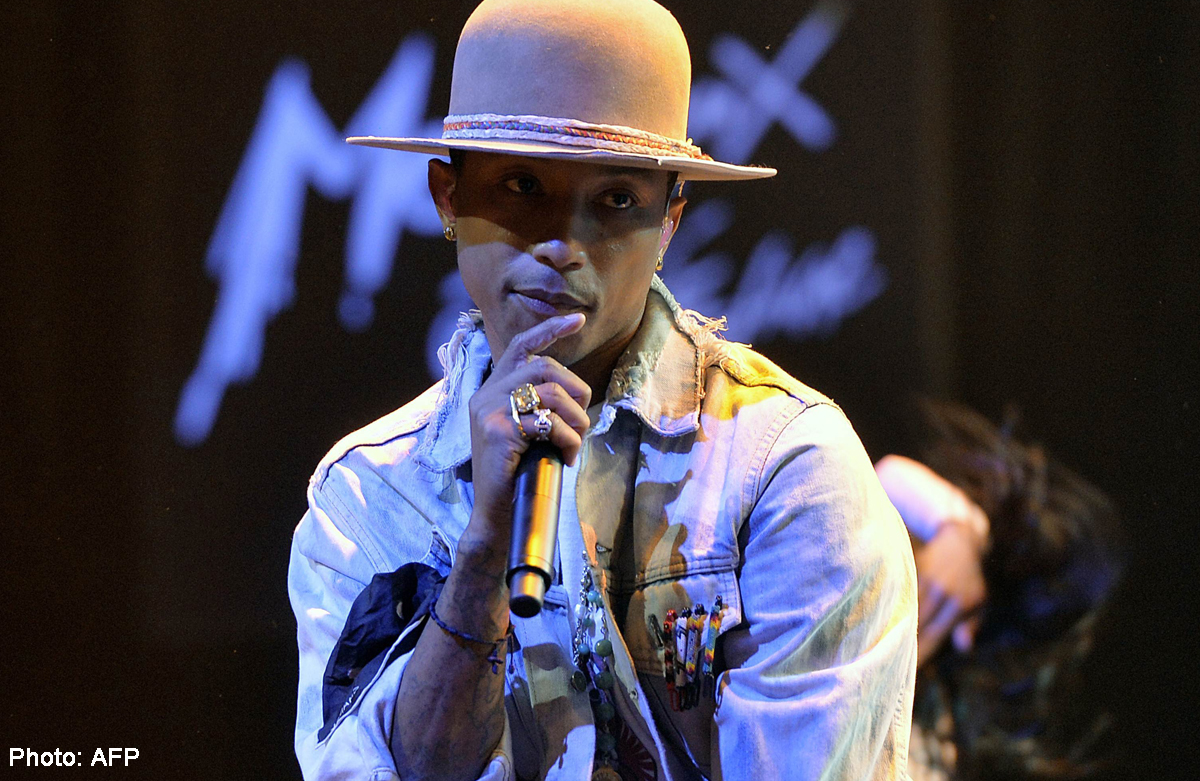 Pharrell is a guy that makes you think that he's this really friendly, very thoughtful person. But he's conniving, he's sneaky, and he's very good- looking and he uses that against us.
It's lovely that singing competitions are still so popular on television.
There's so much nastiness on the boob tube - crime dramas, zombie shows, vampire stuff - that it can drive you a bit nutso.
A show like The Voice is a nice antidote, even if it's pretty dumb and pointless.
The Voice took the American Idol concept of pitting wannabe pop stars against each other and then added its own twist - pitting the judges against each other.
Only in The Voice they're not judges, they are "coaches".
The coaches build their teams, and then attempt to spur their charges on to victory.
In this seventh season, the newbie coaches are Gwen Stefani and Pharrell Williams. They join veterans Adam Levine and Blake Shelton.
Levine's acolytes have won the competition twice so far.
Shelton's teams, three times.
They keep track.
WHY SO SERIOUS?
It's actually pretty crazy how seriously the coaches take their job, and it's very clear after the first couple of episodes of Season 7 that Stefani and Williams are both in it to win it.
Pop princess Stefani is just as well known for her style as her sound, but since the coaches must first choose their apprentices based solely on their vocal abilities, she's been forced to put the music first.
"I thought I was going to be looking for someone who's really unique sounding," Stefani told TV show Today.
"All the people that I loved growing up don't necessarily sing great. Like David Bowie, who's got a real character voice.
"But when you're there and your chair is turned and you can't see them singing, then sometimes those incredible singers who are very soulful can't be denied. I was, like, I have to press the button."
As for Williams, he's so smooth that he often ends up making Levine look like a bumbling nerd.
No mean feat.
"Pharrell is a guy that makes you think that he's this really friendly, very thoughtful person," Shelton told AP. "But he's conniving, he's sneaky and he's very good-looking and he uses that against us."
While the judges may care deeply about the progress of the contestants - or at least do a good job of pretending they do - we in the audience don't care so much.
None of the winners so far have managed to set the world on fire.
Can you name even one? I mean, I guess there's six of them out there. Surely one has had a big hit. No? Six anonymous stars. Some seem to be disowned by the show. KARAOKE QUALITY The irony is that the voices on The Voice aren't really that good. The disparity in talent between the world-class performers who are coaching and the karaoke singers who are being coached is immense.
As much fun as the show may be, it consistently fails in its aim to find and promote the best voices in America. The whole premise of the show is actually quite weird, when you think about it.
Why on earth would I want to hear Joe Schmoe warble away when Adam Levine could be up there doing his thing?
Here's an awesome idea for a TV programme: boot Adam Levine, Gwen Stefani, Pharrell Williams and Blake Shelton out of their goofy red chairs and force them to compete against each other as singers instead of coaches.
Imagine the spectacular sonic battles that would transpire.
Now THAT would be a show worthy of the name The Voice.

This article was first published on October 01, 2014.
Get The New Paper for more stories.