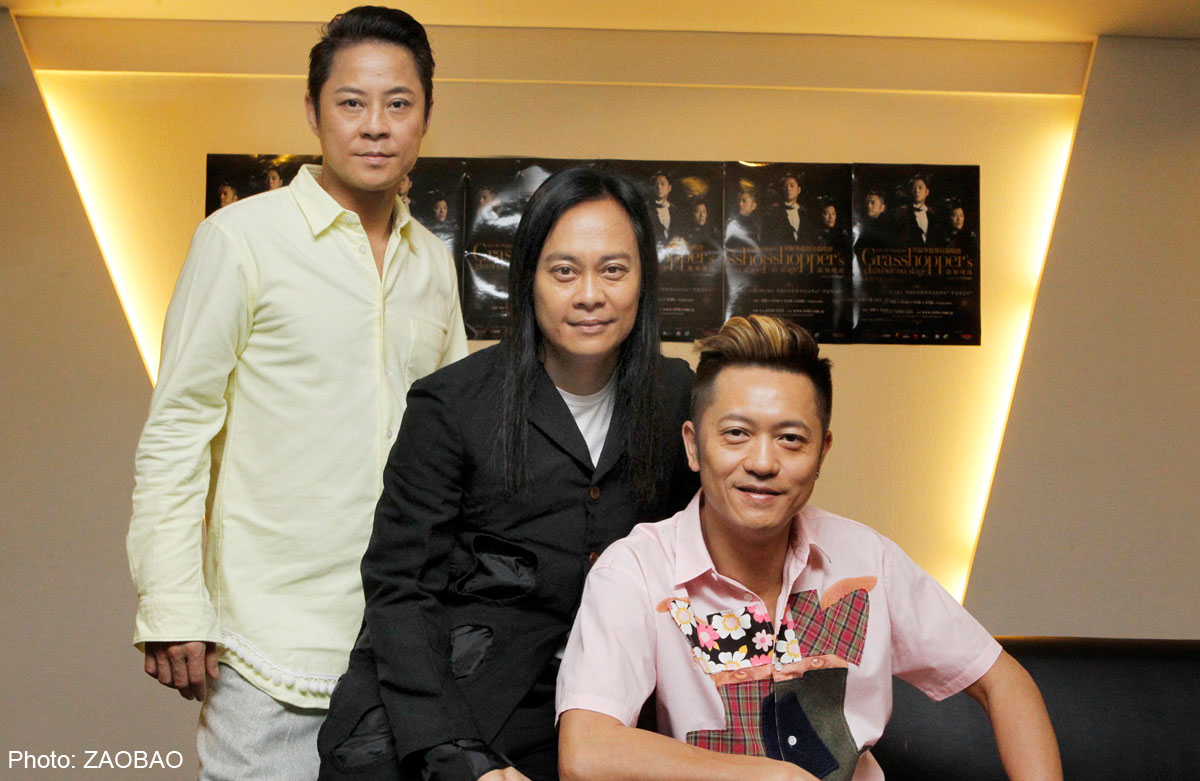 In an industry which devours youthful energies, a pop star who turns 50 may be considered practically Jurassic.
To their credit, veteran Hong Kong boyband Grasshopper acknowledge, in jest, that they have been around long enough in show business to qualify as "freaky museum exhibits". That does not mean, however, that the trio, whose members are reaching the big 5-O, believe themselves to be has-beens.
Speaking in Mandarin, Calvin Choy, 49, tells Life! in a recent interview: "I'm not worried. We have to put in continual effort on our part. We can't let the audience feel that we're recycling the old stuff and that we have nothing new to offer. "We are currently writing songs for our new Cantonese and Mandarin album that will be out in the second half of this year. We are not resting on our laurels." If they are dinosaurs in the Cantopop world, the group, who made their debut in 1988, say they are a friendly kind of a more recent vintage.
The Grasshopper's fanbase has been injected with new blood, thanks to their hilarious hosting of a TVB game show, All Star Glam Exam, which earned them the Best Entertainment Presenter at the TVB Awards Presentation 2011 in Hong Kong. "The variety show is suitable for all ages. Now we have a new batch of young fans who are in their teens and 20s. We are like Barney to them," says Remus, 47, who is Calvin's younger brother, in a reference to the purple dinosaur from the American children's TV programme. He adds: "Those born in the 1990s may have heard that our concerts are lively affairs but they should come and see it for themselves."
He and his bandmates - including his childhood friend Edmond So, 48 - promise a high-octane performance at their concert here next month at Compass Ballroom in Resorts World Sentosa. Eighty per cent of the tickets have already been sold. Their camaraderie is built over close to three decades when they started out as backup dancer- singers for the late Cantopop diva Anita Mui in the 1980s, before releasing their debut album in 1988. So and Calvin are now family men with children aged one to 14, while Remus is not married. The live-wire trio, who last held a concert here in 2012, received an honorary award at the 18th Singapore Hit Awards last year.
The upcoming concert here will be a visual treat as the group assure fans that they will bring out their trademark over-the- top wardrobe changes, which are designed by Calvin. Remus says: "We are always donning outrageous costumes that you won't catch a typical guy wearing. There are skirts and outfits adorned with sequins. This time around at our concert, it's no exception. "There's one revealing outfit that my brother designed for me that will have the audiences screaming. You'll have to come to the concert to see how it looks." It sure does not sound like they are winding down their careers.
Remus says: "We haven't thought about retiring. One shouldn't set a limit for oneself. If men always think it's impossible to accomplish certain things, mankind wouldn't have made it to the moon. "The next step for us, we hope, is to launch our rocket to the moon and plant our flag there." In fact, they continue to have an undying passion for their craft, so much so that Remus jokes that he will be crooning all the way to the grave. With a laugh, he says: "My funeral will be a lively and grand affair. I'll give ideas as to how my mourning hall will be designed. It will be my final concert."
nggwen@sph.com.sg 

Get a copy of The Straits Times or go to straitstimes.com for more stories.