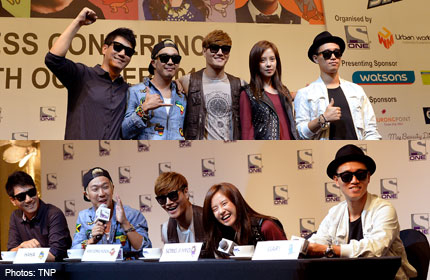 Jee Seok Jin
How do you feel about winning your first challenge recently on Running Man?
I was really happy because I wanted badly to win. Do you know that I'm one of the weakest members on the show?
Now that I've conquered a physical challenge, I'm going to focus on winning mental challenges.
We may even come to Singapore to film an episode in the future, maybe at the Singapore Flyer?
Haha
What fun things did you do in Singapore?
I took a picture of myself at the merlion, like i was the one spouting water out of my mouth.
Kim Jong Kook
What is your impression of Singapore?
There are lots of trees here. The streets are so clean and the people are nice.
Song Ji Hyo
How do you feel about being the only woman in the cast and what was your first kiss with Gary like?
They don't treat me like a woman, they just treat me as part of the family. The kiss was good for me.
Gary
What's it like working with your co-stars on Running Man?
It's great to be part of the cast because it's so fun every time we get together, I'm always happy to work with them.

Get The New Paper for more stories.