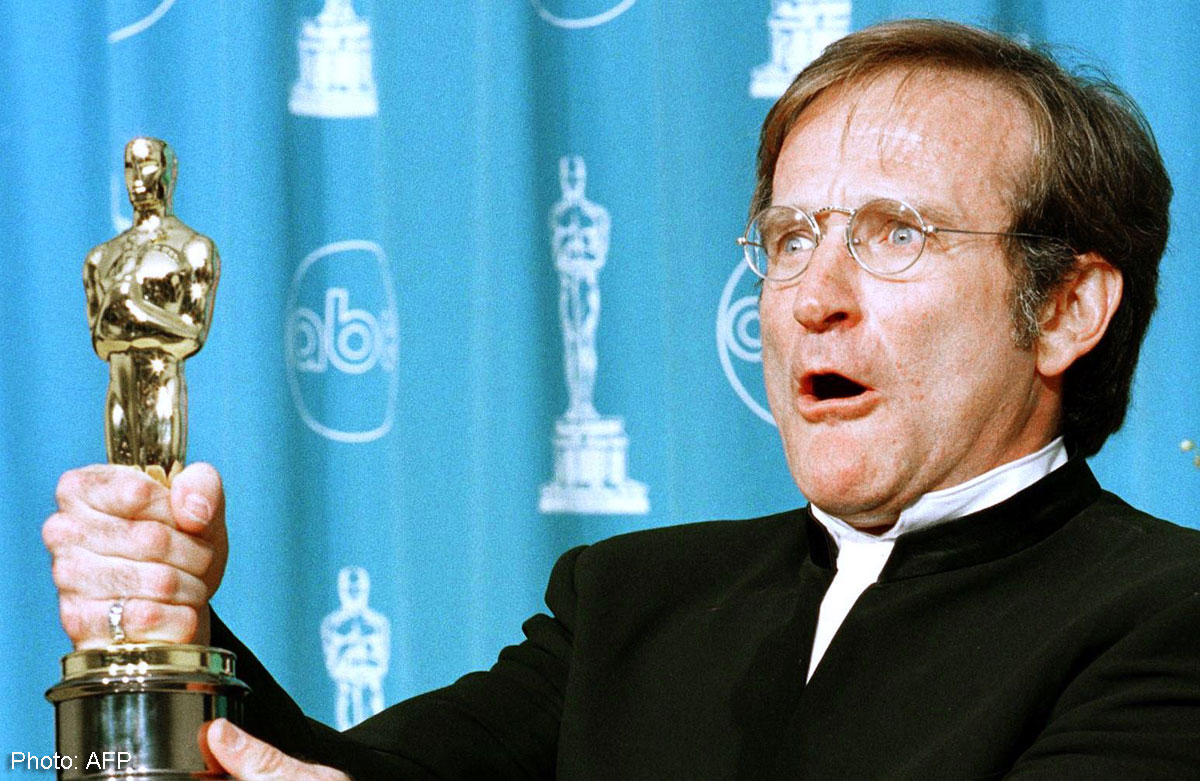 Mork & Mindy (1978-1982)
Robin Williams broke out in this hit comedy series playing an alien named Mork with the instantly recognisable greeting of "Na-nu, na-nu". Pam Dawber played his human roommate Mindy in this spin-off of the long-running Happy Days (1974-1984) sitcom.
He made a splash with his trademark manic style of improvisational comedy even then. Explaining his comic style, he said: "You're only given one little spark of madness. You mustn't lose it."
The role earned him the first of six Golden Globes in 1979.
Good Morning, Vietnam (1987)
He received the first of his three Oscar nominations for Best Actor here, though he never did win in the category, eventually picking up the Academy Award for Best Supporting Actor for 1997's Good Will Hunting. Instead, he won a Golden Globe for the role.
Set in Saigon in 1965, he played a radio deejay who is popular among the men but riles his bosses in this war comedy, whose title will always be ingrained in viewers' minds as "Goooooooood morning, Vietnaaaam!" just as Williams said it on screen.
Dead Poets Society (1989)
In this well-loved coming-of-age drama about an English teacher who inspires his students and a generation of viewers, he earned his second Oscar nomination for Best Actor. Among those who hailed him with "O Captain! My Captain!", a tribute to Walt Whitman's poem, at the end of the film were actors Ethan Hawke and Josh Charles.
The Fisher King (1991)
His third Oscar nod for Best Actor came for playing a deluded homeless man searching for the Holy Grail. It won him the Golden Globe for Best Actor in a Comedy or Musical.
Aladdin (1992)
As the motormouth blue genie, Williams stole the show and proved that star power could work when it came to voice-casting. The part, which nabbed a Golden Globe, was specifically penned for him by writers-directors Ron Clements and John Musker. Williams would go on to do voice roles in films such as Robots (2005) and Happy Feet (2006).
Mrs Doubtfire (1993)
What can be funnier than putting Williams in a dress and faking a British accent? Not much. The film, which brought him another Globe, is his second- highest grossing film in the United States with domestic takings of US$219 million.
Only the fantasy adventure Night At The Museum (2006), in which he plays Theodore Roosevelt, earned more. A sequel was reportedly in the works, with both director Chris Columbus and star Williams slated to return.
The Birdcage (1996)
Williams paired with fellow comedian Nathan Lane in this remake of the French-Italian comedy La Cage Aux Folles (1978).
They acted as a gay couple who have to cover up their relationship when Williams' son falls for the daughter of a conservative politician. Williams played against type by taking on the role of the less flamboyant Armand.
Good Will Hunting (1997)
Williams finally won an Oscar, for Best Supporting Actor, by playing a therapist who tells Matt Damon's young janitor that things are not his fault. The film, for which Damon and Ben Affleck also won an Oscar for Best Original Screenplay, was anchored by the relationship between Damon and Williams' warm and tender father-figure therapist.
Accepting the award, he said: "Most of all, I want to thank my father, up there, the man who when I said I wanted to be an actor, he said, 'Wonderful. Just have a back-up profession like welding.'"
Patch Adams (1998)
Critics did not warm to the film but you could see why the comedy-drama about a doctor who believes in the healing power of laughter would appeal to Williams. The real Patch Adams was not impressed either and criticised the film for merely portraying him as a funny doctor. Still, the appeal of Williams as a funny doctor carried the movie past the US$200-million mark worldwide.
One Hour Photo (2002)
This was one of Williams' darkest and creepiest roles as a lonely photo technician who develops an obsession with one family in particular.
Jack Nicholson was first approached for the role but he turned it down. The resulting film and Williams' performance were generally well-received and he won a Saturn Award for Best Actor.

This article was first published on August 13, 2014.
Get a copy of The Straits Times or go to straitstimes.com for more stories.