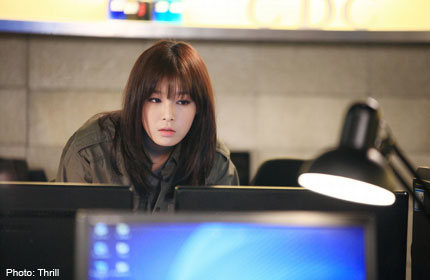 SINGAPORE - They say absence makes the heart grow fonder and this is no different for Korean starlet Kim Yu Bin (also known as Yubin), whose solo foray into acting has made her think more about her fellow Wonder Girls members.
In a phone interview on Wednesday, the 25-year-old rapper of the K-pop group said she cherished the memories she has of the girl group.
Acting without them was a nervous affair and had placed more weight on her shoulders, said Yubin.
The singer makes her solo acting debut as Lee Joo Young, an IT expert and a genius of a hacker, in the K-drama, The Virus.
The 10-episode series tells of scientists at the Special Infectious Disease Crisis Response Team who race against time to stop a virus with a 100 per cent fatality rate and which has the potential to wipe out humanity.
Unlike her character, Yubin is admittedly not good with computers, but she said she still saw glimpses of herself in Joo Young.
"(Joo Young) is young and is a professional woman, and that is very similar to me. I have confidence about my work and she does too," said Yubin, who got her IT-expert friend to teach her computer programming and other IT skills.
Although she has forged a successful music career with the Wonder Girls since 2007 and can count herself as a senior to many in the K-pop industry, Yubin said acting was a whole new ball game.
"Singing is about interacting directly with the audience and acting is more about interacting with other actresses and actors to produce quality acting for the audience,"she said.
Before her role in The Virus, Yubin's only brushes with acting were in cameo roles, having had only one other full role - as herself in The Wonder Girls film.
But it seems like the singer has been bitten by the acting bug.
Yubin said she hoped to star in an action movie in the future, her dream being to play Lara Croft - protagonist of the video-game series Tomb Raider, which was made famous on the silver screen by Hollywood's Angelina Jolie - but added that she would not mind any role, including those in melodramas.
But while she has always dreamt of acting, Yubin does not want to stray too far from her music career.
"If any good project comes by I would not mind going into the project…but at the same time I don't want to be apart from my music," she said.
While rumours of the disbandment of the Wonder Girls were refuted by JYP Entertainment, the group remains on hiatus following the pregnancy of its leader, Min Sun Ye.
For Yubin, the next steps in her career remain open.
"If any opportunity comes, then I won't mind going into it. It could be music or it could be acting," she said.
samboh@sph.com.sg
The Virus airs on Thrill (StarHub Ch 618/mio TV Ch 415) every Thursday at 10pm.

Get My Paper for more stories.