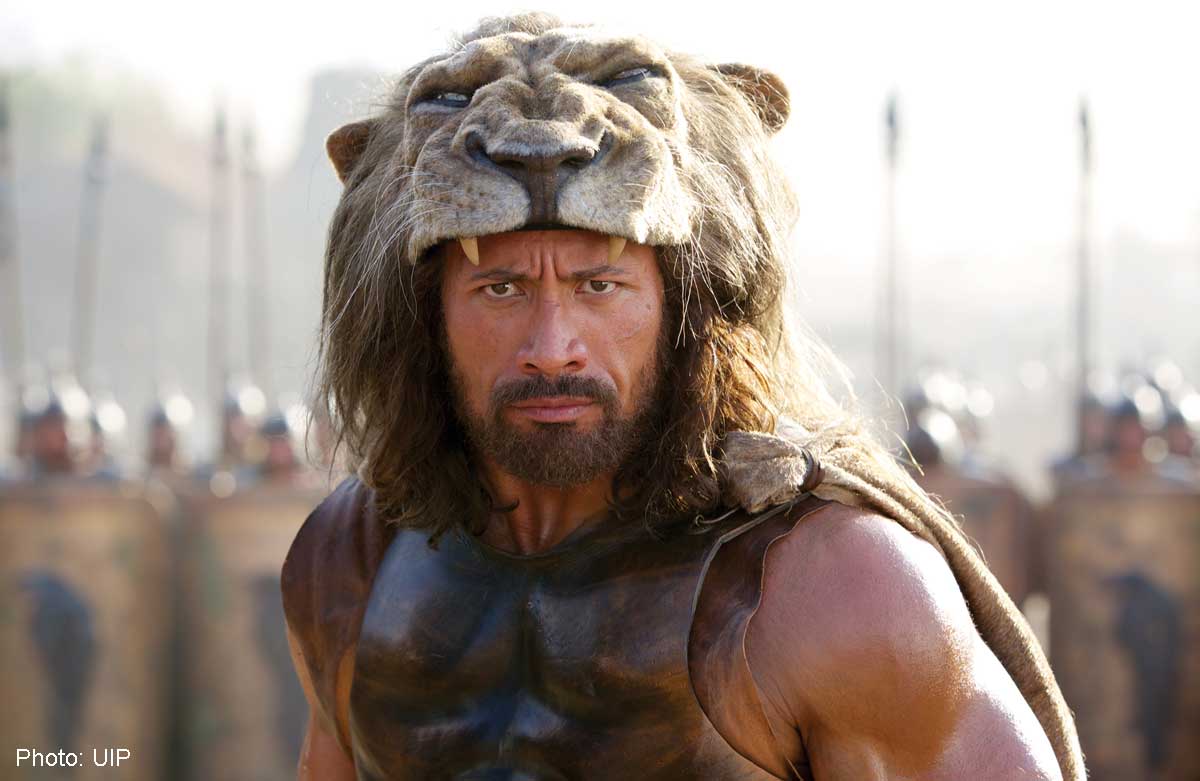 Ex-wrestler Dwayne 'The Rock' Johnson (right) is in theatres this week with action epic Hercules. But he's far from the first wrestler to live large on the big screen
Wrestlers are among the greatest performers in the world.
With thousands of live audience members and TV audience in the millions, pro wrestlers must sell soap opera-like story lines while also engaging in brutal faux combat.
A top-of-the-line wrestler must be both a prime physical specimen and a world-class showman.
Precious few end up being so good at what they do that they become household names, allowing the lucrative leap into mainstream movies.
Enter The Rock.
Dwayne "The Rock" Johnson is the only wrestler whose movie fame has eclipsed his wrestling fame.
LARGER-THAN-LIFE
In his new film Hercules, opening in theatres here tomorrow, he plays the titular demigod, just the latest in a long line of large-than-life roles.
The Rock may have reached the highest heights for a wrestler-turned-actor, but let us remember that he's standing on the shoulders of literal giants.
If ever there was a popcorn movie no-brainer, it's Dwayne Johnson playing Hercules.
Hercules is the greatest hero of Greek mythology, just as Johnson is Hollywood's reigning action star.
The story is set after Hercules completes his famous 12 Labours - slaying a lion, slaying a hydra and other feats.
The son of Zeus now leads a band of mercenaries hired by the King Of Thrace to destroy an evil warlord.
Trouble is, he might be fighting on the wrong side.
Johnson looks suitably epic for the role, and of course he sells the heck out of the battle scenes.
ANDRE THE GIANT
BELOVED BIG MAN IN
BELOVED FANTASY
The late great Andre Rene Roussimoff may have looked like monster - specifically a giant - but this 80s icon was the gentlest of souls.
In The Princess Bride he played Fezzik, a stongman who turns on his bad-guy employer in order to help reunite the dashing Westley (Cary Elwes) with his ladylove Buttercup (Robin Wright).
William Goldman, the author of The Princess Bride, said that Roussimoff was one of the gentlest and most generous people he ever knew.
You certainly see these qualities in the film, with his silly rhymes, wide smile, understated jokes and also his sense of sportsmanship.
ROWDY RODDY PIPER
LUNATIC IN LOONY FLICK

This article was first published on July 23, 2014.
Get The New Paper for more stories.