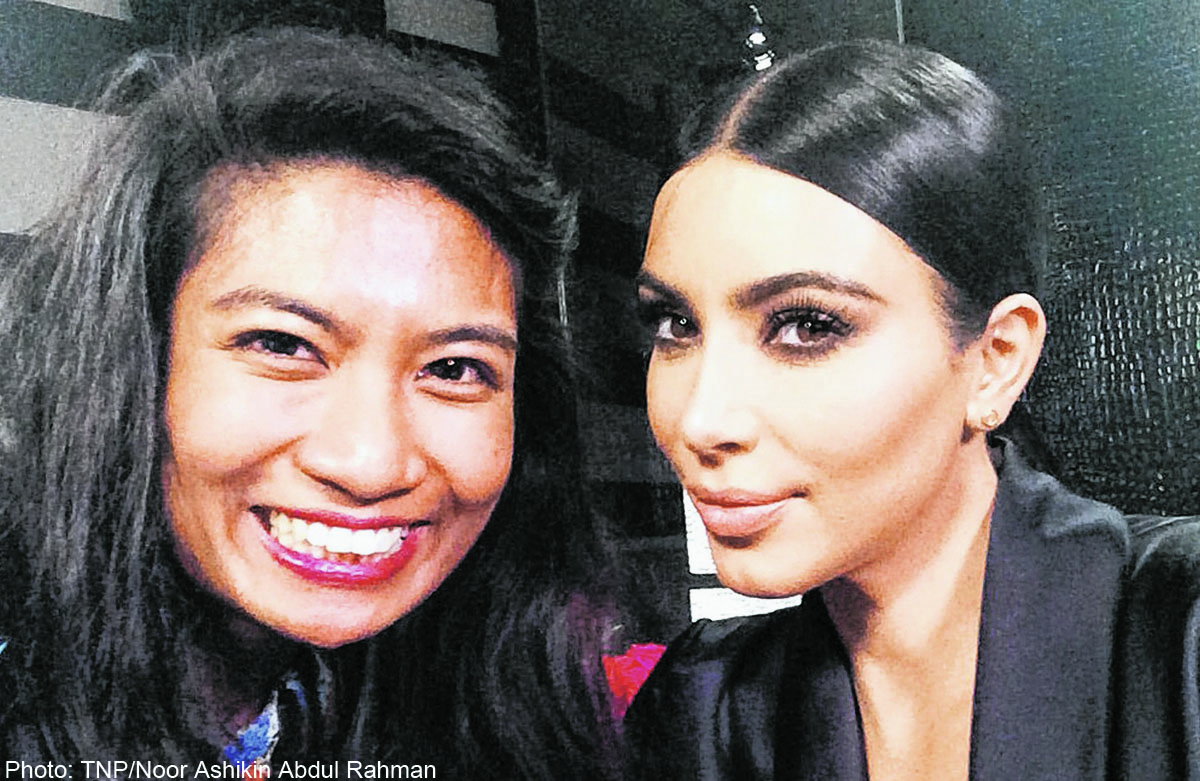 What's my favourite part about meeting Kim and Khloe Kardashian face-to-face?
I found out how real they are outside of "reality TV".
That, and my subsequent discovery of hordes of sneaky closet Kardashian fans among my friends.
The questions came in torrents.
Are they nice?
Just how b-i-g is Kim's bum?
Are they annoying and fake?
But my favourite has to be this: Is it true that Kim's face is frozen? First off, that is really mean!
But unfortunately, yes, she hardly cracks a proper smile. Not even a shadow of it.
She once joked on Twitter that she does not laugh and smile much "because it causes wrinkles".
Tyra Banks would be so proud of her on-point smize-ing (smiling with your eyes), which she displayed during our one-on-one interview.
But I quickly learnt what softens that default harsh facial expression - the slightest mention of her husband Kanye West and their beloved daughter North.
As she described North's cute antics, Kim flashed a proud-mum grin that stretched from ear to ear.
I found out that North loves a game of hide-and-seek and will play for hours, often standing still and covering her eyes thinking her mum would not be able to see her.
And as she gushed some more, I found out Kim's favourite moment of each day is when North presses her face close to Kim's and wakes her each morning. She was beaming like the sun by then.
Just like that, she debunked the myth about her apparent fear of wrinkles from smiling.
"How come when I make a joke, everyone takes me seriously? How come everyone thinks Khloe is the funny one?" she asked jokingly.
Friends and colleagues pressed me about the sisters' famous derrieres.
For Khloe, I would only describe it as "really perky" (lucky girl!).
As for Kim, there is a reason that booty of hers was the centre of that much talked-about Paper magazine cover shoot.
Kim is as voluptuous and curvy as she appears in photos, her tiny waist and petite frame accentuating her wide, rounded hips.
But what struck me the most was how warm and easy-going the pair were.
No airs and no tardiness, not even from Kim who had arrived in Los Angeles from New York on the morning of the media event.
Kim, whom I spoke to separately, was surprisingly genuine and interested in the conversation.
Roles were reversed when she asked me questions about Singapore and what cuisine she could expect to eat when she visits our "beautiful" city.
She had earlier raved about food when talking about trips to Paris and South Africa, and was equally delighted to know of our large variety of local fare.
EXCITED
Keep your fingers crossed, for she seemed really excited to make her way to our sunny shores in the future.
Of course, I had to end our eight-minute tete-a-tete with a request for a prized selfie which she, again surprisingly, obliged.
This is after all Kim Kardashian, also known as a selfie queen with an entire book of selfies due out later this year.
She angled her face for my iPhone camera like an expert, no smile. I, on the other hand, grinned like a child on Christmas morning.
The result?
Her perfectly-contoured, flawless face calling to attention to how enormous my angular, square face was.
Darn, I should have practised her selfie tips!
Good lighting, face the mirror and snap 500 shots to get that one good photo.
You're welcome.

This article was first published on January 20, 2015.
Get The New Paper for more stories.