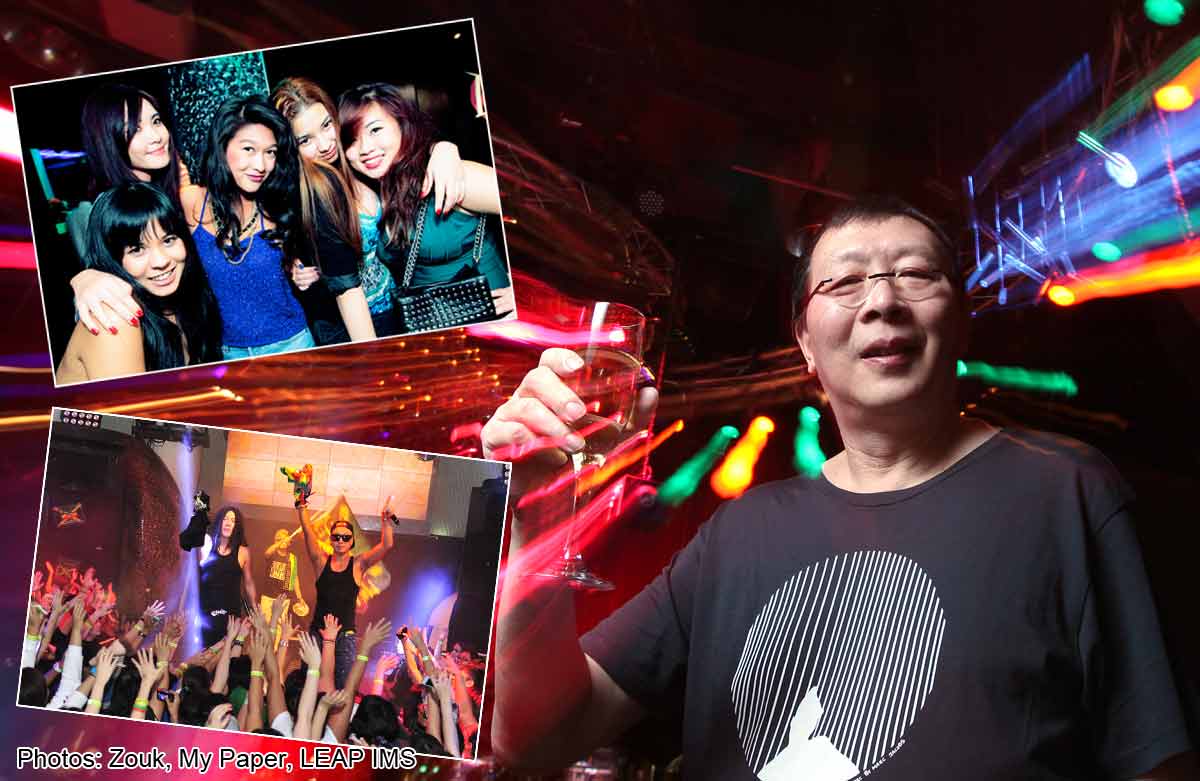 The closure of Zouk would be a great loss for Singapore, tourism experts told The Sunday Times.
Although it would not be reflected in terms of a decline in tourist numbers, Dr Chang Tou Chuang feels the nightspot put Singapore on the world map long before Formula One did.
"Unlike Formula One, which happens only one weekend in a year, Zouk provides something for people to do in the evenings all year round," said the associate professor from the geography department, Faculty of Arts and Social Sciences, at the National University of Singapore.
Dr Chang - a tourism geographer by training, with research interests in urban, social-cultural and tourism geographies - said he has seen how "land use zoning has taken priority" in Singapore despite the nation wanting to be an arts hub and entertainment capital of the world.
He cited as an example how Old School at Mount Sophia, an arts enclave with studios and galleries, had to make way for residential development by the Urban Redevelopment Authority in 2012.
"Clearly zoning and complaints by residents are almost like a double threat to Zouk's existence," said Dr Chang, who described the nightspot as a "very trendy cutting-edge entertainment club in an old building".
If Zouk were to leave the warehouse premises it occupies on Jiak Kim Street, "the edginess would be lost", said Dr Chang. "People appreciate the juxtaposition of the DJs playing in a very old building. That's part of the novelty."
Pioneer tour guide Geraldene Lowe-Ismail, 75, recalled how she would start her walking tour from the iconic club, down the Singapore River.
She cannot understand the complaints about noise it receives from local residents.
"All these years Zouk has been far away from everybody. Why rent an apartment there when you know that there's going to be a lot of noise?" said Ms Lowe.
"There's always this factor for development and conservation. Zouk should be kept. Modern apartments can be built anywhere."
However, nightlife top honcho Dennis Foo said many iconic landmarks have had to make way for progress and redevelopment and "Zouk should not be an exception".
"Almost all great concepts can be transported," the 61-year-old chief executive of St James Holdings told The Sunday Times.
"It is a good opportunity now to start in an even more suitable location without the authorities having to deal with residents' complaints."
But Ms Lowe disagreed.
"There are so many apartments there already," she said. "The people who make this decision must remember that it's nice that the old warehouses could be developed into something that young Singaporeans can appreciate.
"It's not for the tourists that we should keep things but also for ourselves."

This article was first published on June 22, 2014.
Get a copy of The Straits Times or go to straitstimes.com for more stories.