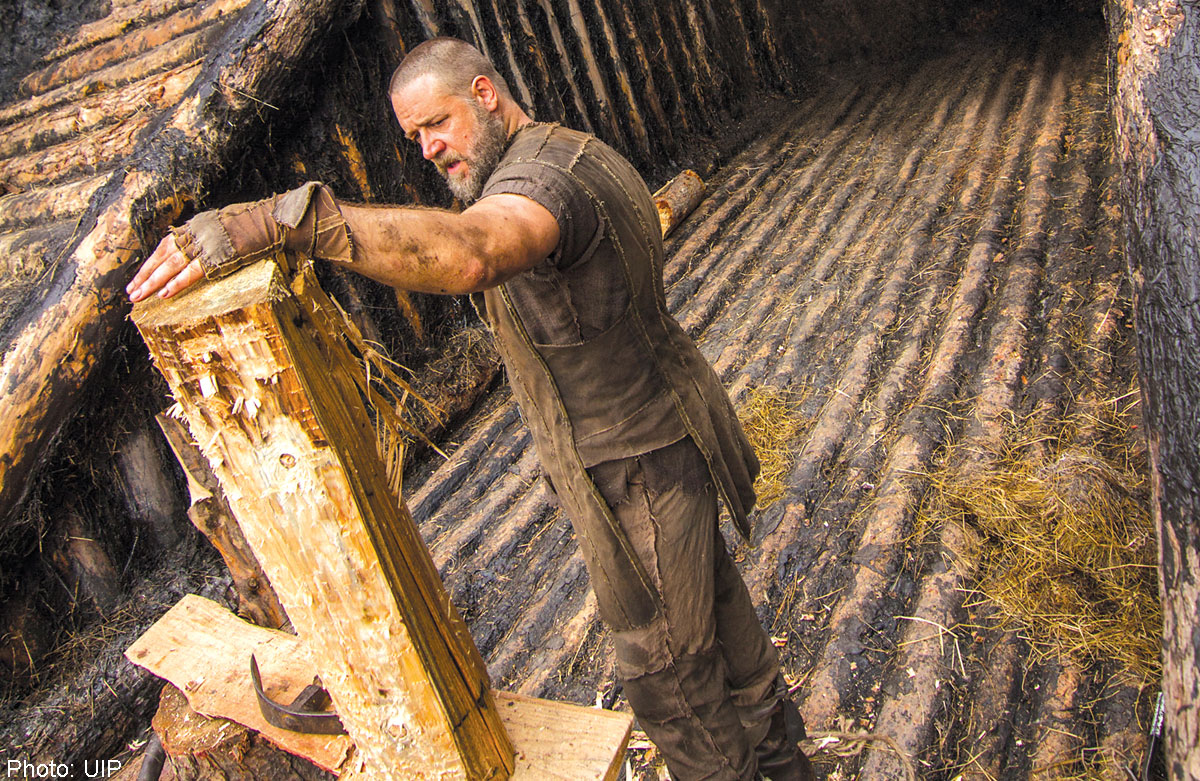 Damned if you do and damned if you don't.
That's pretty much the story with Biblical epics in Hollyweird.
When the movie industry focuses on secular works, there are those who feel marginalised.
When they finally get around to committing a Biblical story to screen - such as Mel Gibson's The Passion Of The Christ (2004) - it can end up mired in controversy.
The film was called anti-Semitic and excessively violent by some religious leaders and critics.
This year, Tinseltown has shown uncharacteristic bravery in releasing three movies based on Bible stories.
There are others in the pipeline, reported E! News, including a Pontius Pilate biopic with Brad Pitt, a Cain and Abel project from Will Smith, a David and Goliath actioner and even another reboot of Ben-Hur.
The film-makers behind Son Of God, Noah and Exodus: Gods And Kings have each taken on the challenge of adapting The Good Book in their own way.
Question is, how do Movie Jesus, Movie Noah and Movie Moses stack up?
NOAH (APRIL 3)
WHAT'S THE STORY?
Director Darren Aronofsky's Noah is a very loose adaptation of an iconic story in the Old Testament.
All the main elements - the flood, the ark, the animals, even the dove - are in place, but Aronofsky has also added a lot of rather strange stuff, including rock-encrusted angels, sexual turmoil, an unexpected stowaway and homicidal mania.
It's a fantasy epic, psychological drama and art flick all in one, which is weird.
SPOILER ALERT
There's a rainbow.
WHAT'S THE CONTROVERSY?
Where to start?
Some Christians are upset with Noah because it departs too much from scripture, particularly with its environmental message.
Many Muslims are against the film because they feel that prophets should not be depicted in works of art or otherwise.
The various controversies have been reported everywhere, from respectable sources like BBC News to the entertainment site E! News.
Obviously, there is a lot to talk about!
But let's not talk about it, okay?
WHAT'S THE VERDICT?
In spite of the controversy, Noah has done absolutely killer business.
It came out on March 28 in the US and in its first week of release, Noah has already made close to $100 million worldwide.
It is a nice comeback for star Russell Crowe (playing, yes, Noah) and it proves that there is an appetite for this sort of flicks.
SON OF GOD (APRIL 17)
WHAT'S THE STORY?
This adaptation of the hit TV miniseries The Bible is a fairly faithful and literal retelling of the story of Jesus Christ.
The super-handsome Diogo Morgado stars as Jesus, but he transmutes his sexiness into a more wholesome sort of charisma, like a rock star on his best behaviour at a charity event.
We see Christ gather his disciples and perform his miracles before finally facing his horrifying ordeal on the cross.
SPOILER ALERT
In spite of his tortures, there is a happy ending.
WHAT'S THE CONTROVERSY?
There was a very strange controversy surrounding the original TV miniseries in that the guy who played Satan, Mohamen Mehdi Ouazanni, is a dead ringer for US President Barack Obama.
The producers handled the controversy by cutting the character out of the film entirely. Take that, Prince of Darkness!
WHAT'S THE VERDICT?
Considering that it was basically a chopped-down version of a TV show and that it has no major stars, Son Of God has been a terrific success.
It brought in more than $70 million in the US alone and is being distributed in 60 countries around the globe.
EXODUS: GODS AND KINGS (DEC 11)
WHAT'S THE STORY?
Based on the book of Exodus, this Ridley Scott epic stars Christian Bale as the mighty, mighty Moses.
Bale will certainly have his work cut out for him making us forget the mighty, mighty Charlton Heston!
The film follows the journey of the Israelites out of Egypt, with Moses as the leader.
SPOILER ALERT
The Red Sea is no match for our hero.
WHAT'S THE CONTROVERSY?
With the film still so far from release, the only ones who know about it are movie geeks - including you!
That said, there are a number of controversies that could arise.
Just for example, why is Bale not Heston?
I object in the strongest terms possible to Heston not playing Moses.
Let's ban Exodus: Gods And Kings, y'all!
WHAT'S THE VERDICT?
It's hard to say how the flick will do at this point, but the teaming of Scott and Bale seems to have a lot of potential.
Scott's epic vision along with Bale's intensity should make for a movie with a lot to offer.
HOW EPIC IS THE NOAH CREW?
If you are going to do a Biblical epic, you need a cast that is equally epic. Here is a list of noah's epic crew in order of "epicness".
MOST EPIC EMMA WATSON AS ILA
She became a household name after starring in the Harry Potter movies as the adorable witch Hermione Granger.
While many child stars end up flaming out, Watson went to school instead of the clubs, and this year, she'll earn her degree.
The 23-year-old also starred in The Perks Of Being A Wallflower, and has become a fashion icon.
She stars in Noah as Ila, who is accepted into Noah's family after her parents are killed.
She is set to marry Noah's son Shem but, unfortunately, she cannot bear children due to an injury.
SECOND-MOST EPIC
JENNIFER CONNELLY AS NAAMEH
At 43, she remains one of the most beautiful women in Hollywood.
Like Watson, Connelly was also a child star, having appeared in the cult fantasy Labyrinth way back in 1986.
Since then, she has gone on to appear in plenty of quality projects, including Dark City, Requiem For A Dream, A Beautiful Mind and Blood Diamond.
Here she plays Noah's wife, a kind and gentle woman who supports her husband in his quest to save the beasts of the Earth.
Then things get way too weird and she must choose sides!
THIRD-MOST EPIC LOGAN LERMAN AS HAM
Although he is only 22, Lerman already has his own action franchise in Percy Jackson.
He started out as a kid in The Patriot, and has since appeared in The Three Musketeers and The Perks Of Being A Wallflower with his Noah co-star Watson.
In Noah, he plays the trouble lad Ham, who is understandably very upset because there are no girls for him on the ark and all the other girls on Earth have drowned.
I'd be upset too, dude!
This article was published on April 2 in The New Paper.

Get The New Paper for more stories.