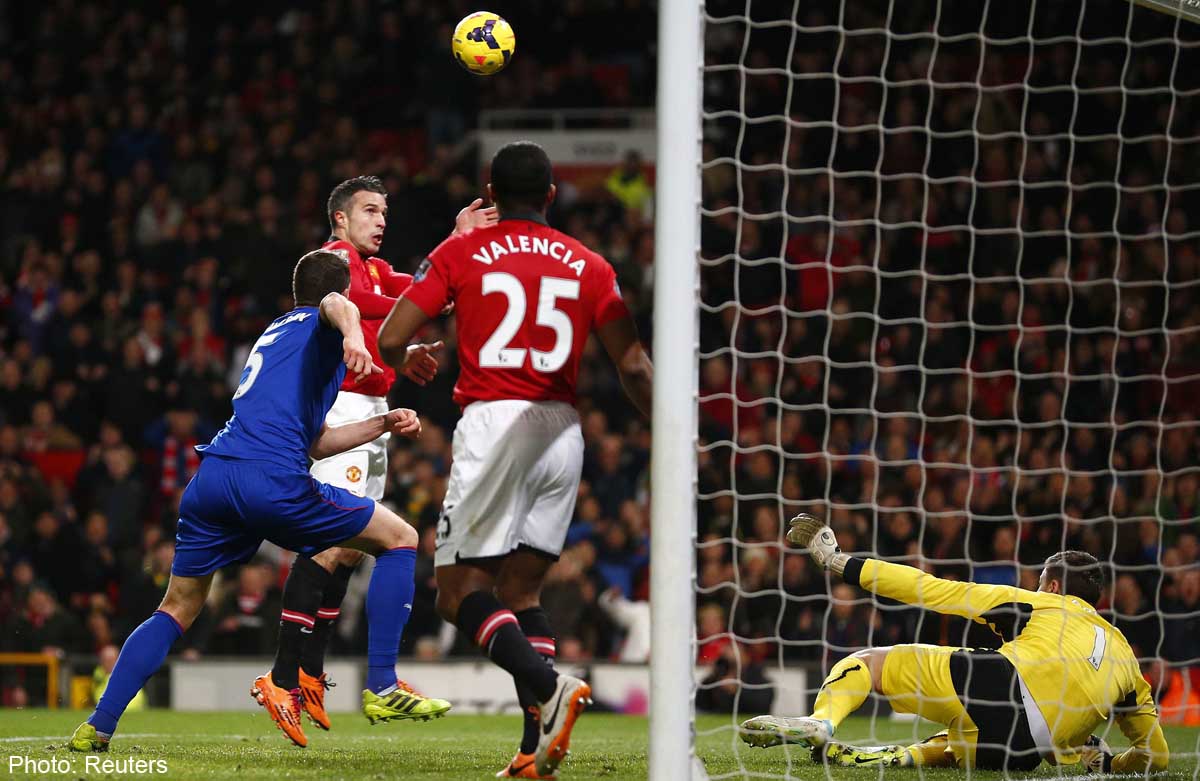 SINGAPORE- If a player is signed to lift the gloomy mood, then Juan Mata is worth every penny.
If a player is signed to achieve Champions League qualification, then the Spaniard needs time and further reinforcements to prove his value.
Manchester United's edgy 2-0 victory over Cardiff City was rarely comfortable. Until Ashley Young's sumptuous strike settled jangling nerves, the spectre of an equaliser hung over the shaky home side.
Mata (left) has plugged a gap, but more holes than a block of honeycomb remain at Old Trafford.
The unwanted magician at Chelsea struggled to find his wand as he wandered around the periphery of proceedings at Old Trafford.
But his struggle to impose himself certainly wasn't down to a lack of effort.
David Moyes handed Mata the No. 10 role he coveted at Stamford Bridge. The midfielder has already been granted a level of trust denied him by the naturally conservative Jose Mourinho.
He switched flanks for fun, ghosting in from left and right in a bid to take a stranglehold on the contest.
His pinged pass from the centre-circle on six minutes was precisely the kind of incisive, arrowed accuracy that United have missed this season. He released Patrice Evra, the home side found some rare momentum and eventually scored through Robin van Persie at the second attempt. But the floodgates stubbornly refused to open.
Anyone expecting a fairytale debut to evoke memories of Wayne Rooney or Cristiano Ronaldo hasn't read the script - or the United team sheet - recently.
Ronaldo strolled into a side with an embarrassment of riches. At times this season, United have been an embarrassment.
Mata switched sides, switched feet and switched crosses, finding Young with one whipped delivery and Jonny Evans from a viciously flat, fast free-kick.
The end result was a familiar one. Cardiff's goal was largely untroubled.
Mata will of course improve, as he rediscovers form and match fitness. In time, he will leave his personal stamp on proceedings rather than drifting in and out of the contest as he did against Cardiff.
The warm, standing ovation he received when he was substituted with five minutes to go was polite rather than rapturous. His debut was decent, if not particularly memorable.
At the moment, United will gladly take "decent" along with the three points.
HOPEFUL OPTIMISM
Mata's inclusion lifted the mood, but couldn't quite lift the performance.
Van Persie and Ryan Giggs' eagerness to find the Spaniard whenever either player was in possession showed their desire to include the new man, but also their hopeful optimism.
Everyone is desperate for Mata to succeed.
But Giggs is part of the problem, unfortunately. The 40-year-old is a peerless club servant and a United legend, but his fruitless attempts to catch Jordan Mutch might have secretly shocked Mata.
The Spaniard is no longer accompanied by the tigerish, youthful attacking pair of Eden Hazard and Oscar.
Giggs, Young and Tom Cleverley do not conjure or create with the same tenacity and Cardiff refused to be cowed.
Antonio Valencia was the obvious exception, rising to the occasion of starring opposite a genuinely world-class talent. Alongside Mata, both players should pick a fullback's pocket or two in the coming weeks.
But the pedestrian, crab-like tendencies of United's midfield remain, still prodding passes sideways and confusing penetration for possession.
Mata has been granted the licence to roam, but he can be in only one place at once. Moyes must mind the gaps elsewhere on the pitch. The restless crowd certainly reminded him, chanting Adnan Januzaj's name as United laboured.
The Belgian's late cameo and Wayne Rooney's introduction hinted at the side's attacking promise.
Rooney, van Persie, Januzaj and Mata form a quartet who promise to hit all the right notes, as long as the other three accept that the conductor's baton belongs to the Spaniard.
But there were still bum notes at Cardiff in need of fine-tuning.
Mata is not a one-man band.
He might need further back-up if United want to sing in Europe next season.

Get The New Paper for more stories.