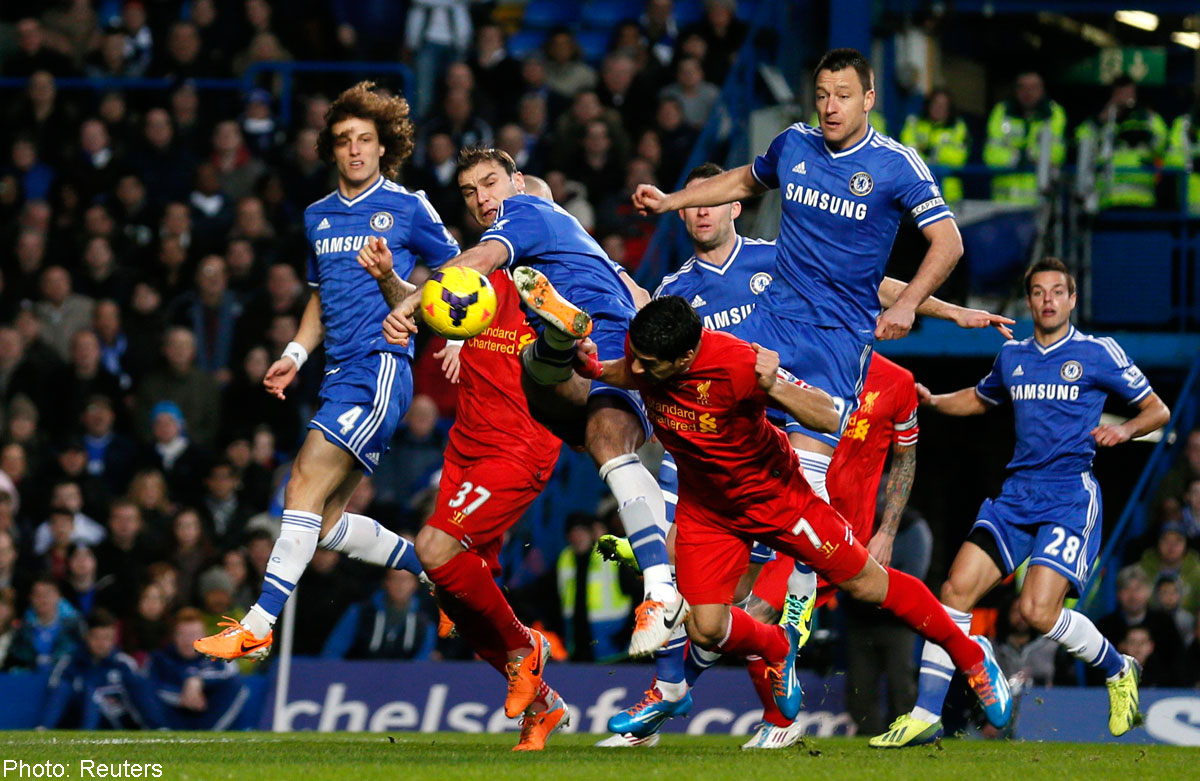 CHELSEA 2 (Eden Hazard 17, Samuel Eto'o 34)
LIVERPOOL 1 (Martin Skrtel 4)
Welcome back, Jose Mourinho.
The English Premier League just hasn't been the same without you.
When the Chelsea manager is madder than a March hare on steroids, he smells blood.
He sniffs out fear like no other predator.
When he's good, he's bland. When he's bad, he's brilliant.
His belligerence right now betrays his optimism.
He senses silverware.
His euphoria at the Blues' battling 2-1 victory over Liverpool yesterday morning (Singapore time) was a throwback to his old fearlessness.
His devilishness delights in the defeat of others.
The devil had no sympathy for the Reds.
Instead he revelled in his team's revival.
Chelsea still have more holes than a Mourinho interview, but Stamford Bridge partied like it was 2004.
Their chief mischief-maker encouraged them to do so; ordered them to do so.
In the dying moments, Mourinho faced the crowd - the defiant lion-tamer of multitudes - and raised his arms.
He demanded roars. They reciprocated. He demanded more. They raised the roof.
The Portuguese puppeteer was well and truly back.
He had them all dancing on a string - the crowd, his players, his opponents, Brendan Rodgers, the pundits, even the usually unpredictable David Luiz.
They were all puppets in Mourinho's narrative.
He knew exactly what he was do- ing.
He needed the noise to drown out Chelsea's shortcomings. The Blues were hanging on by a thread.
This was not the Chelsea of old.
Mourinho no longer has Didier Drogba or a younger John Terry, Frank Lampard and Ashley Cole to lead the cheerleading.
Mourinho must manufacture the momentum.
He knows Manchester City have the better squad.
He must call upon the smoke and mirrors.
Rabble-rousing, referee- baiting, pundit-goading; he'll do whatever it takes to foster the siege mentality pioneered by the retired Scotsman.
Sir Alex Ferguson won two titles and narrowly missed out on a third in the last three seasons with a patched-up, inferior squad.
He won through sheer force of will. Mourinho aims to repeat the trick.
Terry's legs are betraying him at setpieces.
The left-back issue has yet to be resolved.
Lampard, Ramires and Jon Obi Mikel can't match the midfield might of Manchester City.
There isn't an Olivier Giroud up front for Chelsea.
But the Blues have Mourinho. With Ferguson gone, he stands alone in his ability to conjure a siege mentality, to make lesser men run further, tackle harder and play longer for their enigmatic leader.
He builds brick walls around the Bridge and expects his players to charge through them.
After half-time, Mikel sacrificed himself in his dogged pursuit of Luis Suarez, ably assisting Gary Cahill and Terry in a three-man job to contain the irrepressible Uruguayan.
Against expectations, he mostly did the job.
Luiz was instructed to cut Suarez's supply lines. He was told to follow Jordan Henderson across central midfield.
Against expectations, he mostly did the job.
When he's in the mood, Mourinho makes players believe in him first - and the team second.
The two are intrinsically linked.
Porto, Chelsea and Inter Milan all believed. They followed him to greatness.
Real Madrid didn't and both parties paid the price.
Players cannot just play for Mourinho.
They must revere him. He inspires. They idolise.
Only Mourinho would interrupt a post-match live interview to hug Eden Hazard and Luiz.
Was it over the top? Certainly. Egotistical?
Definitely. Did the players giggle in gratitude like love-struck teenagers?
Of course. That was the desired effect. It was pure theatre, pure genius.
There's always a method to the madness.
The siege mentality is taking hold for the second half of the season.
Calling Suarez's penalty box tumble a "swimming pool jump"; alleging a pro- Liverpool bias among pundits; cuddling players on air; shouting at the crowd; they are all bricks in the wall.
Mourinho's building a psychological fortress to mask his squad's weaknesses. He seeks a shot at the title by any means necessary; any edge will do.
So he will delight in being a crazy, arms-flapping distraction.
He will play the pantomime villain.
Manuel Pellegrini and Arsene Wenger can practically hear his cackling.
Only time will tell if Mourinho's madcap routine pays off.
But you won't be able to take your eyes off him.

Get The New Paper for more stories.