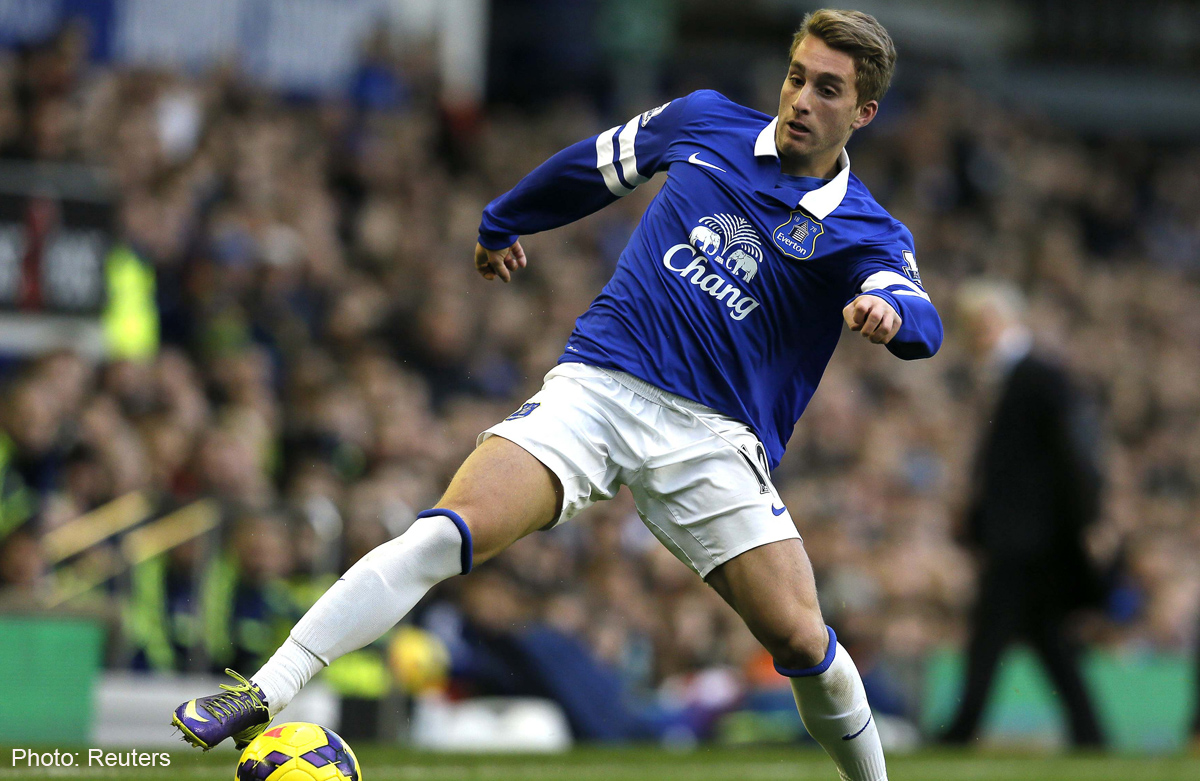 SINGAPORE- Gerard Deulofeu snatched a dramatic equaliser as Everton held the Gunners 1-1 at the Emirates Stadium.
A late, desperate substitution from Roberto Martinez paid off and it was no less than the tenacious Toffees deserved.
Brought on with 11 minutes left to play, Deulofeu scored with only his second touch in the 84th minute, hammering a rising shot into the top corner to infuriate Arsene Wenger and break the home crowd's hearts.
In truth, the draw is no disaster for Arsenal after a weekend of upsets, reverses and dropped points among their title challengers, but they had presented themselves with a wonderful opportunity to extend their lead at the Premier League summit.
But they blew it.
Or, more correctly, Everton seized it.
The men from Merseyside barely resemble the honest grafters led by David Moyes last season. Martinez ordered an immediate charge against Arsenal, a fearless march in the Emirates.
His men revelled in their attacking responsibilities.
Seamus Coleman and Bryan Oviedo linked up particularly well with Kevin Mirallas and Gareth Barry.
Everton's adventurous enterprise is always at risk to a sudden counter-attacking, but their high, pressing game is positively hypnotic. Viewers can't take their eyes off them. In the first half, Arsenal couldn't catch them.
In their pursuit of Ross Barkley, the Gunners were chasing air.
KEY MAN
Martinez is quietly moulding his side around the young midfielder.
Moyes' relentless hunt for Marouane Fellaini looks more troubling when one considers the rising star he couldn't sniff out from under his nose.
Barkley ghosted past Aaron Ramsey and Mesut Oezil on more than one occasion. Arsenal missed Mathieu Flamini. They missed Barkley in midfield.
His midfield dominance against the league leaders deserved a goal, but it didn't come in the first half.
Despite Everton dictating terms around the centre circle and Romelu Lukaku proving to be a penalty box pest, the Toffees couldn't quite turn possession into goals.
The best save of note came from Tim Howard on the stroke of half-time.
He blocked Olivier Giroud's shot following a sublime one-touch move from the Gunners that was almost as unexpected as Howard's new beardless look.
The pendulum of possession suddenly swung towards Arsenal.
Wenger's men remembered their lofty position at the Premier League summit and played like title pretenders.
Ramsey, unusually quiet without Flamini alongside him to do the heavy lifting, met a cross at the far post in the 56th minute, but his tidy effort was pushed to safety by Howard.
Arsenal's inability to capitalise on their rise in the see-sawing game forced Wenger to act, particularly after Barkley stung Wojciech Szczesny's palms with a thumping drive.
A triple substitution introduced Flamini, Tomas Rosicky and Theo Walcott, which not only gave their midfield a more defensive complexion after Ramsey's departure, but seemed a risky move with more than 20 minutes left to play. It almost came off.
In the 80th minute, Rosicky's cross was flicked on by Walcott to Oezil.
The German arrived at the far post to sweep home the opener and sweep away any doubts that the Gunners are not made of title-challenging mettle.
November was going to prove their undoing. December is supposedly littered with banana skins. Martinez's men were expected to be the toughest obstacle to clear. And that proved to be the case this morning as they stormed back to snatch a draw.
A point is precious for both sides.
But Wenger will lament the two that got away.

Get The New Paper for more stories.