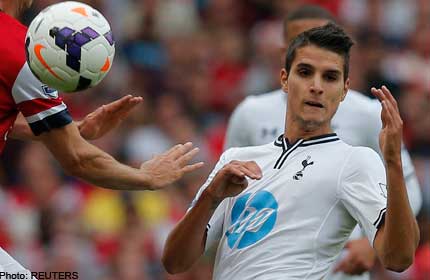 $1.25B
English Premier League clubs spent a record £630 million ($1.25b) this summer to eclipse past transfer windows' expenditure by a significant margin.
This is also £140m higher than last season's figure.
When Liverpool signed French defender Mamadou Sakho for a fee of £18m early on Monday, they already helped to smash the league's previous high of £500m, which was recorded in 2008.
Although Spanish La Liga side Real Madrid made sure some of that cash flowed back into England with their £86m purchase of Tottenham Hotspur's Gareth Bale, it didn't even come close to matching the Premiership's net spending.
According to financial analysts Deloitte, a total of £400m - another record - left the league during this period.
$217M
By splashing out £109.3m ($217m) on new players, Tottenham are the top spenders in the EPL in the transfer window.
Well, at least they recovered £86m from the sale of Bale to Real. In the eyes of many, Spurs had done shrewd business in capturing quality players such as Erik Lamela, Christian Eriksen, Paulinho and Roberto Soldado.
Like the Lilywhites, Man City, second on the chart on £92m, made their moves early, too. Stevan Jovetic, Fernandinho, Jesus Navas and Alvaro Negredo were all snapped up before the mad rush on deadline day.
Chelsea, Liverpool and Arsenal occupy the next three spots on the list.
As for Manchester United, their fans must be hoping that the lack of success in the transfer market will not cost them dear in the Premiership title race.
After signing young Uruguayan defender Guillermo Varela early for £1.5m, with a further £1m set to follow in bonus payments they had to wait until the final moments of the transfer window to land their next player.
The arrival of Marouane Fellaini from Everton for a fee of £27.5m pushed their spending to around the £30m mark, but it won't be enough to appease the supporters. Even Southampton and Cardiff spent more than the defending champions.
$83.8M
The fans wanted the club to spend money. For once, Arsene Wenger obliged. News of Arsenal finally capturing their marquee signing on Tuesday morning (Singapore time) was pure music to their ears. And they did it in style, splashing out a club record £42.4m ($83.8m) on Real Madrid's Mesut Oezil.
It was also the biggest fee any Premiership club spent on a single player during this transfer window.
If the playmaker's impressive statistics are anything to go by, then the Gunners have got themselves an instant hit. Since he joined Real in the 2010/11 season, no player in Europe's top five leagues has racked up more assists than Oezil, whose 47 ties him with Barcelona's Lionel Messi.
Last season alone, the 24-year-old set up 13 league goals, created 91 goalscoring chances and pumped in 137 crosses. This will shut the disgruntled Arsenal fans up.
14
They may not be anywhere close to the Premiership's powerhouses, but no one can accuse Crystal Palace and Sunderland for not trying.
With 14 players coming through each of their club doors, they are tops when it comes to player recruitment in the summer transfer window. Next on the list are Hull City and Swansea, who made 11 and 10 signings respectively. Clearly, Sunderland felt the need for change after being involved in a messy relegation scrap last season.
And Paolo Di Canio, who is in his first full season in charge, was more than happy to oblige, bringing in players such as Jozy Altidore, Emanuele Giaccherini and Fabio Borini (on loan from Liverpool).
The Eagles, on the other hand, felt the need to strengthen in their first season back in the top flight. In came the likes of Marouane Chamakh, Cameron Jerome and Dwight Gayle.
The buying trend is evident in all the newlypromoted clubs.
Cardiff's eight acquisitions ensure that they, along with Crystal Palace and Hull, are in the top seven of the list.

Get The New Paper for more stories.