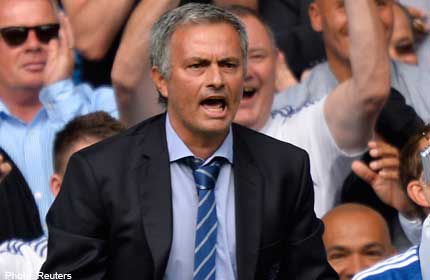 Jose Mourinho does not hang around.
Within weeks of of his return to stamford Bridge, he had turned his sights on Manchester United, seeking to test the mettle of new manager David Moyes.
Then he went for Manchester City, telling Manuel Pellegrini that he would be under immediate pressure in his first season.
On Wednesday night, he patronised Aston Villa boss Paul Lambert, just six years his junior, by saying that he reminded him of himself in his younger years.
Now he has launched an assault on Tottenham Hotspur, hijacking their move for Willian and compromising their negotiations with Real Madrid over the sale of Gareth Bale.
At this rate, he will not be receiving many Christmas cards.
Not that popularity has ever fazed Mourinho (right). He has spoken warmly about the reception he received from the Chelsea supporters last weekend, basking in the admiration of stamford Bridge.
That seems to be the only popularity he cares about. As well he might. Christmas cards don't win you titles.
Mourinho is back and he has passed through the first obstacle, a light work-out against newly-promoted Hull City, and the second, a far tougher engagement with Aston Villa, with maximum points.
This next encounter, away at Manchester United, is the real test. With two Premier League titles on his CV, the Portuguese boss has nothing to prove.
David Moyes, on the other hand, is untested at this level. You can be sure to expect fireworks.
In his first 180 minutes of english football since returning, a sense of Mourinho's game plan is emerging.
He still puts a high value on a good defence. After Hull, he praised his players for locking the game down. After Aston Villa, he praised the way they limited the visitors to just a handful of chances.
He is respectful of experience, in a way that his predecessors were not.
He has put John Terry back into the first team after he was used as a relief centre back by Rafa Benitez.
He has given Frank Lampard a run in the team in a season when he was supposed to have been sauntering around in MLs. Little wonder then that he has had few problems winning the dressing room back around.
The only uncertainty in his use of strikers. Fernando Torres was useful enough when it came to making decoy runs against Hull, but his was not the calibre of performance you would expect from a man who earns £200,000 ($398,000) a week. Demba Ba started brightly, but faded fast against Aston Villa, mistiming his runs and failing to provide a cutting edge.
The only other option available is Romelu Lukaku, who impressed as substitute in both games.
Experience
With a season of experience behind him at West Bromwich Albion, he should be ready to lead Chelsea's line.
The question remains; will Mourinho trust him?
Much depends on the size of the transfer kitty available and, of course, on how seriously anyone at stamford Bridge is taking Uefa's Financial Fair Play initiative, but Mourinho has already confirmed that a new bid will be made for Wayne Rooney after this match.
That has gone down like a lead ballon at old Trafford where club officials have been telling reporters until they're blue in the face that the england forward is not for sale.
Mourinho is in a no-lose situation.
Even if he doesn't get him, the more he asks, the more he unsettles his opponents.
That's always been the genius of Mourinho. He is tactically astute, bold and inventive, but he has an unerring knack of getting under the skin of his opponents.
Watching him at old Trafford, back where he first pinged the radar of the english when his Porto side eliminated Manchester United, it will be illuminating to see how he reacts.

Get The New Paper for more stories.