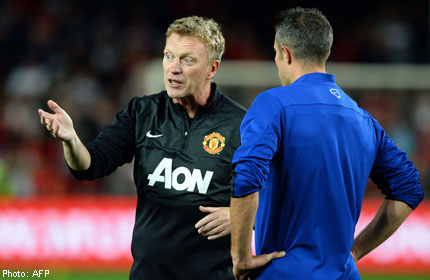 Tune in to any sports news programme and Manchester United almost inevitably pops up.
When the club are one of the biggest and best in the world, it is the nature of the beast.
It used to be Charlton and Busby, Best and Busby, Robson and Atkinson, Keane and Ferguson, Cantona and Ferguson, Beckham and Ferguson, and Ronaldo and Ferguson.
This year it is Wayne Rooney and David Moyes who are being dissected and discussed on the airwaves and on TV.
No one is sure if Moyes is dealing adroitly with the Rooney situation.
Few believe the striker suffered a shoulder injury to miss the Community Shield stroll against Wigan last Sunday.
Some critics already suggest Moyes is struggling to work the levers at United that was so skilfully managed by his predecessor.
I am sure Moyes would not want to kick off his career at United telling a lie.
It is a dangerous game for a manager who is trying to convince the football world he is up to the task of ruling the United empire.
Moyes does not possess the formidable reputation of the likes of Capello or Ferguson, exposure would seriously undermine his authority.
The Scotsman inherited a disenchanted Rooney.
Bitter
The slap in the face by Sir Alex Ferguson in that Champions League quarter-final, second-leg clash against Real Madrid last season stung viciously.
Moyes is doing his best to make the 27-year-old fall in love with the Red Devils all over again.
It is a Herculean task, by the sound of it all. Jose Mourinho's formidable and flamboyant reputation will surely attract Rooney as it offers the immediate prospect of success at Chelsea. Roy Hodgson may feel Rooney is fighting fit, but I believe the club manager would know best.
Moyes did say the United No. 10 would play for England on Thursday morning (Singapore time).
That's about to pan out.
He has consistently stated Rooney would not go anywhere.
Moyes may well lose that battle, but he is right to do all he can to convince the player to stay.
The transfer window is closing, the talent available thinning.
A Rooney at the top of his game alongside Robin van Persie automatically turns United's attack into a world-class one-two punch.
It will brighten United's prospects of retaining the English title and enhance their challenge in Europe considerably.
Moyes knows this.
Rooney and Moyes are inextricably linked.
It was Moyes, after all, who launched Rooney's bid for football superstardom when he gave him his chance in the English Premier League in 2002 at just 16.
Two years later, the English tyro left Everton for United for nearly £26 million (S$63.4m).
Now, for the second time, Moyes has Rooney in his ranks.
Determined
And, for the second time, he has to deal with a Rooney who is apparently determined to play away.
This tale is a country song with the lifelong chorus "maybe-it-was-always-meant-to-be-this-way".
From Bangkok to Melbourne, in Hong Kong, Tokyo, Stockholm and now in Manchester, Moyes has been chased, and peppered and pestered with questions over Rooney's future.
United fans are sad, confused, worried, and even angry.
While their rivals have strengthened, there is no marquee signing in the United ranks.
Ronaldo, Bale, Fabregas, Modric and Lewandowski have been mentioned, but all remain elusive.
Scotsman Moyes admits he's never been an actor on such a stage.
But he is reputed to be a quick learner and a determined character.
Tough and shrewd. It is why Ferguson thought he was the best man for the job.
It is why United appointed him manager.
He knows he has talent and experience right through the United ranks.
They are a team of champions, after all.
He will continue to wheel and deal and try to sign a big gun to boost the squad.
Keeping an unhappy player is never a healthy option, but Rooney is approaching his peak and Moyes' biggest task right now is to convince the player his future is at United.
And the new United boss knows he can only do it the right way.
leonardt@sph.com.sg

Get The New Paper for more stories.