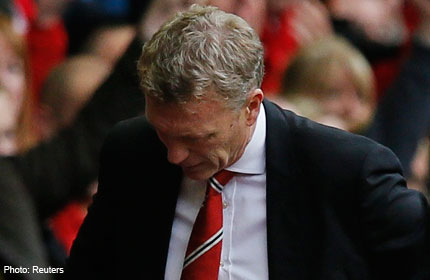 Manchester United are turning into Everton.
David Moyes' men arrived at Anfield on Sunday looking like champions and left as also-rans; a plodding side hampered by their lack of signings and their manager's conservatism.
The Red Devils went down 1-0 to Liverpool partly because of Daniel Sturridge's fine improvised header, but mostly because of their new coach's infuriating caution.
As much as the Scotsman's record at Everton was admirable, the manager requires a mindset makeover quickly or United will drift towards mediocrity with alarming speed.
Moyes has already admitted that his place at the top table of the transfer market has proven to be intimidating, stifling his efforts to sign any player of note with only a day left before the window closes. And even if he claimed he wasn't intimidated by his first Liverpool-Manchester United fixture, his line-up suggested otherwise.
Alone and isolated up front, Robin van Persie was tasked with such an impossible mission, all that was missing was the famous theme tune and Tom Cruise dropping in to lend a hand.
Wayne Rooney's injury was unfortunate, but the absence of Shinji Kagawa - the Japanese international didn't even make the bench - was mind-boggling.
Kagawa certainly struggled for consistency last season, but that can only be remedied with games.
Comfortable on either the left side of attack or in the hole, the midfielder could have comfortably replaced Rooney behind van Persie.
Unless his absence can be attributed to an injury or a potential transfer deal, the decision to omit one of United's few creative outlets was extraordinary.
To leave him out of the starting line-up smacked of conservatism. To leave him out of the squad smacked of cowardice.
Instead, his role was handed to a 39-year-old Ryan Giggs. A veteran of many an Anfield battle, age has wearied the old warrior and his impact was negligible.
He started behind RVP. Then he floated out to the right, but offered little in either position. His experience is incomparable, but his legs are gradually betraying him.
Wilfried Zaha has a rare quality shared by very few of the current United squad.
But his pace was also not considered necessary for Anfield. Like Kagawa, he, too, failed to make the bench.
Instead, Moyes settled on a lone striker and packed his midfield with industry, rather than invention.
Tom Cleverley and Michael Carrick was asked to do the fetching and carrying - and they were outmuscled by both Steven Gerrard and Lucas Leiva - but creative artists were in short supply.
Yellow cards piled up as booked trio Cleverley, Carrick and van Persie struggled to link up around Liverpool's penalty area; their attacking umbilical cord had been cut by the fussy midwife in the dugout.
Like Everton
Moyes' selections were heavy on waterboys, but light on wizards, so much so that they rarely looked like Manchester United.
But they did look a lot like Everton.
Playing one up top and packing the midfield with workhorses is a tactic familiar to thousands on the blue half of Merseyside, but it's long been anathema at Old Trafford.
Moyes never won at Liverpool during his long tenure at Everton and he still hasn't. His track record goes hand in hand with a cautious mentality that is no longer relevant.
Plucky points at Anfield are viewed as a high benchmark of a season for Everton's underdogs. United consider such mediocre ambitions beneath them.
Regardless of venue, fixture or scoreline, victory was the only desired outcome under Sir Alex Ferguson. Comebacks had a sense of inevitability.
But Liverpool were rarely troubled as they protected their slender lead on Sunday.
It was almost as if they were playing Everton.

Get The New Paper for more stories.