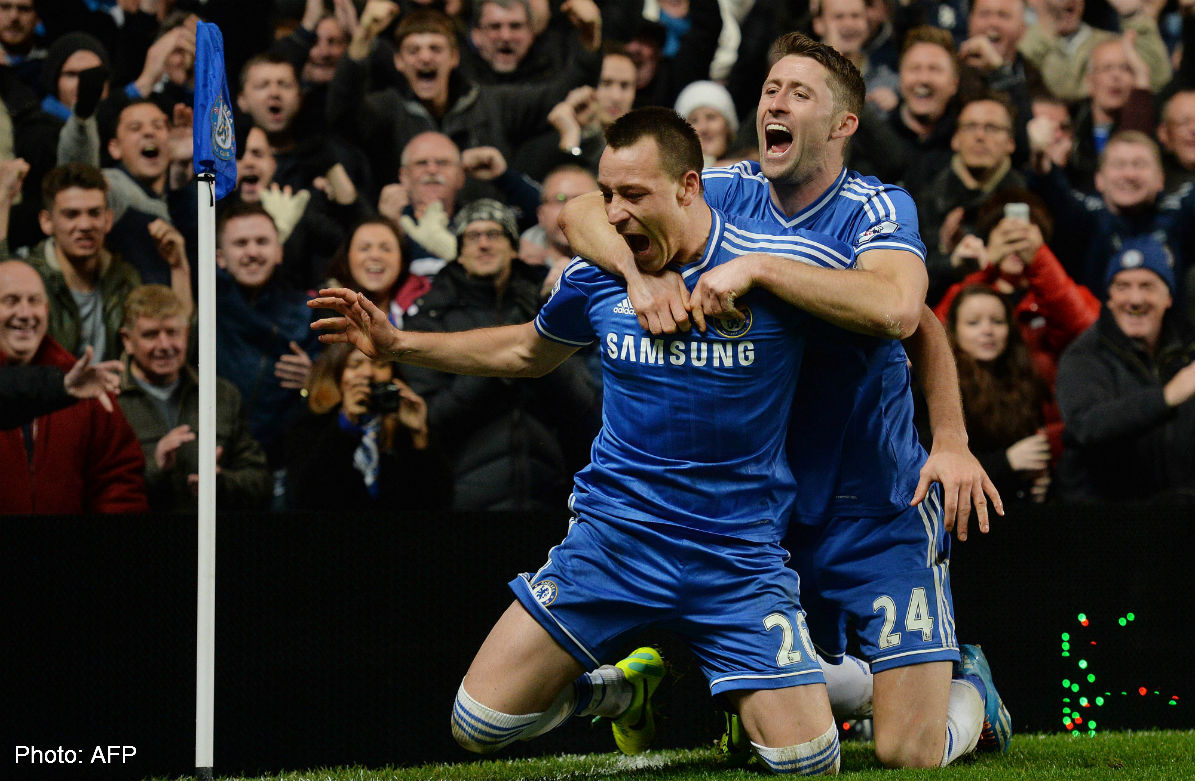 SINGAPORE - Talk of an international comeback for John Terry was inevitable after his performance against Manchester City on Monday.
Up against the most potent attack in Europe, the 33-year-old centre back gave a magnificent display, calmly and effectively dealing with everything that came his way.
Alvaro Negredo has rarely been made to look so average. But Terry has retired from international football and that is the way it should stay.
It is easy to make the argument that Terry is a very good defender and that very good defenders should play for their country, but it's also simplistic.
Terry retired from international football in protest at the Football Association's (FA) decision to charge him for using racially aggravated language against Anton Ferdinand.
Not guilty
Having been found not guilty in a court of law, Terry was outraged that the FA, which was not bound to prove his guilt beyond reasonable doubt, seemed intent on making an example of him.
Jumping before he was pushed, he was later banned for four games and given a £220,000 ($454,000) fine.
And that wasn't all. Terry had insisted throughout the affair that he had only said, "f***ing black c**t," in exasperation, repeating the words that he believed Ferdinand had accused him of saying as an insult.
But the FA's commission called that excuse "improbable, implausible and contrived". It went on to say that, "on the balance of probabilities, that there is no credible basis for Mr Terry's defence", and that it was satisfied that "the offending words were said by way of an insult".
It was a scathing verdict.
It is worth remembering at this point that while the magistrate's court found Terry not guilty in July 2012, that this does not mean that he was proven innocent.
Indeed, the judge said that he believed it was "highly unlikely" that Ferdinand would have accused Terry of racially insulting him.
The tipping point was that he believed "it was possible that Mr Terry believed at the time that an accusation had been made".
With the court's need to prove the charge beyond reasonable doubt, the only verdict possible was not guilty. It was far from a reputation-cleansing judgment.
In the wake of the saga, a number of prominent black players chose not to wear "Kick It Out" shirts, refusing to pay lip service to an organisation they believed to be toothless.
Terry might have been angry at being punished, but many black footballers were even angrier that he hadn't been punished enough.
The England squad, made up of black and white players, qualified for this summer's World Cup without losing a game. Is it worth risking problems in the dressing room by recalling Terry?
Terry's relationship with England manager Roy Hodgson is strong and there would certainly be no personal issue between the two men that would prevent a comeback. But the FA is a very different matter.
It has found Terry guilty of racially abusing a black footballer. It has scoffed at his excuses. It has all but called him a liar in public.
FA's dilemma
The FA knows too how controversial it would be for it to invite Terry back into the fold.
It would be vulnerable to the accusation that it only takes racism seriously if it doesn't involve important English players.
Is it worth dredging all of that up again by recalling Terry?
Terry has let it be known that he would reject any offer anyway, such is anger at figures within the FA.
We can take that with a pinch of salt. If asked, Terry would happily run through a wall of fire to play for his country. That's always been one of his more endearing features.
But some things are best left in the past.
npsports@sph.com.sg

Get The New Paper for more stories.