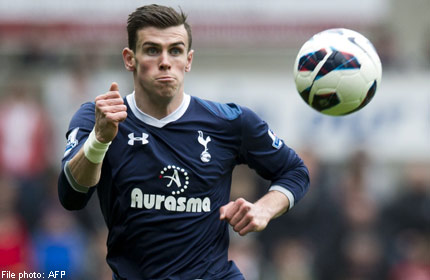 For Tottenham Hotspur, life after Gareth Bale begins on Saturday.
The Welshman has played practically no part in Spurs' campaign so far, but fraught and extended negotiations meant that his absence was always conspicuous.
Now that he has finally departed, the new era can begin.
There is no question that Tottenham have spent their windfall well.
Daniel Levy, Franco Baldini and Andre Villas-Boas have assembled one of the most impressive squads that White Hart Lane has seen since the days of Bill Nicholson.
The capture of Erik Lamela, a winger who would not have left Serie A had it not been for Roma's financial issues, was a particular highlight.
It's a signing so impressive that, by contrast, the recruitment of Danish wonder kid Christian Eriksen looks like a conservative punt for the future. With Nacer Chadli, Paulinho and Etienne Capoue all blooded already, and bruised in Capoue's case, it's clear that Spurs will be a formidable prospect this season.
And yet, it will take time for these players to settle. Anyone expecting the north London side to rocket into a title challenge should prepare themselves for disappoinment.
After three EPL games, Spurs have yet to score a goal from open play, an unwanted statistic they share with West Bromwich Albion and Hull City. So far, their only goals (two) have come from the penalty spot, courtesy of the ice-cool Soldado.
You can see quickly from the way they move the ball around that Spurs are like a sports car revving at the lights, with the slight issue that someone appears to have left the handbrake on.
Steady moves break down one pass too early, key players haven't quite learnt to read each other's runs.
Soon there will be a crunch, a roar and nothing will be left on the road save for a thin streak of rubber. But that will take time.
Last season, Spurs were canny in the way they played. Villas-Boas granted Bale a licence to drift in, making it harder to mark him out of the game without leaving space for his teammates to enjoy. The other players looked for Bale as their first option. Now that option is off the table.
Much will be expected of Soldado. As a lone striker, he has little in the way of direct support, he looked particularly isolated against Arsenal.
An old fashioned No. 9, the onus is on him to expand his game and find more space, coming deeper or shifting wider if necessary.
More will be expected too of Chadli whose height meant that he turned out to be a useful outlet for a long ball against the Gunners, but whose obvious anxiety meant that he could do little of note when in possession.
Defensively, Spurs are sound enough but leave themselves vulnerable by playing such a high line. This is an issue that predates the departure of Bale, but is one that needs to be addressed.
Kyle Walker is a potent weapon on the break, but he needs to remember his defensive responsibilities too.
Spurs are at least protected by a formidable midfield, packed with enough strength to withstand all but a nuclear blast.
It has been suggested that a failure to qualify for the Champions League this season will be a sackable offence for Villas- Boas, but he can't be expected to settle a brand new team down in a matter of weeks, especially as so many players have spent the last 10 days with their national teams.
It took time to build Spurs and Bale into such an impressive unit, learning the strengths and weaknesses of the players and finding a way to mould them together.
It will take time to recover from the Welshman's loss and to retool for a new era.
Nevertheless, the future looks bright for Tottenham, assuming that they have the patience to wait for it to arrive.

Get The New Paper for more stories.