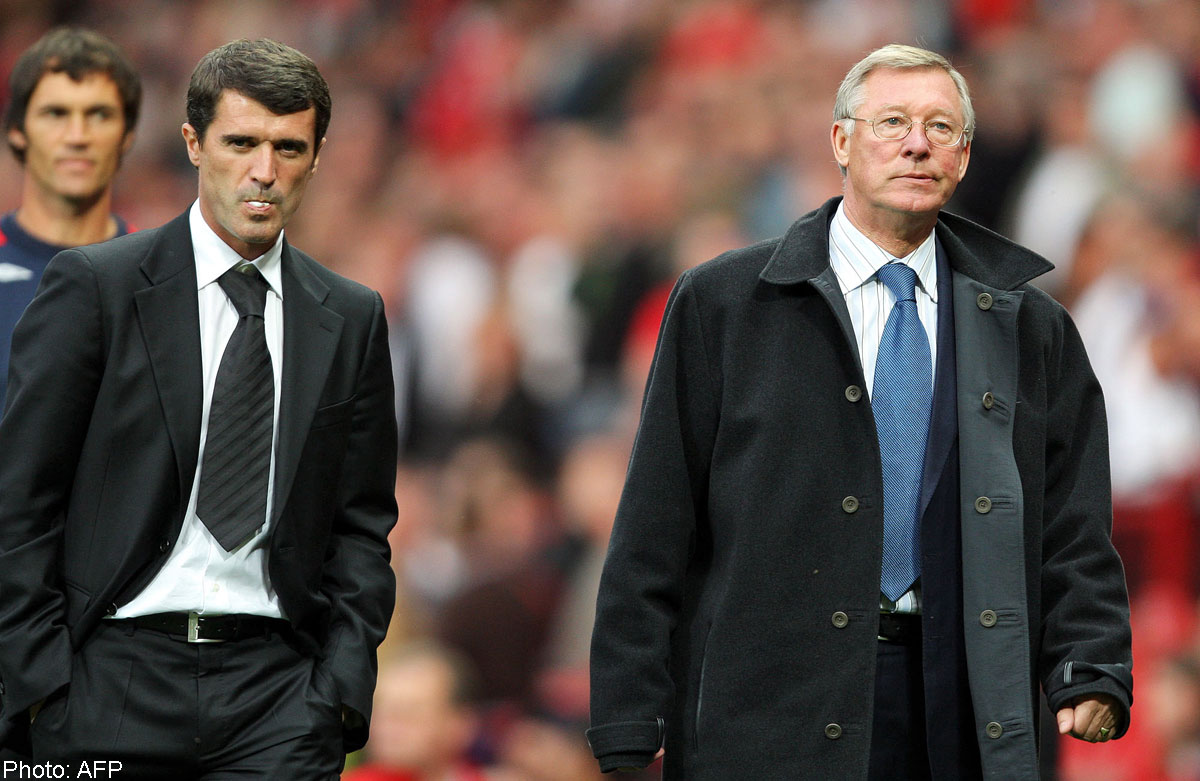 10 GEORGE BEST TO DAVID BECKHAM
George Best was surely the greatest player ever to emerge from the British Isles.
However, if ever a new kid on the block threatened his exalted status, the Northern Irishman never shied away from dishing out some less-thansubtle insults.
Best reserved his most devilish criticism for a man who also donned the famous No. 7 shirt for Manchester United, David Beckham, saying: "He cannot kick with his left foot, he cannot head a ball, he cannot tackle and he doesn't score many goals. Apart from that, he's all right."
9 GIOVANNI TRAPATTONI TO PAOLO DI CANIO
When Giovanni Trapattoni returned to Turin for his second spell as Juventus boss in 1993, he inherited a certain young striker by the name of Paolo Di Canio.
However, it's fair to say that the defensive-minded coach and the young maverick didn't see eye to eye. After a pre-season game in which Di Canio was overlooked for selection, the future Sunderland boss grabbed one of the most successful managers in Italian history and slung him to the ground.
It marked the end of his Juve career. Nine years later, when Trapattoni was manager of Italy, he was asked whether he would consider selecting Di Canio for his 2002 World Cup squad. His response:
"Only if there's an outbreak of bubonic plague."
8 DAVE JONES TO CARLTON PALMER
Dave Jones' Southampton side in the late-1990s successfully merged together a bunch of eager youngsters like Wayne Bridge, top-drawer veterans in the shape of Mark Hughes and Matthew le Tissier, and never-say-die grafters like the much-maligned Carlton Palmer, who in a poll of England supporters, was once voted the worst player to ever gain international honours.
Maybe Jones agreed with the assessment, judging by an infamous post-match interview in which he said of Palmer: "He covers every blade of grass, but that's only because his first touch is crap."
7 BRYAN ROY TO THE CITY OF NOTTINGHAM
Dutch international Bryan Roy scored 28 goals in just over 100 games for Nottingham Forest in the mid-1990s, but it's fair to say that he was never particularly enamoured with the city.
After his move to Hertha Berlin in 1997, he said: "Berlin has everything. It is a cosmopolitan city with theatres and the people are open-minded.
"They are not as narrow-minded like the people in Nottingham. There are no theatres, no cinemas, hardly anything. All Nottingham has is Robin Hood… and he's dead."
6 JOE KINNEAR TO VARIOUS
Joe Kinnear had been out of football for four years when he suddenly emerged from the wilderness to become manager of Newcastle in September 2008.
Within a week, he'd launched an infamous verbal tirade at Daily Mirror journalist Simon Bird, in which he swore no less than 52 times.
Later that season in a post-match interview, he called winger Charles N'Zogbia "Charles Insomnia", prompting the player to hand in a transfer request.
Kinnear (left) was somehow reappointed as Newcastle's director of football last year but, in his first radio interview, he claimed to have "more intelligence than the fans", and he referred to three of the Magpies players as Yohan "Kebab" (Cabaye), Hatem Ben "Afri" (Arfa) and Shola "Amamobi" (Ameobi).
5 ERIC CANTONA TO DIDIER DESCHAMPS
In 1996, a year after Eric Cantona won the last of his 45 caps for France, he couldn't resist a dig at the national team captain ahead of Manchester United's Champions League tie with Didier Deschamps' Juventus.
"Deschamps gets by because he always gives 100 per cent, but he will never be anything more than a water carrier. You can find players like him on every street corner," said Cantona (left), implying that his adversary was in the team only to run around and give the ball to those who could actually play. Ouch.
4 JOSE MOURINHO TO ARSENE WENGER
Back in October 2005, Arsene Wenger claimed that Chelsea had "lost belief" after a defeat by Charlton, but Jose Mourinho fired straight back, saying: "I think he is one of these people who is a voyeur. He likes to watch other people. There are some guys who, when they are at home, they have a big telescope to see what happens in other families. He speaks and speaks and speaks about Chelsea."
Fast forward to February 2014, and, when Wenger suggested that Mourinho's reluctance to say that Chelsea would win the league was a fear of failure, the Special One was at it again, saying: "He is a specialist in failure, I am not. Eight years without a piece of silverware, that is failure. If I did that at Chelsea, I would leave London and not come back."
3 GEORGI HRISTOV TO BARNSLEY WOMEN
When Barnsley signed Macedonian star Georgi Hristov for a club-record fee in June 1997, the Tykes were hoping that the striker could keep them in the Premier League.
However, the £1.5 million ($3.2m) signing from Partizan Belgrade struggled to settle, and, in an interview with a Serbian sports magazine, he said: "The local girls are far uglier than the ones back in Belgrade or Skopje, where I come from. Our women are much prettier. Besides, they don't drink as much beer as the Barnsley girls, which is something I don't like at all."
2 DIEGO MARADONA TO HIS KIDS
Diego Maradona is the greatest footballer I've ever seen. Period.
But it's fair to say that he's occasionally lacked a little class off the field.
There have been infamous foul-mouthed tirades against journalists, devastating put-downs of Pele, and he even managed to alienate fans in America after saying: "I hate everything that comes from the United States. I hate it with all my strength."
However, the former Argentine World Cup winner saved the worst of all for his own kids. Maradona has five children by four women, but he stunned reporters by saying: "My legitimate kids are Dalma and Giannina. The rest are a product of my money and mistakes."
1 ROY KEANE TO MICK McCARTHY
The 2002 World Cup was supposed to be the stage for Roy Keane to demonstrate to a global audience that he was the finest central midfielder on the planet.
However, after arriving on the island of Saipan for final pre-tournament preparations, Keane's anger at the sub-standard facilities boiled over during an infamous rant against the Ireland manager, Mick McCarthy.
Keane yelled: "You were a crap player, you are a crap manager. The only reason I have any dealings with you is that somehow you are manager of my country and you're not even Irish, you English ****. You can stick it up your ********."
Keane was swiftly boarding a plane back to Manchester.
Get The New Paper for more stories.