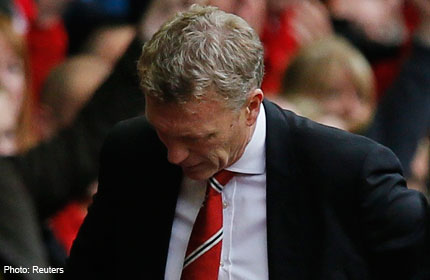 There were ups at Arsenal. There were downs at Manchester United.
There was celebrating in Madrid. There was also much giggling in Madrid.
Some have been called imposters, but that's a bit harsh.
David Moyes still needs a chance to prove himself. Still, the closing of the transfer window proved to be a dramatic affair for all concerned.
Fortunately, I spent yesterday phone hacking to record excerpts of their conversations. Here's how Deadline Day unfolded in real time...
DAVID MOYES: Tell them we want both of them... Leighton Baines and Marouane Fellaini and we'll pay whatever it takes... it'll take how much?
Okay, we're not paying that... no, don't start with the 'Dithering David' nickname again.
I'm a changed man now. I'm ready to make immediate decisions... you want me to bid for Baines and Fellaini separately? Ooh, I'll need time to think about that.
ARSENE WENGER: No, I've got to spend big or they'll have my head on a spike. We will just have to pay the insane market rates... what is Florentino Perez asking for Mesut Oezil? More than £40 million ($79m)? Yeah, I guessed as much. Okay, test his resolve. Put in an offer of £5m.
SPURS CHAIRMAN DANIEL LEVY: Tell them to come back when it's £70m... tell them to come back when it's £75m... look, I've got to go... I'm expecting another call from you any minute.
UNITED CHIEF EXECUTIVE ED WOODWARD: Excuse me, does anyone know the country code for Spain? Also, does anyone know the time difference between Manchester and Madrid? They're about eight hours ahead, aren't they?
LEVY (YAWNING): Tell them to come back when it's £81m... tell them to come back when it's £82m...
MOYES: Tell this Athletic Bilbao that we are Manchester United. We do not play games. We sign the world's best players.
We are not interested in silly clauses. If we want Ander Herrera, we buy Ander Herrera. Everybody knows our name.
PHILIPPE COUTINHO: No, I still haven't heard of David Moyes... who is he? Is he a player? Yeah, I know I played against United on Sunday, so what? Oh, was he one of the unused substitutes?
BILBAO SPOKESMAN: Herrera is happy to speak to Sir Alex Ferguson and we are happy to talk business to David Gill.
And please stop your secretary Ed Woodward from pestering our staff. He keeps calling to ask what the time difference is between Madrid and Manchester.
GARETH BALE: I love Real Madrid. I would've come to this club for a penny.
REAL CHAIRMAN PEREZ: It's a bit ******* late to be telling us this now, Bale.
WENGER: What do you mean Real won't take my bid of £8m seriously? That's really, really, a lot of money... Real still want more than £40m? For that, we want Cristiano Ronaldo as well.
MOYES: I can have only one? No, I need both players... I really can pick only one?
Okay, I'll take Fellaini... no, Baines... no, Fellaini... no, Baines... Fellaini, Baines, Fellaini, Baines... stop calling me 'Dithering David'!
SIR ALEX FERGUSON: "How's everything going down there, Moyes lad? Do you need me to sign Baines, Fellaini, Herrera and maybe throw in Cesc Fabregas and then we can all have a lovely glass of red?
MOYES: No, it's fine Lord Alex, really. I can get these players... although, these might not be the players you are looking for. You can go about your business. Move along... move along, Lord Fergie."
WOODWARD: Ah, hello... Is that Madrid? Great! Did I wake you up, what with the eight-hour time difference and everything?
Look, I'm trying to buy this player of yours, Hierro... sorry, not Hierro, I mean, Herrera... what do you mean this is Atletico Madrid? There's more than one club with Athletic in the title?
MOYES: Yes, I know I've got to make a decision on Fellaini or Baines... I'm waiting for the coin to come down... it's heads! Fellaini! I'll take Fellaini!
Why did I choose heads for Fellaini? Have you seen his hair?
ROBERTO MARTINEZ: Yes, we'll take Romelu Lukaku and Gareth Barry on loan deals and we'll buy my old boy James McCarthy. No, Everton can afford it.
You won't believe how much United paid for Fellaini... no, it's true. I just got off the phone with 'Dithering David'.
WOODWARD: Hello, general enquiries? Could I please get the number for Athletico Bilbao? Yes, I'll hold.
MOYES: Look, do whatever it takes. Whatever you have to do to sign Herrera, just make it happen.
WENGER: I can go up to £15m for Oezil. But that's my final offer. No player in the world is worth more than £15m... wait, there's a rumour that Tottenham might launch a last-minute bid for Oezil? We'll pay £42.5m.
MOYES: Have you lost your mind? You tried to sign Herrera by getting three imposters in dark shades and black suits to turn up in Spain?
WOODWARD: You said if I wanted to finish the deal, I had to go to the Reservoir Dogs.
MOYES: No, I said, we've got to finish the deal or we'll go to the dogs.
WOODWARD: Oh, I see, right, ha ha, I get it now. I did wonder why Bilbao said they wouldn't sell me Herrera, but they would consider offers for Quentin Tarantino... but I'm not silly.
MOYES: Really?
WOODWARD: Nope. I knew this Tarantino would have an expensive buy-out clause.

Get The New Paper for more stories.