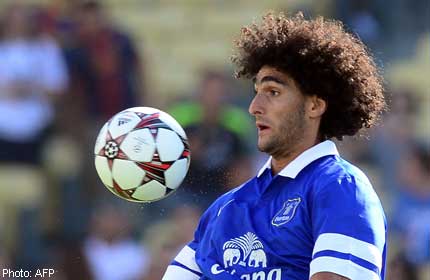 UNITED KINGDOM - Late on Monday night, Manchester United were just minutes away from completing a transfer window that could only have been described as a disaster.
The last-gasp scramble for Marouane Fellaini, paying over the odds for a player they had dithered over for months, spared their blushes, but only just.
For one of the biggest clubs in the world, this wasn't good enough and serious questions need to be asked.
This summer, United were as vulnerable as they have been since the beginning of the Premier League.
As Liverpool demonstrated in 1991, when dynasties come to an end, they bring great uncertainty.
The powerful egos in the dressing room swell to fill the vacuum, rival clubs seek to take advantage.
This was a pivotal window for United and they made a complete mess of it.
With two key figures, manager David Moyes and chief executive Edward Woodward, seeking to cement their authority within the club, they should have had the bulk of their business done before July was out.
Failure
Manchester City managed it. Chelsea managed it. They both had new managers. There are no excuses for this.
And don't tell me that United can count the retention of Wayne Rooney as a success.
With the greatest of respect, this isn't Newcastle or Aston Villa we're talking about.
Retaining your key players is the bare minimum that you would expect of a club of United's size and that's before we get into the doubts over Rooney's fitness and mentality.
Standing still is not strengthening.
A child could have told you where United needed to be strengthened.
Indeed, Tuesday morning (Singapore time), a child did tell the world where United needed to be strengthened.
Speaking with the confidence of an established reporter, an eight-year-old boy told a Norwegian camera crew that he was disappointed with his team, that Fellaini was not the key player he had expected, and that a world-class defensive midfielder was the priority. This boy will go far.
Fellaini is a very good footballer and should prove to be a useful purchase for United.
Moyes knows his strengths and his weaknesses well - Fellaini can be a combative central midfielder, or he can push up and support a more direct attack.
But there are few who would consider him a truly world-class player, the kind of name that Real Madrid or Barcelona would so fervently pursue.
United needed a Daniele De Rossi or a Luka Modric, a player who would bring unquestionable talent to the pitch, but who would also send out a message to the rest of Europe - United haven't gone away.
Instead, the message that rippled across the continent was - United don't know what they're doing.
The full account of the three impostors who attempted to negotiate a deal for Ander Herrera is yet to be told, but it certainly doesn't seem like it will have a happy ending.
From the first moment of this window to the last, United looked weak.
Where were they when Spurs signed Paulinho, a man who would solidify their midfield no end?
Where were they when City signed Jesus Navas, a winger of exceptional ability?
Where were they when Chelsea stepped in for Willian?
Where were they when Arsenal moved for Mesut Oezil?
Why was the paperwork for Fabio Coentrao delayed? Where have United been all summer?
Woodward left the club tour of Australia six weeks ago to deal with "urgent transfer business". Did he ever come back? Is he still in the air?
In any other year, this would have been a disappointing window for United.
This summer, it came close to being calamitous. Fellaini will doubtless perform for the team, United will doubtless finish in the top three, but that's not the point.
The point is that United are supposed to be one of the biggest clubs in the world.
This summer, they looked like a newly-promoted Championship team, desperately making it all up as they went along.

Get The New Paper for more stories.